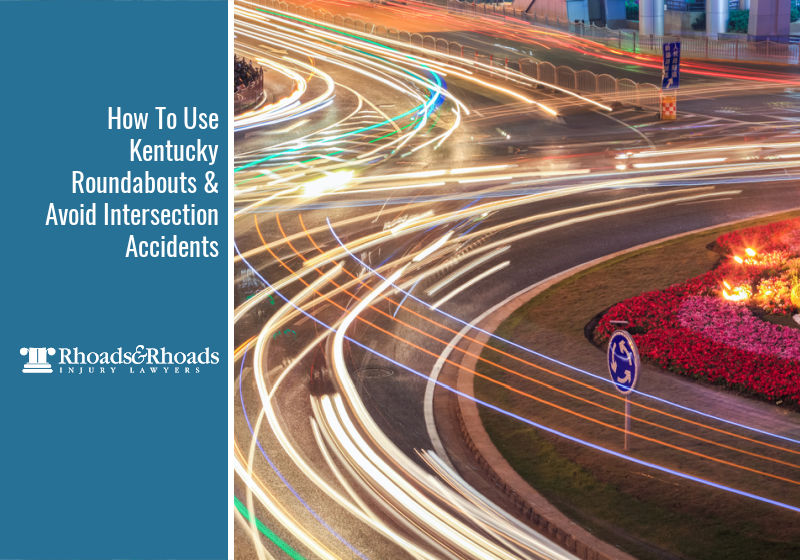 Key Points of This Article:
Where roundabouts have been installed, motor vehicle crashes have declined by about 40%, and those involving injuries have been reduced by about 80%, according to the Kentucky Transportation Cabinet.
Modern roundabouts throughout Kentucky have been shown to increase traffic capacity through intersections by 30 – 50% while reducing congestion and speed-related accident risks to motorists and pedestrians.
More than half of crashes at roundabouts are due to distracted drivers or those who fail to yield when entering the roundabout.
To safely navigate a roundabout, just enter the lane, making sure to yield to cars already in it, and proceed to the direction you want to go.
Traveling a Roundabout in Kentucky Is Easier Than It Seems and Safer
Many Kentucky communities have adopted a unique traffic management pattern at modern intersections to improve traffic control, reduce congestion, and lessen car accident risks. A modern roundabout is an alternative form of intersection control to traffic signals and multi-way stop control intersections. Kentucky State Police identify modern roundabouts by three basic principles:
Yield at Entry: Traffic entering the circle yields to traffic already in the circle.
Traffic Deflection: Pavement markings and raised islands direct traffic into a one-way counterclockwise flow.
Geometric Curvature: The radius of the circular road and entry angles can be designed to slow vehicles' speed.
Some Kentuckians are still skeptical about using a roundabout, and their use and operation may feel uneasy. Unfortunately, that worry may contribute to causing a roundabout accident. But rest assured that knowing how to navigate one can help you increase your intersection safety, clear traffic congestion, and reduce your car accident injury risk.
Where Are Roundabouts Located in Kentucky?
Throughout the U.S., there were over 7,000 new roundabouts as of 2019. And in Kentucky, more and more of these rounded intersections are replacing traditional four-way lighted stops each year and showing much improvement in intersection-related accidents and deaths among motorists, bicyclists, and pedestrians.
The roundabout at the intersection of KY 56 and KY 81 west of Owensboro has witnessed lower traffic crashes since it opened in Oct. of 2013.
The Kentucky Transportation Cabinet says Stithton Circle is one of the safest intersections at Fort Knox.
In Dec. 2021, a new route opened over I-44 in Webster County, including several roundabouts.
The first roundabout in Warren County was installed at Smallhouse and Elrod intersection in late 2020.
Western Kentucky University in Bowling Green has several roundabouts, including the largest at University Boulevard and 31-W.
The campus of Northern Kentucky University currently features two roundabouts – one on Nunn Drive near BB&T Arena at Northern Kentucky University and another on Johns Hill Road at Knollwood Drive.
In Campbell County, the Kentucky Route 9 redesign project includes two roundabouts, including one at the Fourth Street/Veterans Memorial Bridge connecting Newport and Covington, Kentucky.
Double roundabouts have also been planned for construction in Henderson at the I-69 Ohio River Crossing to allow for continuous flow and streetscaping opportunities at KY-351. City planners say those roundabouts could be similar to Green River Road and Lloyd Expressway in Evansville.
Common Causes of Roundabout Accidents
More than half of crashes at roundabouts are due to distracted drivers and those who fail to yield when entering the roundabout. To safely navigate a roundabout, stay alert and make sure to yield to cars already in it. Simply proceed in the direction you want to go. And while accidents tend to be less severe in a modern roundabout than a traditional four-way intersection, they still occur. Here are some reasons to better understand why.
Speeding
Stopping while in the circle
Not yielding to pedestrians and bicyclists
Not yielding to traffic in the circle
Changing lanes or not using a turn signal to exit the circle
Not giving trucks or other large vehicles sufficient space or trying to pass them
Driving impaired
Not clearing the roadway for emergency vehicles
Fortunately, an injured victim may recover compensation from the driver at-fault of the roundabout accident. At Rhoads & Rhoads, our goal is to help you uncover the details needed to present your case and recover the compensation you deserve, including damages for medical bills and future medical expenses, lost wages, services, pain and suffering, and wrongful death.
Tips for Using a Kentucky Roundabout and Minimizing Your Car Crash Injury Risk
While these more recent intersection designs are safer than other traffic crossways, education and updated driving advice are needed for Kentuckians unfamiliar with the road design. The following are some of the general rules motorists must follow:
When approaching the roundabout, slow down and yield to pedestrians in the crosswalk.
Approach the yield line, look to the left, and enter the roundabout when there is an adequate gap in the circulating traffic flow. Remember, traffic in the roundabout has the right-of-way.
Keep your speed low and proceed counterclockwise to your exit.
Remember, you now have the right-of-way and should never stop in the roundabout.
As you approach your exit, turn on your turn signal and exit the roundabout. Do not accelerate until after crossing the pedestrian crosswalk.
Bicyclists are permitted to ride within the roundabout and shall be treated as another vehicle. Do not pass a bicycle in the roundabout.
Drivers should behave in the same manner as they would on any other road if an emergency vehicle approaches. Move as far right as possible to let the emergency vehicle pass.
Do not enter the roundabout when an emergency vehicle approaches from another leg of the intersection.
If there is a roundabout on your daily commute or in your community, and you are still confused, take another path to avoid it for now but work on becoming better educated on how to approach roundabouts. Practice with someone who can help you navigate through before you travel that direction again.
Kentucky State Police also offers a brief tutorial to watch on how to drive through a roundabout here.
Western Kentucky Car Accident Lawyers — No Recovery, No Fee
Rhoads & Rhoads has been protecting the rights of the injured throughout Western Kentucky for over four decades. We offer free initial consultations, and all cases are taken on a contingency fee basis. This means there is no payment required upfront, and there is NO RISK involved. Call us at 888-709-9329 to schedule your free consultation today.
Also read: Most Dangerous Intersections in Owensboro and Kentucky