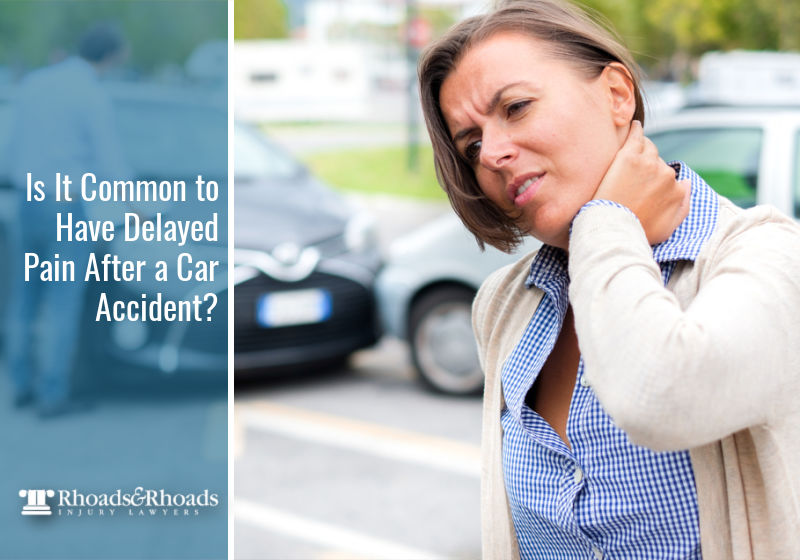 If you are a sports fan, you probably remember many stories of athletes who were badly injured during important competitions, but who finished the game, despite their broken leg, dislocated nose, separated shoulder, or ruptured spleen. How can someone disregard so much pain? For the same reason, you may have waved off the paramedics and insisted on going home after your car accident: they simply didn't feel it. 
Why don't we feel pain immediately after an accident?
When someone experiences the physical trauma of a motor vehicle accident, their body deals with it by releasing adrenaline and endorphins; both of these hormones play a role in temporarily delaying the pain.
Adrenaline: 

Also called epinephrine, this hormone is produced in the adrenal glands. It is released during stressful or traumatic events and is responsible for the "fight or flight" instinct. This temporarily causes your heartbeat and your breathing rate to get faster. 
Endorphins: 

These hormones are produced in the brain and are released in times of stress. Their purpose is to calm the body down and

numb

both emotional and physical pain. The word "endorphin" is a combination of the words

endogenous

(within the body) and

morphine

. The latter connection is particularly apt since beta-endorphins are said to be as strong as morphine in masking pain. An

NIH

study sampled hormone levels in patients who had just been involved in serious car accidents. It found that "

there was a positive correlation between both beta-endorphin and prolactin and the injury severity score." 
Shock

 
This is a medical condition that can happen after physical trauma. The blood pressure plummets and the blood vessels constrict. Simply being in shock is a medical emergency, since not enough oxygen and blood are being delivered to your organs. Shock may also prevent you from being able to feel pain, so you may not realize the extent of the rest of your injuries until you have recovered from this serious condition. 
If you have tissue damage after an accident, you probably won't feel it for several hours or possibly even days. This is because it takes the body some time to send white blood cells, inflammatory cells, and cytokines to remove the damage and begin the healing process. This acute inflammatory reaction will cause delayed redness, swelling, bruising, and soreness. 
What does this mean to you?
It means that immediately after being involved in a car accident you may have no idea how seriously you have been injured – or indeed if you have been injured at all. It means that you should always get checked out by a medical professional, even if the accident did not seem to be particularly serious at the time. (Countless studies have found that it is possible to experience whiplash, spinal damage, or other injuries in low-impact collisions.)
In many cases, those who have been involved in a crash do not realize the extent of their pain and injuries until several hours, days, or weeks later. In other cases, it may take months for an injury to be identified and diagnosed. 
Common examples of delayed pain
Concussions: Mild, moderate, or severe

concussions

have many symptoms that may not appear until days or weeks after the accident. Sufferers may experience headaches, fatigue, nausea, depression, or lack of ability to concentrate.

Neck and shoulder pain: This can be a result of soft tissue injuries and may signify

whiplash

. Delayed neck pain after a car accident is particularly common. 

Back pain: Back injuries are common in motor vehicle accidents. In fact, more than

4,000

spinal cord injuries are caused by car accidents each year. There may be damage to the spine itself, or any of the muscles, tendons, ligaments, or discs in the back. If you experience delayed back pain after a car accident, seek medical attention as soon as possible to prevent further damage.

Numbness: You may prefer feeling numb to feeling intense pain, but lack of feeling is never a good sign. It can signify nerve damage.  

Internal bleeding: This may be missed at first, but is a medical emergency. You may experience swelling, dizziness, or delayed pain. The most common types of internal bleeding after blunt trauma occur in the head, around the lungs, around the heart, or in the abdomen (liver or spleen). Delayed chest pain after a car accident could be indicative of internal injuries.

Rib pain: Ribs can often be bruised or broken after a motor vehicle accident as a result of an impact against the steering wheel or the pressure of a shoulder seatbelt. Any of the circumstances above may result in delayed rib pain after a car accident.
Call a Kentucky car accident attorney 
If you have found yourself to be more profoundly injured than you realized immediately after your accident, you will want to seek legal advice from an experienced Kentucky car accident attorney. You have two years after the date of your accident or from the date when the PIP reparations ceased in which to file a personal injury lawsuit, according to the Kentucky Statute of Limitations 304-39-230. It goes without saying that it is crucial for you to be able to seek fair compensation for your injuries, but it is even more important that you act quickly to prevent worse injuries or even death. 
Your pain may be delayed after an auto accident, but your actions should not be. Seek medical attention as soon as possible. And call the Kentucky car accident attorneys at Rhoads and Rhoads at 888-709-9329 to schedule your FREE legal consultation today.