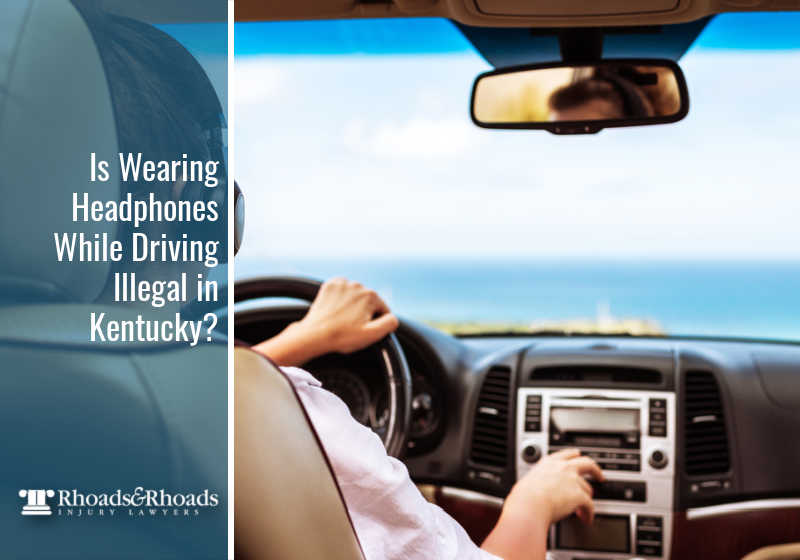 Key Points of This Article:
Wearing headphones while driving increases your risk of being in an accident.
Laws in Kentucky could mean you are liable if you were wearing headphones while driving.
If you are injured in an accident caused by another driver wearing headphones, a lawyer can help you win your case and recover compensation.
As the use of digital devices is so widespread now, it's incredibly common to see people performing all sorts of everyday activities while wearing headphones. For example, people wear them while working, exercising, cleaning, shopping at stores, and walking — and yes, they even wear headphones while driving.
However, as wearing headphones is becoming so popular today for many reasons, concerns are being raised about how safe this is. It might not be a big deal if you're wearing headphones in your own home or even at work. But if you wear them while doing something with inherent risks, like operating a vehicle, is it really safe to do so?
And beyond whether or not it's safe, many people are curious whether wearing headphones while driving is even legal.
Our experts at Rhoads & Rhoads dive in to answer these questions below. If you have further questions after reading this and need help with a Kentucky car accident claim concerning the use of headphones while driving, don't hesitate to reach out for assistance.
The Dangers of Wearing Headphones While Driving
The biggest concern with wearing headphones while driving is that they can pull your attention and distract you from what you are doing. This same concept applies to anything that distracts you while driving, such as talking to passengers, dealing with children or pets in the car, adjusting the radio, talking on the phone, or eating.
But with headphones, not only can whatever you are listening to distract you from driving, but they can also end up blocking out other noises that you need to hear to stay safe. For example, if you are wearing headphones, you are less likely to hear a siren from an approaching emergency vehicle, or you might not hear a car horn honking to alert you to something. If you don't hear these noises, you could put yourself and others at risk.
Is it Illegal to Drive With Headphones In Kentucky?
Technically no official laws prohibit people from wearing headphones while driving in Kentucky. That said, this doesn't mean wearing them while operating a vehicle is acceptable. Kentucky does have laws against distracted driving, so if you were to get into an accident, the court or insurance company involved could view you as negligent for having worn headphones that distracted you from what you were doing.
Kentucky Distracted Driving Laws that Can Apply to Driving With Headphones
According to the NHTSA, distracted driving is one of the most common causes of accidents in the United States. As such, many states, including Kentucky, are starting to pass laws that apply to distracted driving.
Currently, Kentucky's distracted driving laws primarily focus on the use of cell phones while driving. However, these laws could be expanded in the future to include other devices that commonly cause distraction, such as headphones.
Distracted driving is defined as any non-driving activity a person engages in that has the potential to distract them from the primary task of driving and increases the risk of crashing.
Additionally, the Kentucky Department of Transportation lists the following as the three main types of distractions:
Visual: A distraction that causes the driver to take their eyes off the road
Manual: A distraction that causes the driver to take their hands off of the wheel
Cognitive: A distraction that causes the driver to take their mind off what they are doing (driving).
Wearing headphones while driving could very easily be considered a cognitive distraction because it causes sensory deprivation, and what you are listening to could distract your mind from what you are doing. This means that even without specific headphone laws, you could be viewed as having acted negligently by choosing to wear headphones. And in car accident cases, negligence is the primary reason a person is held liable for the incident.
Kentucky Personal Injury Lawyers – Rhoads & Rhoads
If you are involved in an accident with someone wearing headphones while driving, our team at Rhoads & Rhoads can help. We can provide evidence to prove that the other driver was distracted and thus negligent for wearing headphones while driving, which could help you win your case and recover compensation for the damages you have suffered.
Call us at 888-709-9329 to schedule an appointment with one of our Madisonville or Owensboro personal injury attorneys. We offer free initial consultations, and all cases are taken on a contingency fee basis, so there is no initial payment required. We get paid only if we win or settle your case, and there is NO RISK involved.