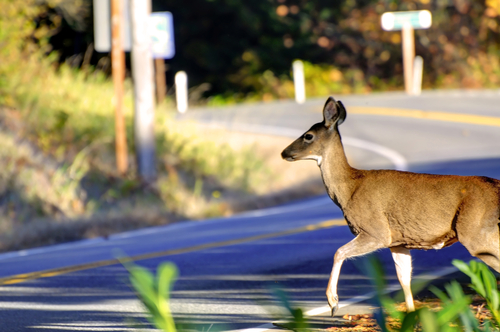 Kentucky Ranks 15th For the Most Deer Vehicle Collisions in U.S.
Deer are now on the move across the Bluegrass state making it likely that Uncle Buck and his white-tailed mates will be sharing your local highway or rural county road with you and your family this month. And according to new claims data from insurance company State Farm, the odds drivers will hit a deer in Kentucky are 1 out of 100, well above the national odds of 1 in 162. The fall months of October, November, and December typically drive more deer across Kentucky roadways than any other time due to the cooler nights and shorter days that ignite the start of the mating season. According to the Kentucky Transportation Cabinet, these months also account for more than half of all reported deer-vehicle collisions (DVC) each year. Kentucky State Police say they tracked nearly 3,100 DVCs across the Commonwealth in 2016 and expecting just as many if not more this year. In addition to causing damage to vehicles, deer contribute to more than 100 injury crashes and about three highway fatalities in Kentucky each year, adding to the more than 200 DVC traffic fatalities around the nation. Here are the Western Kentucky counties where most DVCs occurs.
2016 Ranking: Western Kentucky County and Number of Crashes Reported
#5: Hopkins, 99
#6: Christian, 90
#8: Trigg, 74
#10: Muhlenberg, 72
#12: Henderson, 68
#15: Graves, 54
#16: Ohio, 54
#17: Daviess, 53
#31: Calloway, 33
#32: Marshall, 33
#34: Lyon, 29
#36: Union, 27
Webster Co. was No. 66 on the list provided by Kentucky State Police. The county reported 17 accidents in 2016.
Be sure to drive with extra caution, and a bit slower during early morning and early evening hours when traveling through these areas. Most DVCs in November occur from 5-8 a.m. and 5 p.m.-midnight. These are the times when visibility is low and deer are most likely to be on the move. 
Avoid a DVC and Stay Safely on the Road
Three major tips to help you prepare for avoiding a collision with a deer include 1) keeping control of the wheel by slowing down and being alert, 2) always driving with your headlights on, 3) and always do your best to not swerve and stay in your own lane, wheels on the road. Kentucky transportation officials and state police offer these additional tips to help improve driver and passenger safety during the heavy DVC season:
Always wear a safety belt. Most people injured and/or killed in DVCs were not wearing their seat belt.
Keep headlights on bright (high-beam) after dark if other vehicles are not present and conditions allow.
Be especially alert and drive with caution when you are moving through a known deer crossing zone.
Drive defensively, constantly scanning the roadside, especially at dawn and dusk when deer prefer to be active. Deer are most active during these times.
Slow down immediately when you spot a deer, as deer tend to travel in groups and herding packs. Look for other deer after one has crossed the road before you move on.
Don't swerve to avoid a deer. Swerving can result in a more serious crash with an oncoming vehicle or roadside object, tree, pedestrian, or another car. Swerving can also confuse deer as to where to run.
Stay alert and minimize your distractions. Dedicate your full attention to the roadway. Avoid changing the radio station, eating, or other distractions that can remove your concentration from the road. Put on your phone's Do Not Disturb feature to silence any temptations.
Many counties will display deer crossing signage in areas officials know have a high history of DVCs. Follow the signage cues and read the warning signs placed on the sides of roadways or on electronic overpass boards. They are there for your safety, pay attention.
If you are unable to avoid a collision with a deer, take the following steps:
In the event of a crash, keep both hands on the wheel and apply brakes steadily until stopped.
If possible, remove your automobile from the roadway and turn your hazard lights on. If assistance is needed, stay in your vehicle until it arrives.
Don't assume your vehicle is safe to drive just because the engine starts. You may be without a headlight or safe tires and could cause a secondary wreck that could possibly leave you liable.
Call the police. Let them know if the deeris blocking traffic and creating a threat for other drivers. If the collision results in injury or property damage, you may need to fill out an official report.
It's important to not touch the animal even if it looks as though the deer is not alive. The deer could be stunned. If the deer does awake and is attempting to move or get away, it could hurt you or itself or cause another DVC with other drivers.
Contact your insurance agent and wait.
Contact the team of experienced DVC attorneys at Rhoads & Rhoads if you have been involved in an accident that resulted because of a DVC.
DVCs Can Cause Traumatic, Lifelong Injuries
Though many DVCs result in minor injuries, others can be catastrophic for those driving (or riding in) passenger vehicles, trucks, and motorcycles. Perhaps the greatest danger comes from many drivers' instincts to swerve to avoid the animal. When this happens, the vehicle driver can easily drive off the road and hit a tree, or worse, swerve into oncoming traffic. Crashing into a fixed object or suddenly hitting another vehicle head-on will almost always result in more serious injuries, such as internal injury, traumatic brain injury, head injury, spinal injury, and even death. Motorists are asked to report all deer-vehicle collisions to police so locations and crash numbers can be recorded and monitored.
Even the most diligent driver may find him or herself in an accident with a deer. If you find yourself in that position and someone is seriously injured, we can help ensure you get the compensation you deserve from the insurance company. With offices in Owensboro and Madisonville, Rhoads & Rhoads represents car accident victims throughout Western Kentucky. We offer free initial consultations, and all cases are taken on a contingency fee basis, and that means there is no payment required up front. Call us at 888-709-9329 or contact us by e-mail to schedule an appointment with one of our Madisonville or Owensboro personal injury attorneys.