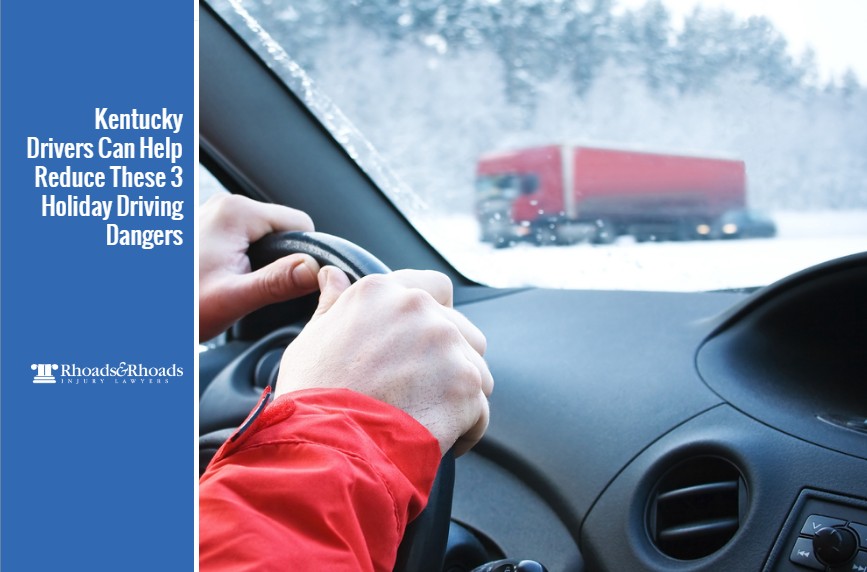 Key Points of This Article:
More than 100 million Americans are expected to travel during the 2019 holiday season with nearly 55 million motorists hitting the road during Thanksgiving, according to AAA.
Holiday season crashes too often occur because the driver is distracted, drunk or too tired to operate their car, motorcycle or truck.
The most dangerous and deadly driving choice is distraction by a mobile phone to send or receive text messages.
Drunk drivers make rash, hazardous decisions and can become drowsy or are overly confident in their ability to drive despite their impaired state.
Starting around Thanksgiving and lasting through New Year's Day, Kentucky drivers will unfortunately be forced to share the road with an onslaught of drunk, distracted and drowsy drivers. AAA has announced this timeframe is expected to also have the largest group of travelers since 2005, with the vast majority traveling in cars. During this time of year, when families will be journeying to visit with others, safety officials say everyone must drive defensively and make wise decisions – unclouded by holiday excitement, booze and exhaustion. From Central City to Russellville, or wherever you all might be headed throughout Western Kentucky, the team at Rhoads & Rhoads wants you to know you can help prevent being responsible for these three known holiday driving dangers.
#1 Prevent Distraction and Put Your Phone Away
Nearly 80 percent of crashes and 65 percent of near-crashes involve some form of distraction, including texting or phone use, within three seconds before the event. And 2018 data from the National Highway Traffic Safety Administration's Fatality Analysis Reporting System, reveals the top cause all motor vehicle fatalities is distracted driving. Avoid driving distracted this holiday to keep yourself and others on the road safe from a serious injury or accident-related death by following these three easy rules.
Put your phone away or enable a 'Do Not Disturb' app or feature to help deter your desire to text, email or check social media while driving.
Avoid multitasking in general, such as eating, smoking, drinking or grooming.
Let your passengers helpnavigate maps, tend to children or pets traveling in the backseat, and respond to holiday phone calls for you.
Stay focused and concentrate on getting to your destination safely by being well-rested, planning ahead and not rushing.
#2 Never Drive Impaired by Alcohol or Drugs
If driving, avoid drinking or taking drugs. Kentucky's impaired drivers may feel invincible and make dangerous decisions to speed, ignore the rules of the road, become easily distracted or drowsy, and are overly confident in their ability to drive despite their impaired state. Take these easy precautions and avoid drinking and driving this holiday season.
More than 40 percent of designated drivers have consumed alcohol before driving others home. If you agree to be the designated driver, stay committed. Even one drink can be too many.
If you decide to drink (or do drugs) and need a sober ride, try a ride-share service, a sober friend, or connect with Safe Ride KY to get home safely.
If you're hosting a holiday party, don't overserve and make sure everyone leaves with a sober driver. You can also offer guests who are drinking a place to stay the night.
And remember, Christmas and New Year holidays crashes caused by drivers under the influence of drugs or alcohol are more prevalent than during Thanksgiving so take extra care during this time. If your friends, coworkers or family members are about to drive while impaired, even at the risk of them being upset with you, do what you can to stop them from getting behind the wheel.
#3 Drowsy Driving is as Dangerous as Driving Drunk
The extra holiday excitement, food and sugary treats are natural contributors to causing a driver to be sleepier than usual. Unfortunately, the drowsy driving effect is dangerous and similar to driving under the influence of alcohol. A tired driver's reaction time, general awareness of hazards and their ability to sustain attention and avoid distractions are sure to be impacted.
Before the start of an extended car trip, get a good night's sleep of 7-8 hours, or you could put your entire family and others at risk.
Check your prescription and over-the-counter medication labels to see if drowsiness could result from their use. If you take medications that could cause drowsiness as a side effect, arrange for someone else to drive you to your holiday event.
If you must drive during peak sleepiness periods (midnight – 6 a.m. and late afternoon), stay vigilant for signs of drowsiness, such as crossing over roadway lines or hitting a rumble strip, or noticing your head bobbing, mind drifting or eyes closing.
Be prepared to make alternative plans if you are too tired to drive and remember that drowsy driving can be just as dangerous as drunk driving.
Practicing Good Driver Behaviors All Year Round
When it comes to roadway safety, you should be preventing these bad driver choices year-round but staying extra vigilant during the holiday season when more people are traveling. In addition to these warnings, make sure everyone in your family is wearing their seat belt and children are buckled into their car seats correctly. If driving, put your phone away so you can stay alert and not distracted for the best defense against identifying danger such as a deer, a road collision or a weather event headed in your direction.
If you see a suspicious, distracted, drowsy or presumed impaired driver, contact Kentucky State Police by dialing 911 with your location.
From our family at Rhoads & Rhoads to yours, we wish everyone Happy Holidays and safe travel adventures this season!
Kentucky Personal Injury Attorneys Here for Your Family
 If tragedy strikes this holiday season and you or your family are involved in a drunk driving accident or crash caused by a driver who was too tired or distracted, please call the car accident attorneys at Rhoads & Rhoads. We can start the conversation today with a FREE consultation at 888-709-9329 or contact us online and send us a message.
Also read: Kentucky Drivers Should Be Aware of Extra Accident Risks During November and December