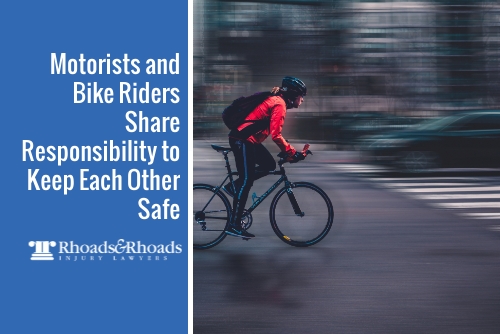 Synopsis
2018 reports by the Governors Highway Safety Association show that while the overall number of bicycle accidents in the country is declining, the number of bike accidents which result in rider fatalities is on the rise.
The most common collision between a passenger vehicle and bicycle typically occurs when a car is exiting a parking lot or driveway and pulls out directly into the path of a rider.
Bikes should be treated as other road vehicles, but that also means cyclists have to follow the rules of the road, just like car and truck drivers.
Some of the most common accident related injuries for bicyclists include broken legs, fractured bones, head and neck injuries, nerve damage, paralysis and painful injuries to the face and jaw which require invasive and expensive surgeries to repair.
Motorists and Bike Riders Share Responsibility to Keep Each Other Safe
Bicycles can travel at relatively high speeds and are not always noticed by other motorists. This situation leaves bike riders exposed to a multitude of crash injury risks over those who travel in enclosed passenger vehicles. In 2017, the Governors Highway Safety Association (GHSA) reported 783 cyclists killed in the U.S., 85 percent of who were male with an average age of 45. And while the number of accidents may have decreased, an increase in fatalities and related severe injuries including broken legs, head and neck injuries, paralysis and other painful injuries were noted.
Whether you and your family members are planning to ride a bicycle for exercise, a commute to work or for pure enjoyment, its necessary to practice safe riding, treat your bikes like a motor vehicle and understand the rules of the road. Likewise, drivers of passenger vehicles need to hold responsibility for keeping cyclists safe as most bicycle rider fatalities occur when the driver of a car or truck is distracted or driving haphazardly and pulls out directly into the path of a rider.

Rules for Motorists Concerning Bicycles
Since motor vehicles and bicycles are both lawfully considered "vehicles," these rules outlined in the Kentucky Drivers Manual do apply to motorists as well as to bicyclists regarding their actions and choices on the road.
Motorists MUST:
Share the road with bicyclists.
Before passing a cyclist:
Look to see if there is something in the right lane (debris, parked cars, drainage grates, etc.) that might cause the cyclist to divert their course to the left.
Pass only when you can allow at least three feet between yourself (as measured from the extent of your rear-view mirrors) and the cyclist.
Return to your lane only when completely clear of the cyclist.
If you turn right after passing a cyclist, only do so if you leave enough room that his forward path is not obstructed.
When opening your car door, look for bikes in your rear-view mirror.
The accident injury legal team at Rhoads & Rhoads also took some time to gather five strategies to reduce your chance of a collision with a cyclist in Kentucky in another blog post here.
Bike Riding Safety Tips and Kentucky Rider Regulations
If riders took consideration of these simple safety precautions from the National Highway Traffic Safety Administration (NHTSA), many bike-related crashes, life-long injuries and fatalities could be prevented.
Ride Predictable. Ride in a straight line, not in and out of cars. Signal your moves to others.
Stay Alert at All Times. Use your eyes AND ears. Watch out for potholes, cracks, wet leaves, storm grates, railroad tracks, or anything that could make you lose control of your bike. You need your ears to hear traffic and avoid dangerous situations; don't wear a headset when you ride and never text and ride distracted by a mobile phone.
Look Before Turning. When turning left or right, always look behind you for a break in traffic, then signal before making the turn. Watch for left- or right-turning traffic.
Watch for Cars. Ride far enough from the curb to avoid the unexpected movement from parked cars (like doors opening, or cars pulling out).

Watch for vehicles coming out of or turning into driveways.
Stop at corners of sidewalks and streets to look for vehicles and to make sure the drivers see you before crossing.
Enter a street at a corner and not between parked cars.

Stay Off the Sidewalk. The safest place for bicycle riding is on the street, where bicycles are expected to follow the same rules of the road as motorists and ride in the same direction. However, children less than ten years old are better off riding on the sidewalk.
Wear a Properly Fitted Bicycle Helmet. Traumatic brain injury is a leading cause of death and disability. Protect your brain, save your life.
In addition, there are several laws on the books in which bicyclists must follow. Here is a summary of bicycle safety regulations as defined in the Kentucky Administrative Regulations (601 KAR 14:020):
You MUST use a front light when riding at night or whenever it is darker than usual (i.e., when it is heavily overcast).
You MUST use a red rear reflector or light on yourself or your bicycle whenever riding on a highway or shoulder.
At night or when overcast (as described above), you MUST use a steady or flashing red rear light.
You MUST shout or sound a bell or horn when approaching a pedestrian or other bicycle.
In Kentucky, it is illegal to carry more passengers than the bicycle was designed to accommodate, and riders may not carry a package that prevents them from keeping at least one hand on the handlebars. It is also illegal to attach yourself, or your bicycle to another vehicle and no more than TWO bikes may ride side-by-side in a single highway lane.
Be sure to review local regulations and ordinances in your Kentucky community that apply to the operation of bicycles concerning community traffic codes as well. And, best wishes for a safe and injury free ride. If you or someone in your family has been seriously injured in a bicycle vs. motor vehicle accident, the experienced personal injury attorneys at Rhoads & Rhoads are here to help.
Bicycle Accident Injury Attorneys in Kentucky
Rhoads & Rhoads represents bicyclists throughout Kentucky who have suffered injuries from motor vehicle collisions or those who are survivors of cyclists killed in a collision with a reckless or negligent driver. Take advantage of our free initial consultation and discuss your case with us. Call us at 888-709-9329 or contact us to schedule an appointment with one of our personal injury attorneys.
Sources: Kentucky Laws and Regulations for Bicycle Travel. Kentucky Transportation Cabinet, 2015. AND A Right to the Road: Understanding and Addressing Bicyclist Safety. GHSA, 2017.