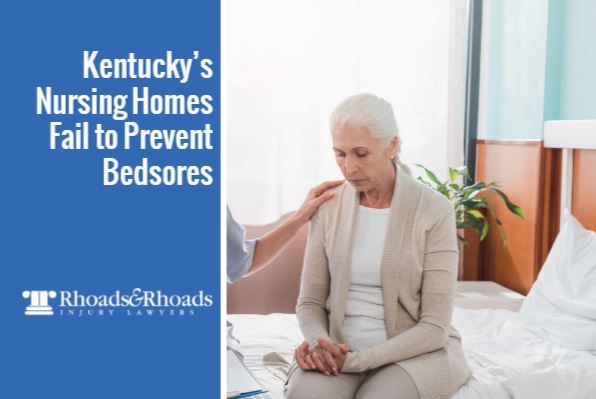 Synopsis
Kentucky's nursing home residents are being left ignored, suffering, and injured at the hands of neglectful administrators who run understaffed facilities.
Nearly half of all Kentucky nursing homes carry less than average care scores, under the regulation of the U.S. Centers for Medicare and Medicaid.
As the state continues to struggle with caregiving shortages, the lack of awareness and delayed treatment of pressure ulcers at any stage are growing concerns. The painful yet preventable sores can result in the unrecoverable damage to a resident's skin, muscle, tendons, and bone.
If a loved one residing in a nursing home is showing signs of neglect, complains about a sore on their skin or appears to be in pain, family members should request immediate medical action.
Kentucky's Nursing Home Residents Live with Pain and Infection as Facilities Fail to Prevent Bedsores
According to an analysis of U.S. Centers for Medicare and Medicaid (CMS) data, in 2018, 43 percent of Kentucky's 284 nursing homes were rated as "below average" or "much below average" because of serious problems discovered with the quality of care provided to residents. Issues with medication management, cleanliness, wrongful evictions, sexual abuse, and neglect remain ongoing. Pressure ulcers, also referred to as bedsores and pressure wounds, are common with residents who lack mobility and those left without the proper hygiene and toileting help. The open wounds to the skin also serve as a serious warning sign of neglect.
Bedsores are painful blisters that likely began with a small, yet noticeable, red or light purple mark on areas of the skin that are in continuous contact with surfaces such as wheelchairs or bed linens.
Neglected residents are most likely to develop a pressure sore in these areas:
lower back, spine, and tailbone
buttocks
shoulders or shoulder blades
backs of arms
legs (where they rest)
back or sides of the head
ears
hips
backs or sides of the knees, heels, ankles, and toes
If not noticed by staff or treated with the medical attention required, these sores can lead to severe infection, a quick decline in both physical and mental health, unnecessary pain and anguish, and even death.

How To Recognize the Stages and Severity of Bedsores
The National Pressure Ulcer Advisory Panel (NPUAP) has helped categorize bedsores based on their severity in these five stages. The organization dedicated to the prevention and treatment of bedsores has also published specific characteristics to help medical professionals, including the appropriate nursing home staff, identify and categorize a wound so the proper treatment can be provided.
Stage 1: Initially, a pressure sore appears as a persistent area of red skin that may itch or hurt and feel warm and spongy or firm to the touch. In blacks, Hispanics and other people with darker skin, the mark may appear to have a blue or purple cast or look flaky.
Stage 2: At this point, some skin loss has already occurred. The wound is now an open sore that looks like a blister or an abrasion, and the surrounding tissues may show red or purple discoloration.
Stage 3: By the time a pressure ulcer reaches this stage, it has extended through all the skin layers down to the muscle, damaging or destroying the affected tissue and creating a deep, crater-like wound.
Stage 4: In the most serious and advanced stage, a large-scale loss of skin occurs, along with damage to the muscle, bone, and even supporting structures such as tendons and joints.
Stage 5: These wounds will be challenging to treat and heal. Late stage bedsores can lead to the most severe infections and sometimes death of a resident.
At any stage, care staff can and should take the steps necessary to prevent the sores from worsening. And a family member should always be notified of the issue. Complaints of untreated pressure ulcers can be reported to the Kentucky Long-Term Care Ombudsman Program, and as the cases are investigated, family members should be prepared of abuse and neglect assumptions to follow.
Most bedsore complaints will reveal an overall poor living environment for residents and many violations of care standards related to:
inadequate hygiene practices
unreported abuse
chronic understaffing
dangerous spread of germs that cause diseases
false reporting of nurse-to-patient ratios
undocumented resident pain and suffering
Dependent on the care regulated by CMS, all residents have rights protected under the 1987 Nursing Home Reform Law, and a resident should not decline in health or well-being as a result of the way a nursing facility provides care.
Holding a Nursing Home Accountable for Preventable Harm
For those learning that their family member has developed a bedsore while staying in a nursing home or other rehabilitative care setting, knowing what to do next may feel confusing. The first place to start is to make sure your loved one will be receiving the type of attention and medication needed to treat the ulcer by understanding how serious the injury is. In addition to reviewing the standard of care practiced by staff for basic hygiene, review this list of questions with the nursing home administrator or nurse or doctor responsible for overseeing your loved one's care.
How many hours was the resident left in bed or a wheelchair without being repositioned or provided relief?
What is the hygiene schedule and regular toileting routine for the resident?
When did the care staff first document the presence of the wound?
How was the treatment plan followed?
What stage is the ulcer now?
How strictly was the care observed and attention to treat the sore noted?
Could the bedsore have been prevented?
This is also an appropriate time to connect with an experienced nursing home abuse and neglect attorney who can lead the uncomfortable conversations that may help identify any alleged nursing home neglect responsible for causing the pressure ulcer to form or be left untreated.
Owensboro and Madisonville Nursing Home Abuse Lawyers – No Recovery, No Fee
It may be hard to imagine the need to contact an attorney about your loved one's care and rights being violated in a place you once trusted, but with offices throughout the state, Rhoads & Rhoads is here for you and your family. We offer free initial consultations, and all cases are taken on a contingency fee basis, which means there is no payment required upfront.
Call us at 888-709-9329 or contact us by e-mail to schedule an appointment with one of our Madisonville or Owensboro nursing home abuse and neglect attorneys.
Also Read: Six Kentucky Nursing Homes Named for Widespread, Chronic Resident Care Issues