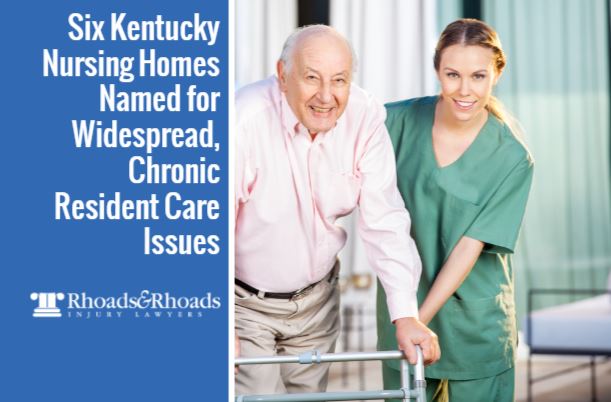 Synopsis
More than 400 nursing homes and skilled nursing facilities are currently designated as "Special Focus Facilities" by the government and at serious risk of being cut off from Medicare and Medicaid if they fail to make improvements that impact the health and safety of vulnerable residents.
An alarming report released by lawmakers concerning the persistently poor care provided at six Kentucky Nursing Homes has been released with many more facilities expected to be publicly announced.
There are nearly 24,000 residents in nursing home facilities across the Bluegrass state, dependent on their daily care needs to be met by others.
Loved ones should take action if a resident is showing signs of neglect, complains about the care being received, or appears altered in emotional or physical ways.
Six Kentucky Nursing Homes Named for Widespread, Chronic Resident Care Issues 
Nearly half of Kentucky's nursing homes are already rated as substandard by the Centers of Medicare & Medicaid Services (CMS) and found guilty of putting residents at risk each day through scathing reports of abuse and neglect. With a growing population of more than 24,000 elderly dependent on the care and services of Kentucky nursing homes, the recent release of a list naming facilities with the most concerning care standards had to have been another terrible blow for family members dependent on nursing home care for their loved ones.
The June 2019 report titled Families' and Residents' Rights to Know: Uncovering Poor Care in America's Nursing Homes, was produced by U.S. Senators Bob Casey (D-PA) and Pat Toomey (R-PA) and included the names and locations of nearly 400 U.S. nursing homes rated with the most dismal and unsafe records pertaining to patient care and services by CMS. Up until this report, it was not publicly known what homes were identified or eligible as a "Special Focus Facility" (SFF) by the Federal government. SFFs are nursing homes or long-term care centers with a "persistent record of poor care" and in need of serious help at risk of losing valuable CMS funding.
Six Kentucky SFF candidates or program participants include:
Klondike Center, located in Louisville
Mountain Manor of Paintsville, located in Paintsville
River Haven Nursing and Rehabilitation Center, located in Paducah
Springhurst Health and Rehab, located in Louisville
Twin Rivers Nursing and Rehabilitation Center, located in Owensboro
Woodcrest Nursing and Rehabilitation Center, located in Elsmere
According to the Senators' report shared with the Senate Special Committee on Aging, Owensboro's Twin Rivers Nursing and Rehabilitation Center is the only Kentucky listed as an SFF. The additional facilities included above are eligible but not yet officially designated "Special Focus" because of limited resources at CMS.
Common complaints coming from these Kentucky nursing homes involve medication errors and excessive use of narcotics and antipsychotic drugs, sexual assault by a staff member to a resident, and failing to provide care that makes a difference between "maintaining a high quality of life at home and having to move to a nursing home."

CMS Reacts to List by Releasing Names of All SFF Program Candidates
CMS responded to the report with plans to announce that many more Kentucky facilities will be identified as qualified candidates for the agency's SFF program. At this time, only 88 SFF program slots are nationally open to be funded for designation, leaving thousands of additional poor performing homes, with likely languishing residents, for the public to be aware of.
The announcement came through a June 5, 2019 press release statement by Dr. Kate Goodrich, Director, Center for Clinical Standards and Quality and CMS Chief Medical Officer.
"CMS offers Americans a comprehensive, consumer-friendly quality hub, called Nursing Home Compare, which provides quality of care information for every nursing home that participates in Medicare and Medicaid. Nursing Home Compare includes an easy to understand overall star rating based on three factors: health inspections, staffing levels, and quality measures. The site also includes the results of recent health inspections. In addition to this information, CMS will soon be posting a list of candidates for the Special Focus Facility (SFF) program. CMS urges all Americans to consult their physician, family, and Nursing Home Compare before choosing a nursing home for their loved ones."
How Family Members Can Identify Nursing Home Abuse & Neglect
While we all await access to Kentucky's most poorly performing homes, concerned family members and friends can find out the CMS quality rating of their loved one's nursing home through Nursing Home Compare. In addition, here are some warning signs to watch out for that may uncover any symptoms of abuse and neglect.
Bruises, pressure marks, broken bones, abrasions, and burns may be an indication of physical abuse, neglect, or mistreatment.
Unexplained withdrawal from normal activities, a sudden change in alertness or unexpected depression may be an indicator of emotional abuse.
Bruises around the breasts or genital area may be a sign of sexual abuse.
Sudden changes in financial situations may be the result of exploitation.
Bedsores, unattended medical needs, poor hygiene, and unusual weight loss may indicate neglect.
Belittling, threats, or other uses of power by spouses, family members or others may indicate verbal or emotional abuse.
Strained or tense relationships and frequent arguments between staff and a resident may also be a sign of abuse.
If you notice any of these issues or encounter problems at a Kentucky certified nursing facility, be sure to report it to your local ombudsmen right away and contact a nursing home abuse and neglect attorney at Rhoads & Rhoads. No one should live in threat of harm or danger to themselves or others, and our job is to uphold resident rights with delicate care and years of experience in trying these cases.
Kentucky Nursing Home Abuse Lawyers – No Recovery, No Fee
We offer free initial consultations, and all cases are taken on a contingency fee basis, which means there is no payment required up front. We get paid only if we win or settle your case, so there is NO RISK involved. Call us at 888-709-9329 or contact us to schedule an appointment with one of our Madisonville or Owensboro nursing home abuse and neglect attorneys.
Also read: Kentucky Among Worst Nursing Home Ratings in the Country