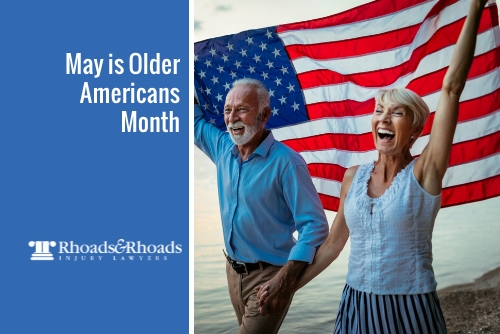 Synopsis
There are nearly 24,000 residents in certified nursing facilities across Kentucky, 12,500 who rely on U.S. Centers for Medicare and Medicaid Services ranked "below average" homes.
The elderly is too often left ignored and suffering at the hands of abusive staff and neglectful facilities as the state continues to struggle with caregiving shortages and one of the worst long-term care reputations in the nation.
May is Older Americans Month and provides the opportunity to raise the level of conversation on the issues related to the well-being of the aging population in a time when providers are known to be failing while still gathering profits.
If a loved one residing in a nursing home is showing signs of neglect, complains about the care being received, or appears altered in emotional or physical ways, family members should take immediate action.
May is Older Americans Month
There are currently 49.2 million older Americans (65 years of age or older) living in the U.S., according to estimates made in the 2016 census by the American Community Survey. And by 2035, this adult population is expected to increase to 78 million, for the first time surpassing the projected number of children under the age of 18. Thousands of Kentuckians will be impacted by this expected growth and more families will battle the transitioning of loved ones to facilities such as long-term care, nursing homes, dementia and Alzheimer's centers in fear of a caregiver shortage.
After Congress passed the Older Americans Act of 1965, May has been the month to take special consideration of these groups of people with Older Americans Month. The Administration for Community Living, a federal agency designed to address the struggles of older Americans, leads the nation's observance each year. For 2019 the theme is Connect, Create, Contribute, and encourages older adults and their communities to:
Connect with friends, family, and services that support participation.
Create by engaging in activities that promote learning, health, and personal enrichment.
Contribute time, talent, and life experience to benefit others.
We should not forget our older Kentuckians who helped build our communities and thrive in them for decades and show support and protections for their ongoing livelihoods. Allow this month to ignite change in your community as nursing home policies designed to protect and support an individuals' rights are often violated and ignored, triggering horrific events of negligence, injuries and abuse against some of our most vulnerable citizens.

Kentucky Among Worst Nursing Home Ratings in the Country
Kentucky's reputation for taking care of its elderly population of more than 24,000 who reside within a certified nursing facility (CNF) remains dismal. Neglect complaints are sent too often to the Kentucky Long-Term Care Ombudsman program and unimaginable accounts of abuse seem to be reported daily in the news. In addition, AARP has ranked the state nearly last, number 50, for failing to provide the kind of help to older Americans that can make the difference between "maintaining a high quality of life at home and having to move to a nursing home," and nearly half (43 percent) of Kentucky's nursing homes are rated as "below average" or "much below average" by the U.S. Centers for Medicare and Medicaid Services (CMS). These lower performing facilities are responsible for the daily care of as many as 12,500 residents each year.
Most of these issues relate to overall poor and unregulated care standards and result in:
lack of hygiene
unreported abuse
chronic understaffing
medication errors
falls
wrongful evictions
overworked and underpaid employees
untreated pain and suffering
As well as other scary problems too numerous to list like painful bed sores, sepsis, and the excessive use of narcotics and antipsychotic drugs. In fact, the U.S. Food and Drug Administration (FDA) states that roughly 15,000 nursing home resident deaths each year result from unnecessary drug use.
Kentucky also has more for-profit facilities than not. These businesses remain the worst offenders of the Nursing Home Care Act and too often put greed and profits over the people they are charged to care for.
Resident Abuse and Neglect Warning Signs
This month, we urge families with loved ones in troublesome nursing homes, senior living, rehabilitative care and respite care centers as well as Alzheimer's and hospice care facilities to pay extra close attention and visit residents often. Here are some warning signs to watch out for that may uncover abuse and neglect concerns.
Bruises, pressure marks, broken bones, abrasions and burns may be an indication of physical abuse, neglect or mistreatment.
Unexplained withdrawal from normal activities, a sudden change in alertness or unexpected depression may be an indicator of emotional abuse.
Bruises around the breasts or genital area may be a sign of sexual abuse.
Sudden changes in financial situations may be the result of exploitation.
Bedsores, unattended medical needs, poor hygiene, and unusual weight loss may indicate neglect.
Belittling, threats, or other uses of power by spouses, family members or others may indicate verbal or emotional abuse.
Strained or tense relationships and frequent arguments between staff and a resident may also be a sign of abuse.
If you notice any of these issues or encounter problems at your elderly loved one's certified nursing facility, be sure to report it to your local ombudsmen right away. No one should live in threat of harm or danger to themselves or others and all residents have rights protected under the 1987 Nursing Home Reform Law.
Owensboro and Madisonville Nursing Home Abuse Lawyers – No Recovery, No Fee
It may be hard to imagine the need to contact an attorney with worrisome about your loved one's rights being violated but with offices throughout the state, Rhoads & Rhoads is here for you and your family. We offer free initial consultations, and all cases are taken on a contingency fee basis, which means there is no payment required up front. We get paid only if we win or settle your case, so there is NO RISK involved. 
Call us at 888-709-9329 or contact us by e-mail to schedule an appointment with one of our Madisonville or Owensboro nursing home abuse and neglect attorneys.
Read: Nursing Home Patients with Alzheimer's Are Targets of Elder Abuse