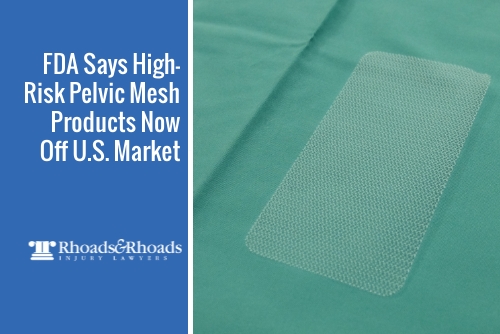 Synopsis
As of April 16, 2019, the FDA has halted the marketing and use of surgical mesh products in the U.S. stating there is no evidence the current transvaginal devices are safer than previous surgeries used to treat the same conditions.
Pain, bleeding, emotional distress and serious injuries have been tied to vaginal mesh products used to treat pelvic organ prolapse and stress urinary incontinence in more than 100,000 U.S. women since 2002.
The edges of the mesh or sling device have also been noted to cut through the skin after implantation, cause infection and protrude into nearby structures sometimes puncturing the bladder, bowel, and uterus.
Nearly $8 billion has been paid in pelvic mesh injury claims in both federal and state courts against seven major medical device and drug manufacturers.
FDA Says High-Risk Pelvic Mesh Products Now Off U.S. Market
The U.S. Food and Drug Administration (FDA) first approved vaginal mesh products in 2002 to treat pelvic organ collapse (POP) and stress urinary incontinence (SUI) in women, conditions that commonly occur after they have given birth, undergone a hysterectomy or after patients enter their menopause stage. Women's Health says the situation can be a serious concern, resulting in one in every five women to develop additional pelvic issues related to fecal incontinence, pain, constipation, and other urinary-related problems.
These natural conditions most often occur due to:
pregnancy
aging and menopause
prior pelvic surgery
chronic coughing
pelvis floor straining
obesity
smoking
According to the FDA, to repair pelvic floor disorders with surgical mesh in women, permanent devices have been inserted during a pelvic reconstructive surgery to treat:
Transvaginal mesh/Transabdominal mesh to treat POP: POP occurs when the tissue and muscles of the pelvic floor no longer support the pelvic organs resulting in the drop (prolapse) of the pelvic organs from their normal position. The pelvic organs include the vagina, cervix, uterus, bladder, urethra, and rectum. The bladder is the most commonly involved organ in pelvic organ prolapse.
Mesh sling to treat stress urinary incontinence (SUI): SUI is a leakage of urine during moments of physical activity that increases abdominal pressure, such as coughing, sneezing, laughing, or exercise. SUI is the most common type of urinary incontinence in women.
While manufacturers promoted these treatments as a way to speed patients' recovery time and reduce the complications compared to surgeries previously used, thousands of women have developed severe health injuries both physical and emotional. In the subsequent years after the products were used, women have reported many serious issues believed to be prompted by their vaginal mesh product such as:
persistent vaginal bleeding or discharge
pelvic, lower abdominal or groin pain
exposure of the mesh through the vagina
pain during sexual intercourse or sexual discomfort
chronic infections
vaginal shortening or tightening
urinary problems
tearing of organs
Also, the non-absorbable synthetic surgical mesh device can break down or wear away over time and protrude through the vagina creating discomfort, ongoing pain and anxiety. Over 50 percent of the women who have this issue with their mesh will continue to endure painful complications. Surgery is required to repair the fault and the removal of any eroded mesh can come with adverse, life-changing effects. Chronic pain and accompanying emotional distress may persist even after the mesh has been removed.
Billions Already Paid to Resolve Vaginal Mesh Injury Claims
In 2011, the FDA issued an FDA Safety Communication, which identified concerns and issued new recommendations about the use of surgical mesh for transvaginal repair of POP and SUI. But it wasn't until the FDA's 2016 reclassification warnings that the real risks of the mesh products became known to consumers. At this time several manufacturers stopped producing the products.
As of today, there are no longer any FDA-approved surgical mesh products for transvaginal repair of prolapse marketed for use in the U.S. An FDA statement was released on April 16, 2019 explaining that "in order for these mesh devices to stay on the market, we determined that we needed evidence that they worked better than surgery without the use of mesh to repair POP. That evidence was lacking in these premarket applications, and we couldn't assure women that these devices were safe and effective long term."
The FDA then ordered the last manufacturers of three remaining vaginal mesh products to immediately stop selling and distributing the devices for not meeting U.S. premarket standards for being classified as high-risk.

Understanding Consumers' Rights to Safe and Effective Medical Devices
The FDA also released guidance on what to do now for women who have had transvaginal mesh placed for the surgical repair of POP or SUI.
Continue with your routine check-ups and care.
Notify your health care professionals if you have any complications or symptoms, which include persistent vaginal bleeding or discharge, pelvic or groin pain or pain with sex.
For more information, visit the FDA's advisory page.
Today, the nation's largest drug and medical device manufacturers have more knowledge, funding, and resources to create safe products than ever before. Consumers should be able to trust the medical treatments designed will not harm them. But so far, nearly $8 billion has been paid to resolve vaginal mesh device claims and more than 100,000 women have filed related injury claims in both federal and state courts against seven major manufacturers responsible for the harmful products.
 Have You Been Seriously Injured by a Vaginal Mesh Product?
Surgical mesh implants and other medical devices can cause significant physical and mental health complications to women. If you are one of them, you have the right to feel vulnerable and uncertain and can request legal help. With offices in Owensboro and Madisonville, Rhoads & Rhoads represents medical device injury victims throughout Western Kentucky.
We offer free initial consultations, and all cases are reviewed on a contingency fee basis, which requires NO payment up front and NO RISK involved. Call us at 888-709-9329 or contact us by e-mail to schedule an appointment with one of our Madisonville or Owensboro personal injury attorneys.
Sources: Food and Drug Administration. Urogynecologic Surgical Mesh Implants: Reporting Problems to the FDA Accessed 4/16/2019. AND Food and Drug Administration. Urogynecological Surgical Mesh: Update on the Safety and Effectiveness of Transvaginal Placement for Pelvic Organ Prolapse Accessed 4/16/2019.