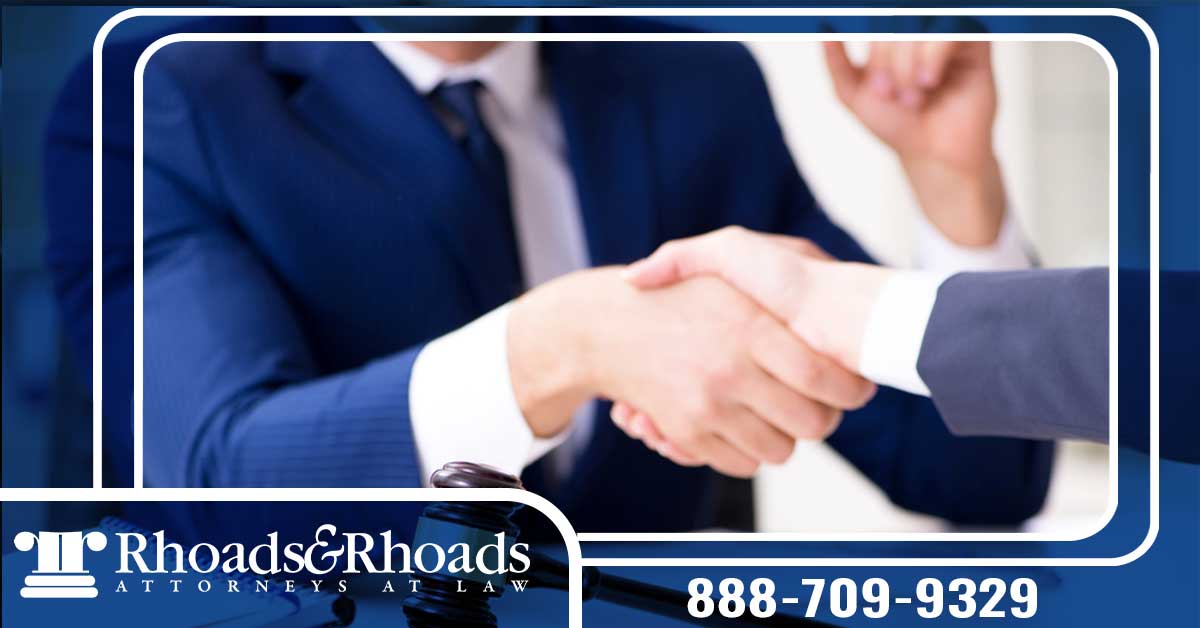 Being involved in an accident can leave you feeling overwhelmed and unsure of where to turn. Dealing with unexpected  medical expenses, temporary or permanent disability, lost wages or uncertainty about work, and the general stress of a traumatic accident can add to an unsettled feeling  during this time. Hiring a skilled personal injury lawyer is important to realizing the financial compensation you deserve for your harms and losses.  An experienced personal injury attorney with a successful track record can guide you through each step of your case and increase your chances of a positive financial settlement. So how do you choose the right lawyer for your situation? What personal injury law questions should you ask an attorney?
Searching for a personal injury attorney can feel daunting, but Rhoads & Rhoads wants to support you on that journey.
Eight Personal Injury Law Questions to Ask a Personal Injury Lawyer
What type of personal injury experience do you have?
The first of these personal injury law questions may be the most important. Personal injury law can span a wide variety of types of cases. From animal bites, to workplace injuries, to car accidents, to truck accidents, to medical malpractice or nursing care neglect, personal injury can include any incident resulting in wrongful death or injury due to the negligence or liability of another party. Attorneys may specialize in or have additional expertise in one or more of these areas. When seeking an attorney for your personal injury case, you will want to make sure that they are experienced in handling your type of case.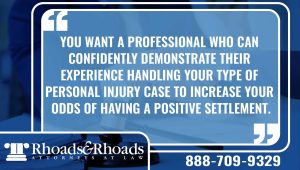 Typically, a law firm or attorney will advertise their personal injury specialties. If an attorney is insisting or working hard to convince you they can handle a case that is outside of their specialty, you may want to proceed with caution. Although many capable lawyers can handle a variety of cases, they would more often than not highlight their practice areas on their website or other marketing materials rather than needing to convince you. If an attorney does report experience with your type of case, you'll want to ask follow up questions about their strategies, success rate, and more as described further below.  You can also ask around to determine the reputation in the community and the results they've gotten. 
In general, you want a professional who can confidently demonstrate their experience handling your type of personal injury case to increase your odds of having a positive outcome by way of verdict or settlement.
Can you share your results from other cases that are similar to mine?
It is important to remember that an attorney cannot guarantee the results of your case. However, knowing a legal team's or attorney's success rate can help you know if they are capable of winning cases. A better success rate could indicate a higher likelihood of a positive outcome for your personal injury verdict or settlement. A successful and reliable attorney should be willing and able to share their track record regarding cases similar to yours. 
What strengths and concerns do you see in my case? How will you handle those?
After learning about their past successes, you should ask a personal injury lawyer additional questions about their opinion of your case. What challenges do they foresee in my case? What strategies would they use to mitigate those challenges? How have they successfully dealt with case challenges in past cases? What strengths do they see in my case?
The answers to these questions can provide insight into the skills and knowledge this attorney can offer to lead to a positive outcome. They can also help you understand the approaches an attorney may use and decide if that style suits your needs.
What is the value of my settlement?
As with many aspects of personal injury cases, the value of your case, which could result in a verdict or settlement, is highly dependent on its contextual factors. Some of these influential factors include the type and degree of injury, permanency of injury, the degree of pain and suffering incurred, the impact on work and lost wages, loss of personal property, and so on. 
Though they likely would not cover every detail of your case for an exact estimate during a consultation call or meeting, it is important to ask the attorney's initial opinion on generally what the case may be worth from a legal standpoint. Doing so will provide you an idea of their experience and expertise regarding your type of personal injury case. It will also help you to know what to expect before heading into negotiations with an opposing insurance company or their attorney. 
How will we communicate about my case?
Like any healthy relationship, good communication with your personal injury lawyer is vital. It is important to ask about when and how you will remain informed about your case. Sometimes litigation proceedings can last weeks, months, or over a year making communication even more important. They should share how often they typically check in with their clients and be willing to meet with you as needed. 
A trustworthy attorney will be happy to partner with you consistently and clearly to ensure you are informed and up-to-date on your case. When interviewing attorneys, you should consider a professional whose communication style and plan complement your preferences and expectations.
How long do you anticipate my case to take?
Like most answers, this information is highly dependent on each unique circumstance surrounding a case. Medical needs, case complexity, length of investigation, and the other party's willingness to collaborate can significantly impact the time cases could take. However, an experienced attorney should be able to explain the factors that could influence your settlement timeline. They can also discuss concerns and timing regarding statute of limitations that limit the length of time you have to file a lawsuit after an injury. 
With many timing factors in mind, it is important to interview potential attorneys early to get your process started.
What charges and fees can I expect?
The last of the personal injury law questions we suggest is important. Asking a potential attorney about their pricing is completely appropriate and important. Many personal injury lawyers work based on a contingency fee model. This means you do not pay any fees unless the attorney wins your case. Their fee is then taken as a percentage of your settlement earnings. Though sometimes more expensive, experienced and successful firms only accept cases they feel confident they can obtain a recovery for you or win in order to protect their reputation and clients. This means it may sometimes pay to agree to a higher fee in exchange for high-quality legal representation, but this is not always the case. 
To feel confident that you are agreeing to a fair contingency fee arrangement, ask about pricing during more than one consultation. This is an expected and appropriate question to ask during a consultation with a potential personal injury lawyer.
Rhoads & Rhoads: Here to Answer Your Personal Injury Law Questions
No matter what type of personal injury you have experienced, finding the right attorney to represent you can have a tremendous impact on the outcome of your case. After experiencing enough stress and anxiety from your accident, you want a personal injury lawyer who can put your mind at ease and guide you through the litigation process. Asking the right questions can help you to find an attorney that will best meet you needs and the needs of your case.
At Rhoads & Rhoads, we are eager to answer your questions when searching for a personal injury lawyer. Contact us today at 888-709-9329 for a free consultation.