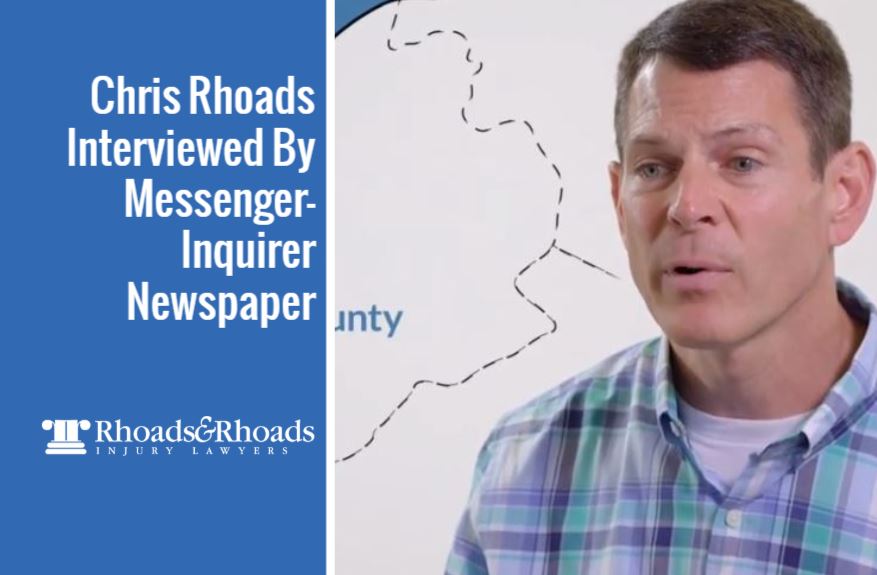 Synopsis
Lee Allen Rhoads started the family law firm of Rhoads & Rhoads in 1939 as Rhoads & Baker, and in 1974, brothers Jerry Rhoads and Tom Rhoads opened the practice in Madisonville spending a great deal of their time representing injured and disabled coal miners.
The business today is almost exclusively personal injury law, including Social Security disability and workers' compensation claims, with the main office in Owensboro run by another Rhoads family attorney, Chris Rhoads.
Rhoads & Rhoads is very proud of their historic reputation and continues to be upheld by a team of aggressive injury attorneys and knowledgeable and experienced staff who genuinely care about the clients and communities they serve.
The history of the law firm was highlighted in an interview featuring Chris Rhoads and published in the Messenger-Inquirer newspaper on August 18th.
Rhoads' Family Story Featured in Local Kentucky News 
The Rhoads family has practiced law for nearly 80 years, spending much of their time in the Madisonville and Owensboro communities. Today, Rhoads & Rhoads is now one of the largest personal injury firms in Western Kentucky, with two offices that are home to six experienced attorneys and a support staff of 12 outstanding individuals. Reporter Keith Lawrence of the Messenger-Inquirer recently discussed both the history and the mission of the firm in a special interview with Chris Rhoads. Chris runs the law firm's main office in Owensboro located downtown at 115 E. Second St., right across from the Judicial Center.
The news story discussed the history of Rhoads & Rhoads dating back to 1939.
1939: Lee Allen Rhoads, who also served in the Kentucky General Assembly for 12 years, started the family law firm in Henderson as Rhoads & Baker.
1974: Jerry Rhoads, served in the legislature as well and began practicing law in Madisonville.
1976: Tom Rhoads joined his brother Jerry, and they formed Rhoads & Rhoads P.S.C. At the time, the majority of their practice focused on representing injured and disabled coal miners but then quickly grew into a full-service personal injury firm.
1996: Bradley Rhoads opened a law practice in Owensboro.
2000: Attorney Chris Rhoads joined the firm and began to practice in Owensboro.
2019: Chris Rhoads oversees the law firm now based in Owensboro, with an office still in Madisonville.
Chris Rhoads' explained to the local paper that while his grandfather founded the law firm, his other grandfather and great grandfather were both Kentucky coal miners, one who worked in Muhlenberg County and died of black lung and another who died in a mine accident when a rock fell on his head. Personal injury scars and workers' safety issues have remained close to the family.
Chris now runs the Owensboro office and also discussed his love for serving the community there, "I practiced in Lexington at a big firm for five years. My brother practiced for a big firm in Nashville. In Owensboro, we found an opportunity to be involved in the community," he told the paper. "I couldn't imagine being anywhere else."
The team of lawyers has been fully engaged with life in Owensboro and the surrounding communities through providing legal support, civic leadership, volunteering, and philanthropic partnerships for more than 40 years.
Rhoads shared a bit more about living and working in Owensboro, "I've coached Little League baseball for 15 years. I've worked with youth sports and different charitable organizations. We encourage everyone in the firm to be involved, to be part of this community."

Passion, Sincerity, and Caring for What We Do 
In June, Rhoads & Rhoads was chosen as the No. 1 Best Legal Service in Owensboro by the Messenger-Inquirer's 11th Annual Readers' Choice Awards. Two additional awards were given for the firm's community engagement efforts and also for being an excellent place to work.
A testament to our successes, many clients also come to the firm as referrals from former clients or other attorneys. Clients have shared much praise that the work Rhoads & Rhoads does is caring, supportive, professional, and makes all the difference when pursuing a legal claim.
"I think with Chris, when I first met him, and with everyone I've met in this office, they have a genuine interest in you. And they care about you. It's not about making money. They want to listen to you, and they want to understand and hear your story and try to help meet your needs the best that they can."
Amy, Car Accident and Social Security 
"I recommend Rhoads & Rhoads. They're more like family. They're not like a typical lawyer. I've never met any lawyers like Rhoads & Rhoads."
"Chris Rhoads met with me for several hours. He was the most caring person I've ever met. It was like an angel had been sent to me. I'll never forget the day."
Denise, Car Accident and Social Security
Our attorneys are active in protecting the rights of people in more than two dozen Kentucky counties from Breckinridge County and Hardinsburg to Henderson County, and we handle all types of injury and disability cases including:
It's never the wrong time to contact an injury attorney for support, even if you think it is too late to make a claim or that you may not have the evidence you need to support a case. At Rhoads & Rhoads we are happy to walk you through the steps and provide answers to the tough legal questions you might have.
Personal Injury Lawyers with a Strong History of Supporting Kentucky Communities 
With offices in Owensboro and Madisonville, our attorneys represent the seriously injured throughout Western Kentucky. We offer free initial consultations, and all cases are taken on a contingency fee basis, so there is no payment required upfront. We get paid only if we win or settle your claim, and NO RISK involved.
Call us at 888-709-9329 or contact us by e-mail to schedule an appointment with one of our Madisonville or Owensboro personal injury attorneys. 
Also Read: Rhoads & Rhoads Lawyers Win Several Local Owensboro Awards