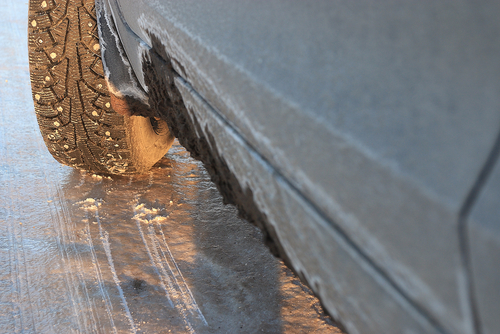 Slick Roads Often Arrive with Late Fall Cold Fronts and Early Winter Air
Most of western Kentucky will be bracing for cooler weather in the coming weeks. These late fall cold fronts often slide through with cloudy skies and scattered showers, and lows that dip into freezing temps overnight, leaving winter-like air covering most areas of the commonwealth, producing slick and icy road conditions.
On average, the National Highway Traffic Safety Administration (NHTSA) reports nearly 6,000 people are killed and over 445,000 people are injured in weather-related crashes each year. An estimated 700 of those traffic-related fatalities occur in Kentucky. In addition to fatalities, there are thousands of injuries on Kentucky roadways each year. Inclement weather like slick roads, can play a role in accidents, but these types of crashes too often occur because someone is driving unsafely for conditions. Speeding, driving under the influence of drugs or alcohol, and distracted driving do not mix well with icy or slick roads.
Snow and Ice Driving Survival Skills
Stay safe on the road during these weather changes. Nothing can make up for the loss of a loved one in a fatal car accident or a lifelong injury that could have been prevented. If you are unable to delay your travel and wait for conditions to improve to drive, follow these tips to keep yourself, passengers, and others safe.
Be seen. The dull, cloudy days that often accompany fall and winter driving will cut down on visibility. It is best to drive using low-beam headlights.
Beware of black ice. Black ice gets its name from its ability to blend in with its surroundings. It forms when it's raining (or water is draining) and air is at or below 32 degrees Fahrenheit at the surface. Use caution when traveling on bridges, overpasses or off ramps as ice can easily form here compared to other areas of the roadway. If driving at night, watch for areas of the road in which headlights reflect off, as it may be a sign of ice. If you find yourself slipping on black ice, stay calm and let your vehicle pass over it.
Buckle up. According to the National Highway Traffic Safety Administration, by wearing seat belts and properly buckling children into appropriate car seats and booster seats, you can reduce the risk of serious injury and death in a car crash by half. The same goes for pickup trucks, SUVs and van occupants. When used in these vehicles, seat belts can reduce the risk of fatal injury by 60 percent and moderate-to-critical injury by 65 percent.
Don't be distracted. Dangerous weather condition crashes too often occur because the driver is distracted. The most influential distraction we see today is using your electronics and cell phones to talk or send messages while operating a vehicle. Drowsiness, limiting the number of passengers and activity in a vehicle, avoiding eating while driving, and saving any multitasking for when you are not behind the wheel can also increase your risk of become distracted while driving.
Don't brake during a turn. Slowly turn the steering wheel and lightly lay on the brakes before you make a turn on an icy or snow covered road. Coast through the turn with your foot off the brake and off the gas.
Prepare your vehicle. This means clearing windows, rooftops, taillights and headlights of accumulated snow, ice, mud or dirt before leaving for your destination. Fill your gas tank and be sure your windshield washer fluid includes antifreeze. Make certain your tires are properly inflated.
Do not use cruise control. Most cars feature cruise control. This feature works great in dry conditions, but when used in icy, wet or snowy conditions, the chance of losing control of the vehicle will increase.
Easy on the brakes, easy on the gas. Hopefully you won't have to slow down too quickly while driving in tricky road conditions, but if you do, try lightly pumping your brakes. This reduces your chance of locking your tires and spinning out of control. If your vehicle has an anti-lock braking system (ABS), press and hold the brake down as far as possible in an emergency to prevent the wheels from locking, and allowing you to steer away from a possible collision. Refrain from accelerating too fast for similar reasons.
Leave room. It's important to increase your distance between other vehicles in snowy or icy conditions. Leave enough room between you and the car in front of you because stopping in ice, slush or snow may require up to four times your normal stopping distance.
Practice. During daylight, rehearse maneuvers slowly on ice or snow in an empty lot. ​
Slow down. Reduce your speed about 10 miles per hour below the speed limit, or more until you're comfortable. Drive carefully and slow down a couple of hundred feet before stop signs and lights.
Stay home. If you really don't have to go out, don't. Even if you can drive well in the cooler weather that brings ice and snow, not everyone else can.
Turn into a skid. Avoid slamming on the brakes as this will further upset the vehicle's balance and make it harder to control. Remain calm, take your foot off the brake and the gas pedal, and turn the car in the direction the car is skidding.
In addition, watch weather reports prior to a long-distance drive or before driving in isolated areas. Delay trips when especially bad weather is expected. If you must leave, let others know your route, destination and estimated time of arrival. It is also a good idea to stay alert to upcoming weather forecasts with Kentucky travel information that is available by dialing 511 or visiting online at www.511.ky.gov. 
Owensboro and Madisonville Car Accident Lawyers — No Recovery, No Fee
With offices in Owensboro and Madisonville, Rhoads & Rhoads represents car accident victims throughout Western Kentucky. We offer free initial consultations, and all cases are taken on a contingency fee basis. There is no payment required up front and we get paid only if we win or settle your case. There is NO RISK involved.
Call us at 888-709-9329 or contact us by e-mail to schedule an appointment with one of our Madisonville or Owensboro personal injury attorneys.