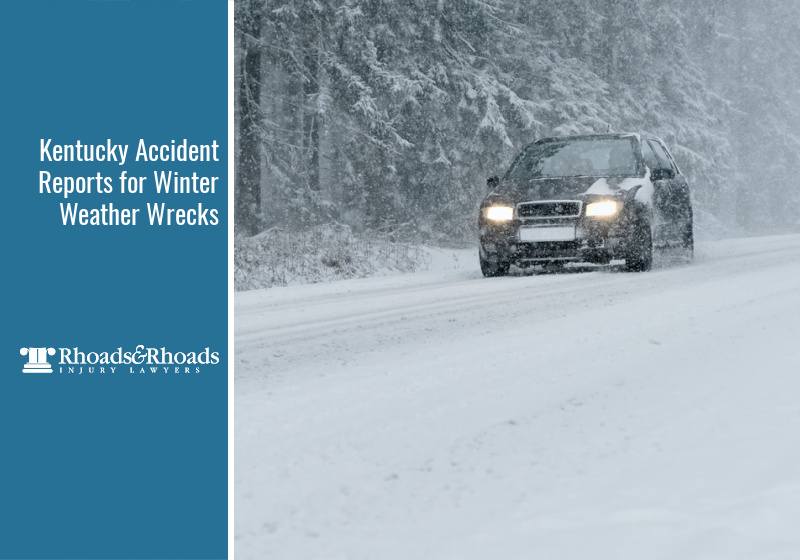 Key Points of This Article
Western Kentucky communities battled scattered snow showers and a mix of below-freezing temperatures as the New Year rushed in, triggering several winter weather advisories and car accidents.
Motorists are urged to drive with caution as temperatures stay below freezing and should watch out for slick areas in unexpected places.
Buckle up, stay alert, slow down, leave a space cushion between vehicles and large trucks, and use caution on bridges and overpasses as these spots can freeze before roadways.
According to Kentucky State Police, nearly 25% of Kentucky's fatal traffic accidents in 2019 involved wet, icy, snow-covered, or slush and muddy road surfaces.
Serious Winter Wrecks Cause Fatalities and Injuries in Western Kentucky
Black ice and pop-up snow showers have a reputation of blanketing much of Western Kentucky each winter, bringing on weather advisories and car wrecks. The falling temperatures are known to create icy conditions where roadways remain wet throughout the cooler seasons. The early 2021 weather recently impacted motorists from Christian, Daviess, and Hopkins Counties to Fulton and Livingston Counties. Motorists should use our accident report roundup below as reminders to slow down, pay attention, and be better prepared for unexpected slick travel.
One Dead, Three Injured in Murray Collision
A two-vehicle crash in Murray claimed one life and left three others injured. The Murray Police Department said the fatal collision happened at the intersection of State Route 94 West and Robertson Road. Officers said a vehicle on Robertson Road driven by a 22-year-old collided with a car on State Route 94 driven by a 73-year-old. Unfortunately, the older man was pronounced dead at the scene, and passengers, including a juvenile, were transported by ambulance to Calloway County Hospital to treat their injuries.
Dual Semi-Truck Accident in Ballard County
The Kentucky Transportation Cabinet (KYTC) says a deadly crash involving two semi-trailers blocked a section of Kentucky 121 in southern Ballard County at the 4.8-mile marker between Wickliffe and the Ballard-Carlisle county line. The cabinet described the incident as a "fatality crash" in its initial report.
Calloway Injury Crash Caused by Ice on Bridge
An icy spot on the road caused an early morning crash in Calloway County that sent one person to a local hospital. Reports say the accident happened at approximately 7:00 am on Highway 94 East, near Clayton Road. The Calloway County Sheriff's Office said a 25-year-old from New Concord traveled west on Highway 94 when her vehicle crossed a patch of ice on a bridge. The driver lost control of her car before striking guardrails on both sides of the road. She was transported by ambulance to Murray-Calloway County Hospital for treatment of her injuries.
Slick Roads in Warren County Led to Three Rollover Crashes
Law enforcement and EMS responded to car accidents across Warren County as well. The wrecks were at 6996 Scottsville Road, a crash at I-165 and Scottsville Road, 1830 Richpond Rockfield Road, and 4144 Smiths Grove-Scottsville Road. These crashes led to three overturned vehicles and several injured. All of the accidents appear to be due to slick road conditions.
Ice and Deer to Blame for Accident in Caldwell County
Winter weather and crossing deer are to blame for a rollover crash in Caldwell County in the 2000 block of Farmersville Road that sent one driver to the hospital. The Caldwell County Sheriff's Office said a 33-year-old was driving south when a deer entered the roadway. Deputies said the driver swerved and applied the brakes, but due to slippery road conditions, her SUV left the road, struck a ditch, and overturned. The woman was transported by ambulance to Caldwell County Hospital for treatment of her injuries.
Fulton Driver Crashes into Building and Congests Traffic
Authorities were forced to close a section of East State Line Street in the city of Fulton after a driver crashed and damaged a building. The crash happened just east of the KY 307 intersection near Pontotoc Park. The collision caused some passenger vehicle congestion and detours along KY 1218/Reed Road, U.S. 45, and KY 116 and onto side streets, causing several fender benders.
Our thoughts are with all of the injured individuals and families impacted by these tragic accidents. Safe roadways are a shared responsibility, especially during inclement weather when accident risks are likely to increase.
Winter Weather Driving Safety Tips from KYTC Snowfighters
Motorists are reminded to be cautious of black ice this time of year, mostly where water forms on bridges and overpasses and then become covered by light snowfall and blowing winds, making it difficult to see until it is too late. Statewide, KYTC snowfighters have been at work and encourage motorists to prepare for a few more weeks of winter weather and remain safe by following these tips:
Travel only as necessary during major weather events. Stock vehicles with ice scrapers, jumper cables, blankets, a flashlight, cell phone charger, non-perishable snacks, and a first aid kit should you get stranded on the road.
Winterize vehicles. Have your car battery, tire pressure, and brakes checked. Make sure your heater, defroster, headlights, and windshield wipers are working correctly.
When snow and/or ice are on roadways, drive slowly no matter what type of vehicle you're in. It takes more time and distance to stop your vehicle in poor weather conditions, so brake early and slowly.
Pay attention. Follow along with weather advisories to allow more time to travel for routine commutes.
Careful for large trucks. Give semi-trucks and travel trailers the space they need to slow down and change lanes.
Watch your speed. Slow down when approaching intersections, off-ramps, bridges, or shaded areas. These are all candidates for developing black ice—a thin coating of clear ice that can form on the pavement surface that may be difficult to see.
Keep your space. Maintain a safe distance from snowplows and other heavy highway equipment and do not pass snowplows on the shoulder.
Know before you go. Check traffic conditions before you travel.
Avoid distractions. Eliminate using your phone or eating while driving and keep your eyes on the road ahead.
Even if you can drive well in the ice and snow, remember that not everyone else can. Sliding into intersections and into a red light, low visibility accidents, losing control due to speed, rear-end collisions caused by distraction or following too close, lane drifting, and spinning out remain some of the more common types of winter car wrecks.
We Represent Injured People Who Need Help
Rhoads & Rhoads is a leading and experienced personal injury firm with offices in Owensboro and Madisonville, representing car accident victims throughout Western Kentucky. We offer free initial consultations, and all cases are taken on a contingency fee basis. We get paid only if we win or settle your case, so there is NO RISK involved. Call us at 888-709-9329 to schedule an appointment with one of our personal injury attorneys.
Watch: Attorney Katherine Reardon explains the personal benefits of hiring Rhoads & Rhoads as your family's law firm.