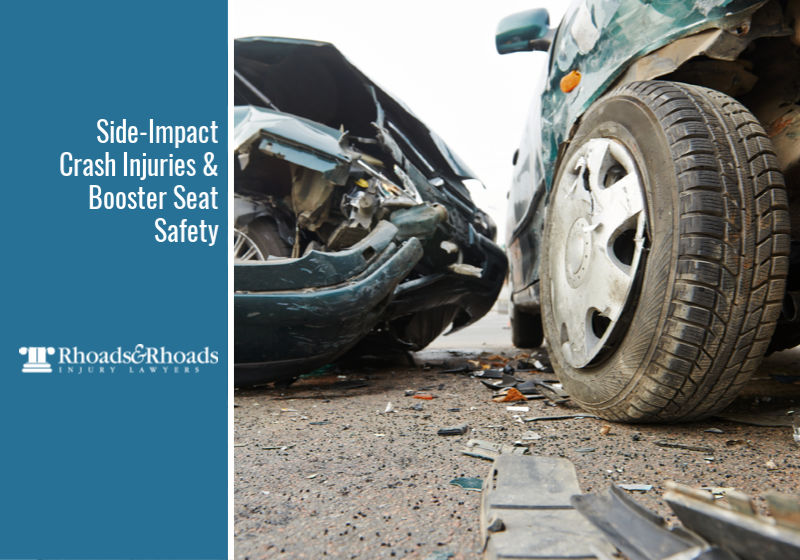 Key Points of This Article:
Depending on their age, most motor vehicle accident injuries among U.S. children can be prevented with the proper use of a safely made and responsibly marketed car seat or booster seat.
Evenflo created and marketed the "Big Kid" Booster Seat in 2012 for children who had outgrown a forward-facing seat but still required a boost to fit with a seat belt properly.
The popular car seat manufacturer failed to reveal side-impact testing results that showed a child seated in its booster could be in danger.
Side-impact crashes to children can result in concussion, broken limbs, internal decapitation, spinal cord damage, and paralysis injuries.
Side-impact accidents are sometimes called broadside collisions or T-bone crashes due to the nature the vehicle's hit each other and form a "T" shape. These accidents occur when one vehicle's front end directly impacts the side of another car or truck. Side-impact crashes were responsible for more than a quarter of deaths of children under 15 killed in vehicle collisions in 2018.
Some of the most common causes of side-impact car accidents are:
Driving while under the influence of drugs or alcohol
Speeding and red-light running
Improper lane change
Distractions such as texting or using a mobile device, in-vehicle technologies and helping backseat passengers while driving
Pile-up accidents
Injuries may present differently in each crash depending on speed, force of impact, type of vehicles involved, and the age of those hurt, especially children who are sitting in a faulted car seat, booster seat, or not using a seat belt correctly. Injuries to children that have been associated with side-impact accidents include:
Concussion, neck injuries or whiplash
Broken bones in the face, hands, legs, arms, ribs
Internal and external decapitation
Spinal cord injury or paralysis
Death
Congress directed federal regulators to create a side-impact crash test standard for car seats back in 2000, but two decades later, movement on that test has yet to be implemented.
Evenflo's "Big Kid" Booster Seat Raises Product Liability Concerns
The direct impact of a vehicle striking another from the side can be devastating, especially to a young passenger sitting on the side of the vehicle where the impact occurs. The result is even worse if the child was not protected by their car seat or booster seat which should align with safety recommendations by the American Academy of Pediatrics (AAP) that children should not be in a booster seat until they reach the maximum weight or height of their harnessed seat.
Also, in 2018, AAP released updated guidelines focused on keeping children in rear-facing car seats until they reach the height or weight limit for the seat; the guidelines also say:
Once children reach the height or weight limit and shift to a forward-facing seat, they should use safety seats with harnesses for as long as possible, often up to 65 pounds.
When children exceed the height or weight limits for those seats, they should use a belt-positioning booster seat until the lap and shoulder belts fit properly, often when the child has reached 4 feet 9 inches in height.
But even one of the biggest sellers of children's car seats and creator of the heavily marketed "Big Kid" booster seat, Evenflo has disregarded AAP's safety recommendations. A 2020 investigation led by ProPublica shows a child-sized dummy in an Evenflo booster seat being violently tossed around during a side-impact crash test. The group also found through depositions that Evenflo employees explained, "We side-impact test our seats, but I don't think we say that we offer any type of side-impact protection." In January, ProPublica even bought a "Big Kid" booster from Evenflo's website with 30 pounds still on the label, and several big-box stores like Walmart sell the booster seat for kids 30 pounds and up, a weight much less than recommended by AAP.
In addition, Evenflo's own safety engineers have requested the company to make significant changes to their product and to stop selling booster seats for children who weigh less than 40 pounds and recommend harnesses be used instead. The company has continued to sell more than 18 million "Big Kid" boosters.
Unsafe Children's Seats Can Be the Cause of a Serious Car Accident Injury
Car crashes remain a leading cause of death for children, but using a safe and correct seat lowers the risk of death or serious injury by more than 70%. And, many simulated movements seen in car seat and booster seat crash tests similar to Evenflo's, also show the high possibility of serious injury.
Product liability lawsuits have been made against these companies which were also included in the National Highway Traffic Safety Administration's Child Seat Recall Campaign Listing since April of 2010:
Baby Trend, Inc.
Britax Child Safety, Inc.
Combi USA, Inc.
Diono
Dorel China America, Inc.
Evenflo Company, Inc.
ForB dba WAYB
Graco Children's Products, Inc.
Kiddy USA
Merrit Manufacturing, Inc.
Recaro Child Safety, LLC
Defective product design, manufacturer errors, and failure to warn claims can be very complicated and expensive to see through, especially since opposition will be met by significantly large companies backed by a prepared legal team ready to fight against any such claim. Parents will need a law firm with substantial experience and resources to support and protect their rights. Rhoads & Rhoads has a reputation for being an aggressive personal injury firm that gets results, and we genuinely care about you and your children and ensuring that the appropriate compensation is delivered for the damages and injuries sustained.
Western Kentucky Car Accident Injury Lawyers for Families and Children
Rhoads & Rhoads has been protecting the rights of the injured throughout Western Kentucky for over 45 years. If your child has been injured in a motor vehicle accident and you believe it was caused by the actions of someone other than yourself or by a defected safety seat or feature in your motor vehicle, don't hesitate to call us. All you need to bring with you are the accident facts — we will handle the rest. We offer free initial consultations, and all cases are taken on a contingency fee basis. Call us today at 888-709-9329.