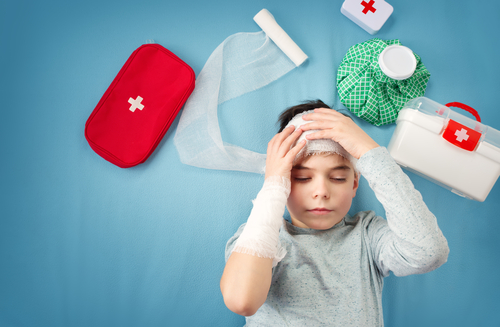 3 Summer Activities That May Increase Your Child's Risk for Brain Injury
 As parents and caretakers of school age children, it is important to understand what type of activities may put kids at risk to serious harm or injury and learn about how common brain injuries can be, especially during the warmer months when children are naturally more active. A brain injury actually has a more devastating impact on a child than an injury of the same severity on a mature adult because the brain of your child is working hard to develop yet. It needs to be protected. Here are three common types of accidents that typically occur in the summer and have the potential to cause a traumatic brain injury (TBI) in your child.
1) Bicycle and Pedestrian Accidents
The warmer, longer days of summer naturally bring children out riding their bikes or playing outdoors for longer. The warmer months also bring out reckless or inexperienced drivers who are guilty of not always paying attention. As a result, many kids are at an increased risk of involvement in a serious bicycle or pedestrian accident caused by a motor vehicle. Remember, bicycle accidents are capable of causing TBIs, even when children are wearing a helmet.
2) Summer Sports 
While most youth sports will come with some sort of risk to injury, the benefits of participating in sports still outweigh these risks for the vast majority. If your child receives a blow to the head while playing any sport, even those other than the common athletics known for brain injuries such as football, soccer, or baseball, seek medical attention immediately.
3) Swimming Pool Accidents
One of the No. 1 summer activities is swimming. Whether it be at a private or public swimming pool, with a life guard on duty or not, there are many ways that pool-based activities can result in a serious TBI in children. Some of these accidents include the following:
Being struck by thrown objects
Diving board or platform after jumping
Hit in the head by a boat or recreational water vehicle
Pool deck slips, trips, and falls
Swimming or diving into unmarked shallow areas
Waterslides and pool equipment
Children Face Great Cognitive Impairments from TBI
According to the Brain Injury Association of American, "the cognitive impairments of children may not be immediately obvious after the injury but may become apparent as the child gets older and faces increased cognitive and social expectations for new learning and more complex, socially appropriate behavior." These late effects will often create challenges for future living and learning for children, their families, schools, and communities but some children may endure lifelong physical challenges including pain and suffering and may develop socially inappropriate behaviors.
When an adult takes a blow to the head, symptoms of their head injury can present immediately but for a child, it may be years before the impact truly becomes apparent. Regardless of the type of brain injury or age of victim, a person with a suspected issue should call 911, go to the emergency room, or contact a physician immediately.
Owensboro and Madisonville Brain Injury Lawyers
If your child has endured a traumatic brain injury, or another serious injury or fatality because of their participation in a summer activity, and it was caused by negligent, reckless, or intentional acts (or failure to act), the wrongdoer can be held accountable.
Call us at 888-709-9329 or contact us by e-mail to schedule an appointment with one of our Madisonville or Owensboro personal injury attorneys.