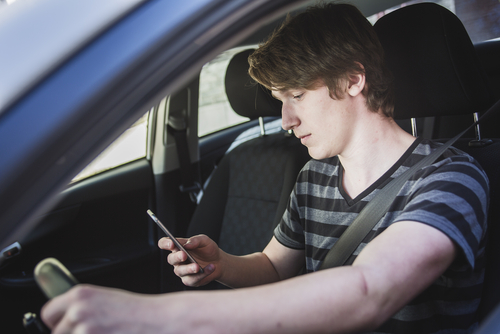 Teen Driver's Fatal Mistakes Caused Prom Night Crash
Two passengers were hurt, and another teen passenger was killed when a 17-year-old driver was operating a 2013 Tesla at speeds faster than 100 mph on Milkin Road in Liberty Township and then lost control and drove into a telephone pole. The Butler County Sheriff's Office recently released documents that reveal the Monroe High School students who were passengers in that awful prom night car crash on April 27th knew the teen driver was speeding and were frightened.
According to the search warrants and reports by local news authorities, "Occupants stated the vehicle was traveling at a high rate of speed just prior to the crash." Another warrant said, "Occupants from the vehicle stated there were text messages or video sent prior to the crash concerning possible speed and reckless driving."
The teen driver, who is a minor, has since been charged as a juvenile with aggravated vehicular homicide and two counts of vehicular assault. Our thoughts and prayers are strong for the family and friends of Miss Kaylie Jackson. Kaylie was the passenger who died three days after the accident from serious injuries caused by the crash and when she was ejected from the back seat and sent through the windshield of the Tesla. Unfortunately, deputies say she was not wearing a seat belt.
Fatal Teen Crashes Are on the Rise
The number of teen drivers involved in fatal crashes increased more than 10 percent from the previous year, according to the National Highway Traffic Safety Administration's (NHTSA) 2015 crash data. In addition, the AAA Foundation for Traffic Safety's study, Rates of Motor Vehicle Crashes, Injuries, and Deaths in Relation to Driver Age, analyzes crash rates per mile driven for all drivers and found that for every mile on the road, drivers ages 16-17 years old are:
3.9 times as likely as drivers 18 and older to be involved in a crash
2.6 times as likely as drivers 18 and older to be involved in a fatal crash
4.5 times as likely as drivers 30-59 to be involved in a crash
3.2 times as likely as drivers 30-59 to be involved in a fatal crash
The AAA Foundation for Traffic Safety also says there are three main factors that commonly result in deadly crashes for teen drivers:
Distraction: More than 50 percent of serious teen crashes are now believed to be caused by distractions and distraction plays a role in nearly six out of 10 teen crashes, four times as many as official estimates based on police reports. The top distractions for teens include talking to other passengers in the vehicle and interacting with a smart phone, including texting.
Not Buckling Up: In 2015, 60 percent of teen drivers killed in a crash were not wearing a safety belt. Teens who buckle up significantly reduce their risk of dying or being seriously injured in a crash.
Speeding: Speeding is a factor in nearly 30 percent of fatal crashes involving teen drivers. A recent AAA survey of driving instructors found that speeding is one of the top three mistakes teens make when learning to drive.
Many states, including Kentucky, have enacted laws against texting or the use of mobile devices while driving. In Kentucky, House Bill 415, was signed into law on April 15, 2010. The law bans texting for drivers of all ages while the vehicle is in motion.
For drivers 18 and over, the ban allows the use of global positioning devices and reading, selecting or entering a telephone number or name for the purpose of making a call.
For drivers under 18, no use of personal communication devices is allowed while the vehicle is in motion. The use of a global positioning system is allowed, but manually entering information must be completed while the vehicle is stopped.
House Bill 415 has received some criticism for not providing law enforcement manageable means to prove an operator was texting while driving. In some communities, leaders feel the law is not easy to enforce.
"100 Deadliest Days" For Teen Drivers Will Begin This Memorial Day
The period between Memorial Day and Labor Day is often referred to as the "100 Deadliest Days" by road safety officials, emergency response crews, and police. This is the time when the average number of deadly teen driver crashes climbs 15 percent compared to the rest of the year because teens are out of school and on the road more often. When you mix that pair with inexperience, distractions, lack of seat belt use, and operators who have riskier driving habits like speeding, it's a recipe for disaster on Kentucky roads.
Over the past five years, more than 1,600 people were killed in crashes involving inexperienced teen drivers during this "100 Deadliest Days." Although the car accident attorneys at Rhoads & Rhoads urge parents to play an active role in helping prevent these deadly crashes by getting more involved and talking to their teens about the dangers of risky behavior behind the wheel, we believe it isn't happening enough. Parents can help reduce the prevalence of tragic accidents like the one in Liberty Township and ultimately assist in saving lives by coaching their teens to slow down, ignore distractions, and to avoid all temptations that point to risky driving. This includes speeding, texting while driving, and driving impaired by drugs and alcohol.
AAA has great resources and recommendations for parents on how to stay actively involved in coaching their teens through the learning-to-drive process including:
Having conversations early and regularly about the dangers of speeding and distraction.
Taking the time to practice driving with their teens in varying conditions.
Adopting and enforcing a parent-teen driving agreement that sets family rules for the road.
Leading by example and minimizing distractions and speeding when they are driving.
Please share our article with others and remind your teen about the importance of safe driving all year long.
Contact Rhoads & Rhoads – NO RECOVERY, NO FEE  
If you or your child have been involved in an auto accident because of a distracted or reckless teen driver, we want to help. The car accident legal team at Rhoads & Rhoads offers free initial consultations, and all cases are taken on a contingency fee basis. With offices in Owensboro and Madisonville, Rhoads & Rhoads attorneys are also available and ready to fight for the families of wrongful death victims throughout Western Kentucky.
Call us at 888-709-9329 or contact us by e-mail to schedule an appointment with one of our experienced attorneys.