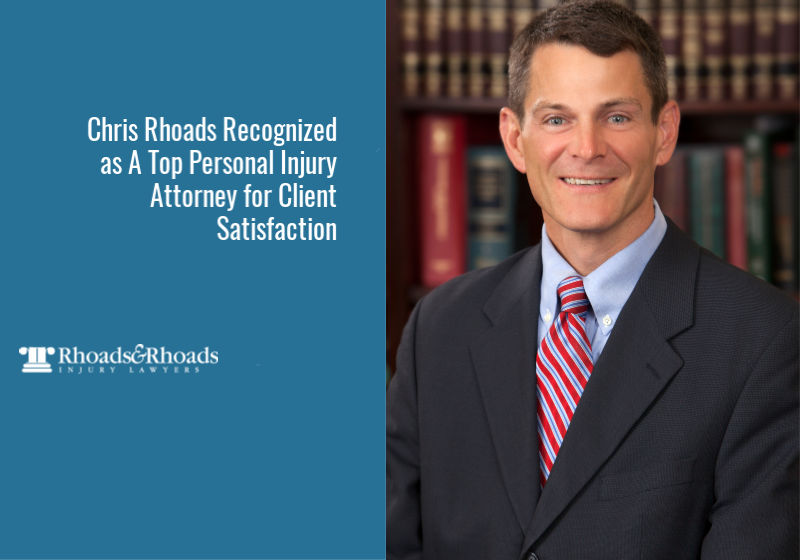 Key Points of This Article:
Rhoads & Rhoads partner and attorney Chris Rhoads has been recognized as a 2020 Member of American Institute of Personal Injury Attorneys for his exceptional performance in client satisfaction.
The firm is very proud of Chris's leadership as both a kind yet aggressive personal injury attorney who is knowledgeable and experienced but also genuinely cares about the clients and the communities he serves.
Rhoads & Rhoads is now one of the largest personal injury firms in Western Kentucky, with two offices home to six experienced attorneys and a support staff of 12.
The business today is almost exclusively personal injury law, including Social Security disability and workers' compensation claims, with the main office in Owensboro run by Chris Rhoads.
The American Institute of Personal Injury Attorneys has recognized the exceptional performance of Kentucky Personal Injury Attorney Christopher Rhoads as 2020 "10 Best" Personal Injury Attorneys for Client Satisfaction.
Chris, alongside his team of Rhoads & Rhoads attorneys, including Brad Rhoads, Katie Reardon, and Kyle LaMar, practice at the firm's main office in Owensboro, across from the Judicial Center. The firm specializes in the areas of personal injury law, motor vehicle accidents, wrongful death, product liability, social security disability, and workers' compensation. Together, they seek to provide an atmosphere where relationships are trusted and meaningful with clients, employees, and the Owensboro community.
The American Institute of Personal Injury Attorneys published the annual list of the Top 10 Personal Injury attorneys in each state. Attorneys who are selected to the "10 Best" list must pass AIOPIA's rigorous selection process, which is based on client and/or peer nominations, thorough research, and AIOPIA's independent evaluation. AIOPIA's annual list was created to be used as a resource for clients during the attorney selection process.
Trusted Relationships and Building Rapport Among Clients
One of the most significant aspects of the selection process involves attorneys' relationships and reputation among his or her clients. As clients should be an attorney's top priority, AIOPIA places the utmost emphasis on selecting lawyers, such as Chris Rhoads, who have achieved significant success in the field of Personal Injury law without sacrificing the service and support they provide. Selection criteria, therefore, focus on attorneys who demonstrate the highest standards of Client Satisfaction.
Reviews shared by Rhoads & Rhoads clients include:
"I think with Chris, when I first met him, and with everyone I've met in this office, they have a genuine interest in you. And they care about you. It's not about making money. They want to listen to you, and they want to understand and hear your story and try to help meet your needs the best that they can."
"Let this be the place to go if you need great support. The love and care are real; they work as a family and treat you as part of the one big family. They are the very best."
"Chris Rhoads met with me for several hours. He was the most caring person I've ever met. It was like an angel had been sent to me. I'll never forget the day."
"They are very attentive and caring. They have handled an injury case for me and did amazing. They also helped set up a trust for my son. I highly recommend it."
"Couldn't have asked for a friendlier guy (Chris Rhoads). That's the thing about everyone in this office. I'm just so impressed with how friendly and helpful they all are."
"Very professional, and they take care of business. Since hiring them, my mind has been put at ease."
"The amazing people at Rhoads & Rhoads genuinely care about their clients! You're not just a number or a dollar sign, and that makes all the difference in the world."
We welcome you to join our firm in congratulating Christopher Rhoads on this achievement. And we are honored to have his leadership as a 2020 AIOPIA Member as he continues to serve western Kentucky communities.
Watch Chris Rhoads discuss the importance of hiring a local law firm to represent you for your injury claim.
Learn More About Rhoads & Rhoads
The Rhoads family has practiced law for nearly 80 years, spending much of their time in the Madisonville and Owensboro communities. Today, Rhoads & Rhoads is now one of the largest personal injury firms in Western Kentucky, with two offices that are home to six experienced attorneys and a support staff of 12 outstanding individuals.
The team of attorneys are active in protecting the rights of people in more than two dozen Kentucky counties from Breckinridge County and Hardinsburg to Henderson County and handles all types of injury and disability cases including:
It's never the wrong time to contact an injury attorney for support, even if you think it is too late to make a claim or that you may not have the evidence you need to support a case. At Rhoads & Rhoads, we are happy to walk you through the steps and provide answers to the tough legal questions you might have.
Western Kentucky Personal Injury Lawyers 
Rhoads & Rhoads has been protecting the rights of the injured throughout Western Kentucky for over four decades. If you or a loved one have been injured due to the negligence of another, our team of experienced trial attorneys and support staff are available to help you through this difficult time and get you the financial recovery you deserve.
We offer free initial consultations, and all cases are taken on a contingency fee basis. This means there is no payment required upfront, and there is NO RISK involved. Call us at 888-709-9329 to schedule your consultation.
Also read: Personal Injury Accident Trends to Watch for in 2020