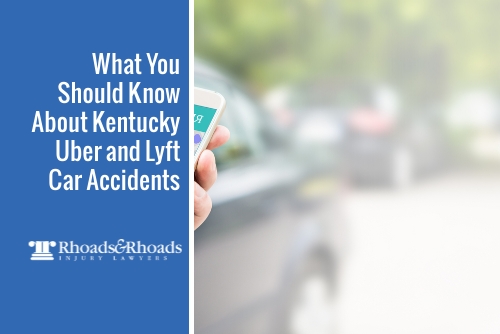 Synopsis
For the last decade, ride-hailing services such as Uber and Lyft, have changed the transportation landscape in Kentucky.
While young adults are the most likely age group to use ride-sharing services, adult commuters, and those living in urban communities with higher incomes also serve as a large group of customers.
Ride-share driver choices can put passengers at risk and accidents do happen, but the process of where the liability sits can be confusing compared to a normal car accident.
As these types of transportation options continue to grow, accident injuries involving ride-sharing passengers may increase as well. Knowing what to do if involved in one of these crashes makes all the difference in a successful recovery.
Determining Who is Liable in an Uber or Lyft Accident
Most recognized ride-sharing services, like Uber and Lyft, have quickly grown in popularity by offering a convenient alternative to travel for people like commuters, tourists, students and those living in suburbs and larger cities. And with an estimated 400 ride-sharing cities across the country, including several in Western Kentucky, it is likely you may interact with one of these services. Many transportation industry leaders support ride-sharing and believe it to be a convenient way to reduce traffic congestion, create jobs, and boast about how personal technologies and apps are paving the way for safer roads. Louisville Metro Police say they made nearly 2,700 drunk driving arrests in 2013, the last full year before Uber and Lyft began operating there. LMPD noted that citations started to fall soon after and have been below 1,400 showing a significant cut in drunk driving related accidents with ride-sharing possibly to thank.
The process runs much like a taxi service, although vehicles and drivers aren't regulated the same way. This is how ride-sharing works.
Fueled by technology, a person needing transportation connects with a ride-share driver through an easy-to-use app on their phone.
The ride-share driver, who uses their own private vehicle, then receives the request and payment through the app and transports the person to their chosen destination.
Most of the apps will allow a passenger to pick their driver based on ratings and preferences. They can also share their travel status with others as well as the driver's name, photo, license plate, and location with someone else. This way, friends or family members can track a rider's trip and send help if something goes wrong.
An April 2018 poll provided a more significant look at who is using these transportation services by Gallup U.S. and found that 45 percent of young adults, aged 18 to 29 are the most likely age group to use ride-sharing services such as Uber and Lyft. Also, the poll found that Americans with higher incomes of $90,000 (or more) are among the next group to most likely use the services and use up 41 percent of the ride-sharing public. Even so, any passenger and other road users such as pedestrians or motorcyclists, no matter what their age or socioeconomic background, can be involved in a ride-sharing accident.

Preparing Yourself for a Safe Ride-Sharing Trip
Some car wrecks will be inevitable, and new research data involving the University of Kentucky has even connected the rise in ride-sharing services to the increased amounts of car accidents caused by a new type of road congestion found in bigger cities. While those findings continue to sort out, it's crucial to know that if you are a ride-share user or plan on being one, there are several things that can be done to reduce the risk in being involved in a wreck or seriously injured while a passenger.
Review driver ratings and choose the one you are most comfortable with.
Share your status and travel plans with others.
Follow the driver's map alongside your own to ensure you are headed to your destination.
Buckle up and sit in the backseat.
Travel with others, especially when not sober.
If you no longer feel safe while being a ride-share passenger or think your driver may be engaging in aggressive and erratic driving, is under the influence or distracted, demand they stop so you can get out or dial 911 if you feel threatened.
Accidents Caused by Ride-Share Drivers
Ride-hail drivers also carry the responsibility to operate safely and prevent injury to their passengers, pedestrians, bicyclists, and other motorists based on their driving decisions. Common causes for Uber or Lyft accidents are similar to those of other motor vehicle accidents and can include:
Distracted While Driving
Speeding or Reckless Driving
Impaired Driving
Driver Fatigue
Failed Vehicle Maintenance
Unsafe Lane Change
Driving Too Close
Aggressive Driving
Although sometimes challenging to prove, if a driver has failed their duty to keep passengers safe, money may be recovered for the damages passengers or other road users have suffered, including medical bills, pain and suffering, and lost wages. These cases can be complicated as ride-sharing companies have positioned themselves to avoid the responsibility to pay by operating as a technology company vs. a transportation service. In any case, taking the time to consult with an experienced motor vehicle accident attorney who has dealt with these types of accidents will only help your situation.
What to Do If You Become Injured by a Ride-Share Driver
If you find yourself in a ride-sharing accident due to an unfit driver, first seek medical help and treat the crash as you would with any other. Gather the evidence needed to file a claim against the other driver's primary insurance and contact the ride-share operating company to inform them about its driver and the accident. There have also been cases where the driver's behavior was unwarranted, such as physical assault of a customer or the unsafe operating of a motor vehicle, and law enforcement may need to be involved. Most ride-sharing companies enforce strict safety guidelines to keep both drivers and passengers injury free and comfortable. They also require drivers to carry an insurance policy in addition to offering options for supplemental liability coverage up to $1 million, active only once a driver has accepted a fare and currently transporting a passenger and the driver's primary insurance policy surpasses its limits.
We should be able to trust that the ride-share services we are paying for are not only convenient but also safe. Moreover, as ride-hailing options continue to grow, more passengers may become injured or involved in a situation that would harm them. If this happens to you or someone you care about, seek the help of an Uber or Lyft accident attorney at Rhoads & Rhoads.
Owensboro and Madisonville Lawyers — Ride-Sharing Accident Injuries
If you or a loved one have been injured as the result of traveling in a ride-share vehicle or by its driver, don't hesitate to call us. All you need to bring with you are the accident facts and your trust — we are here for you and can take care of the rest.
Call us at 888-709-9329 or contact us by e-mail to schedule a free consultation with one of our Madisonville or Owensboro personal injury attorneys.
Source: Reinhart. (2018). Gallop U.S. Poll. Retrieved from Snapshot: Who Uses Ride-Sharing Services in the U.S.?