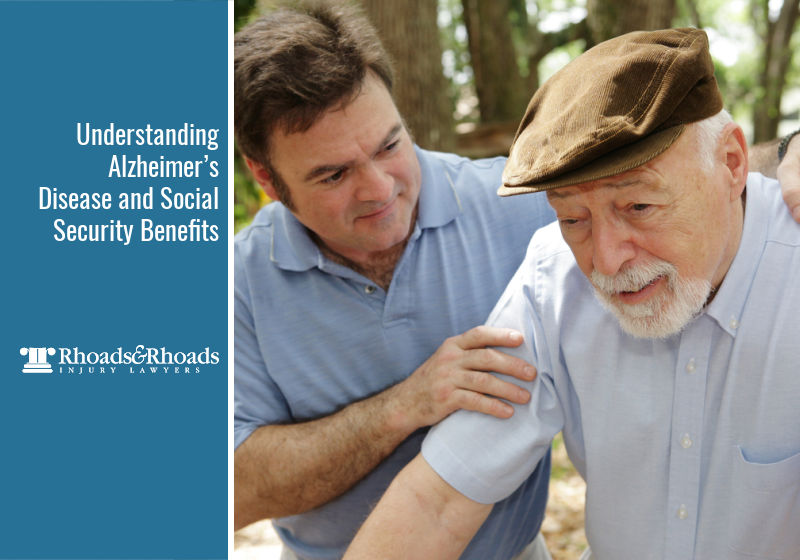 Key Points of This Article:
There are 200,000 Americans under the age of 65 living with Alzheimer's today, and Early Onset Alzheimer's is a progressive, terminal disease, which cannot be prevented, cured, or even slowed.
In Kentucky, more than 75,000 people are living with Alzheimer's disease – the most common form of dementia.
Social Security benefits are very important to eligible individuals battling Alzheimer's who are no longer able to work, require extra care, and have no other income source.
If you suffer from a severe medical condition that prevents you from working, time is of the essence when it comes to applying for Social Security disability benefits. In some cases, such as an Early Onset Alzheimer's diagnosis, the application process can be expedited through the Social Security Administration's Compassionate Allowances program.
This Social Security Program Can Significantly Reduce Approval Times for Those Battling Alzheimer's Disease
Across the U.S., nearly 5.4 million people are living with Alzheimer's disease – a disabling cognitive disability and the most common form of dementia. According to the Alzheimer's Association, Alzheimer's is a type of dementia that affects memory, thinking, and behavior. Symptoms eventually grow severe enough to interfere with daily tasks.
Since the early 2000s, Alzheimer's has also become a growing public health crisis in Kentucky, where almost 75,000 people now live with the irreversible disease. Many now require family or friends' help because they are without the financial means to afford the care they need, especially if battling Early Onset Alzheimer's.
What you might not know about Alzheimer's disease:
While most people associate the disease with old age, there are 200,000 Americans under 65 living with it today.
Alzheimer's disease accounts for 60-80% of dementia cases.
Alzheimer's has no current cure.
Early Onset Alzheimer's is a growing progressive, terminal disease that cannot be prevented, cured, or even slowed in people otherwise very healthy and in their prime working years.
On average, a person with Alzheimer's lives four to eight years after diagnosis but can live as long as 20 years, depending on other factors.
Most forms of Alzheimer's heavily influence an individual's working years and prevent them from gainful employment.
Alzheimer's in any form can cause a person to lose employment, salary, and employer-offered benefits such as healthcare, leaving them to figure out how they will pay for their daily needs, including specialized care. Early Onset Alzheimer's can strike people as young as 30 and 40 and quickly take them out of the workforce.
Social Security's Compassionate Allowances Program Allows Disability Benefits to Arrive Faster for Some Alzheimer's Patients
The Social Security Administration (SSA) offers hope to some Alzheimer's patients and their families through its Compassionate Allowances Initiative (CAL). The SSA defines the initiative by identifying debilitating diseases and medical conditions so severe they meet Social Security's rigid disability standards. Early Onset Alzheimer's is covered by Social Security as a disability. According to the SSA, the initiative allows for faster payment of Social Security benefits to individuals with Alzheimer's disease, mixed-dementia, and Primary Progressive Aphasia.
Applying for benefits under the CAL program can significantly reduce waiting times to reach a disability determination. And to date, more than 600,000 people with severe disabilities, including Alzheimer's, have been approved through this accelerated, policy-compliant disability process. To qualify for CAL, you'll need clinical records from your primary care physician or a specialist showing you have progressive dementia.
In most cases, disability claims demand quick approval, and this program can help fast-track cases where people have medical conditions and diseases requiring prompt attention from the SSA. Unfortunately, too many people who should qualify for benefits initially will not. Others may have had their initial disability claim rejected due to an oversight in the paperwork and now require help from a lawyer to help appeal, gather more evidence, present their case, or correct any mistakes quickly.
Getting Financial Help for Your Loved One and Family Is Possible
Kentucky applicants of all ages, regardless of disability, are more likely to be approved and receive benefits sooner when supported by an attorney. An experienced lawyer can review your claim and help determine if you might qualify based on conditions related to your health and your ability to work. Also, here are a few extra resources for families challenged by Alzheimer's in Kentucky.
To learn more about how Social Security disability insurance works, visit Social Security's disability pageand visit Social Security's Compassionate Allowances page nyhttps://ssa.gov/compassionateallowances/ to learn more about other medical conditions under the Compassionate Allowances Initiative.
The Alzheimer's Association is at alz.org or call the 24/7 Call Center at 1-800-272-3900 for additional support.
The Greater Kentucky and Southern Indiana Chapter of the Alzheimer's Association provides service and education to 125 counties across greater Kentucky and southern Indiana. Kentuckians can visit with the group here.
We take pride in protecting the clients we serve, including the many suffering from underlying medical conditions and financial hardships related to their disability. Because of this, be assured that our team can accommodate you and your family, and in-person consultations are not always necessary. Our goal is to continue serving with the safety and the support you deserve while staying respectful of the underlying medical conditions, physical, emotional, and financial hardships you have faced related to your disability.
Western Kentucky Social Security Disability Benefits Lawyers
If you or a loved one have become disabled and are pursuing or have been denied disability benefits, our team of experienced attorneys and knowledgeable support staff are available to help you through this challenging time. We will work honestly and quickly to get you approved and the benefits you deserve delivered.
Rhoads & Rhoads has been protecting the rights of the injured throughout Western Kentucky for more than four decades. Your monthly disability payments will not be affected by working with an attorney. Call us today for a free initial consultation at 1-888-709-9329.
Also read: What to Know About Social Security Payments In 2021