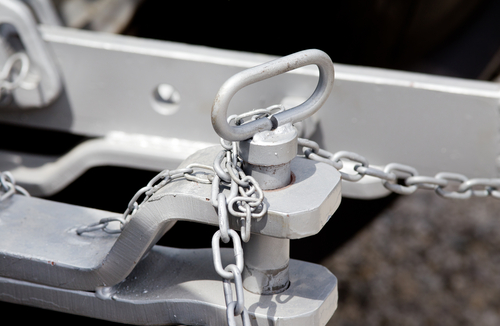 Unhooked Trailer Triggered Head-On Crash, Caused Serious Injuries to 3 Kentucky Children
Kentucky State Police recently reported a head-on collision involving an unhitched trailer which put three young girls, all under the age of 10, into the hospital with severe injuries. The accident occurred near the 7000 block of Cemetery Road in Bowling Green and started when the vehicle they were traveling in was struck by a trailer that detached from a pickup truck. To avoid being hit by the trailer, the driver then crossed the center line of the roadway and collided head-on with another motorist. Unfortunately, two of the young passengers were not in the appropriate child safety seat.
Our thoughts and prayers are with the 7-year-old girl listed in stable condition, the 9-year-old girl in critical condition, and 5-year-old girl in extremely critical condition as they recover from their catastrophic injuries.
As of now, KSP are investigating whether the trailer came loose because of a mechanical failure or driver's error. While towing accidents aren't always the riskiest roadway hazard for Kentucky drivers to deal with, they do happen. For drivers who tow a trailer, camper, boat or anything else, here are a few tips from the motor vehicle accident injury team at Rhoads & Rhoads to help prevent an incident like this from occurring in the future.
Know the Tow Rating
Be sure you know the tow rating for your vehicle before attempting to travel with anything on your hitch. If you overload your tow, you could soon be dealing with alternative issues that trigger roadway accidents caused by failing brakes, unsecure or broken suspensions, and blown-out tires.
Follow Kentucky Tow Laws
Knowing about taillights, safety chains, extra mirrors, or braking equipment required can help not only save you from causing an accident but also a ticket.
Make Your Load Visible
Without the brake lights, taillights, turn signals, and reflectors required by federal law, cars behind you can't see you or your tow vehicle. Be sure to double-check all connections and ensure every light is working prior to hitting the road.
In addition, always double check your tire pressure, adjust or add extra mirrors, and tow package hookups. Science has proven that underinflated tires produce more friction, which can lead to blow-outs and even cause a tragic rollover accident. And driving a fully loaded trailer with a loose tow can be extremely dangerous and easily trigger a deadly accident, even more so when you don't have the right mirrors to help you see the issue arise. Be sure to check for any issues on both your tow vehicle and your trailer before hitting the road. If you suspect your tow is loose, pull over into a safe zone to secure it or unload it.
Kentucky's Auto Accident Lawyers
While most towing accidents are preventable, we see in this case that traffic accidents from tows can create serious injuries to any kind of road user. If you or someone in your family has been seriously injured or killed in a motor vehicle accident, the Kentucky car accident lawyers at Rhoads & Rhoads want to help. Take advantage of our free initial consultation and discuss your case with us.
Call us at 888-709-9329 or contact us by e-mail to schedule an appointment with one of our Madisonville or Owensboro personal injury attorneys.