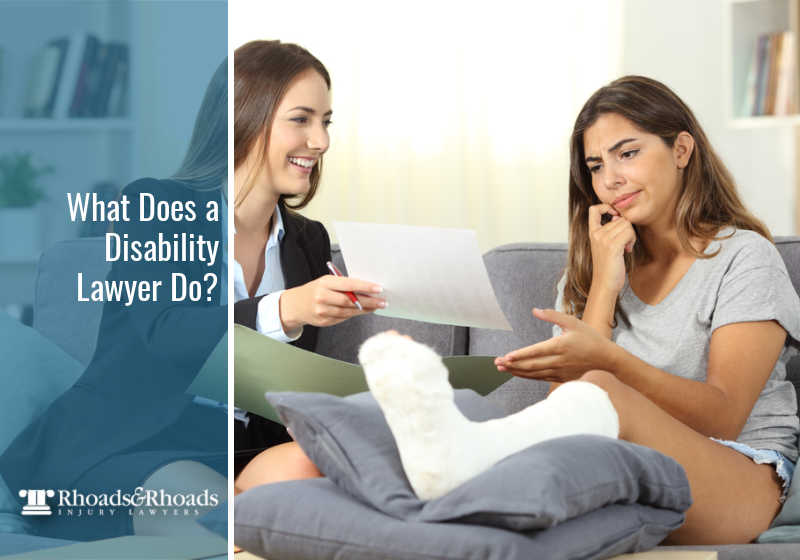 Key Points of This Article:
A disability lawyer can assist you throughout the entire SSD/SSDI claims process.

Most importantly, your lawyer will be able to help you provide compelling medical evidence.

Most disability lawyers work on a contingency fee basis and only get paid if they win your case. 
A lawyer for disability can help with many things, but primarily, they help those who are disabled file and/or appeal their SSD or SSDI claims, ensuring they get the disability benefits they need. A disability lawyer can help guide you through every stage of the process, ensuring appeals are timely and properly filed and everything goes as smoothly as possible to provide the best outcome. 
If you need assistance with an SSD or SSDI claim, one of our Kentucky Social Security Disability Lawyers can help you today. At Rhoads & Rhoads, our team has been assisting clients throughout Western Kentucky for over 45 years. Let us help you get the financial compensation you deserve. 
What is a Disability Lawyer?
A disability lawyer specializes in helping those who cannot work and therefore need financial assistance. Unfortunately, the Social Security Administration (SSA) denies a vast majority of claims; thus, it is incredibly helpful to have a lawyer working with you to ensure your claim is not denied. 
As a whole, a disability lawyer can provide various kinds of support, such as helping you submit convincing medical evidence to prove you are disabled and ensuring all of your paperwork is filed correctly and on time. 
How Can a Disability Lawyer Help With My Claim?
A social security disability lawyer will be able to help you throughout the entire claim submission process. They will ensure everything is done correctly, handle communications, and make sure you are fully and fairly compensated. 
Submit Persuasive Medical Evidence
First and foremost, a disability lawyer will help you gather the necessary medical evidence. It is not uncommon for SSA to deny claims due to a lack of persuasive evidence that proves an individual is entitled to SSD or SSDI benefits. So, one of the biggest things your lawyer will help you with is building a compelling case with substantial evidence. 
Complete Paperwork 
Aside from the evidence, a lot of paperwork needs to be filed for your case to be approved — and it's also not uncommon for claims to be denied due to paperwork mistakes. Your lawyer will help you complete all the paperwork, ensuring everything is done correctly to avoid errors that could result in a denial of your claim. 
Manage Deadlines
Throughout the SSDI process, many deadlines must be met. A disability lawyer will be familiar with these deadlines and can help you stick to them to avoid any issues with your application. 
Communicate on Your Behalf
If SSA needs to communicate with you for any reason, your lawyer can speak on your behalf. This ensures you don't say anything that could be used against you to deny your claim. In addition, when speaking with SSA, your lawyer will know exactly what to say to ensure your application gets approved. 
Provide Support During Appeals
If, for some reason, your claim does get denied, a lawyer will be able to assist you throughout the appeals process. This includes representing you at any hearings and resubmitting more persuasive evidence and paperwork. If the SSA also denies your appeal, your lawyer can present your case to an Administrative Law Judge. 
How Much Does A Disability Lawyer Charge?
One of the primary reasons disability applicants do not hire a lawyer is a misunderstanding or a concern about the cost. However, if you work with a professional and experienced disability lawyer, you should not have to pay any upfront fees. Most lawyers work on a contingency fee basis, which means they only receive compensation if they win your case. Their fee is then only taken out of the back pay benefits you receive. 
Furthermore, disability lawyers are limited in how much they are allowed to charge disabled clients. At most, they can only collect a 25% fee or $7,200 — whichever one is less. For example, if you were awarded $20,000 in back pay benefits, the fee for your lawyer that would be taken out of that payment would be $5,000. 
Kentucky Social Security Disability Lawyers – Rhoads & Rhoads
If you are disabled and looking to file for Social Security Disability benefits, the team at Rhoads & Rhoads can help. We represent SSD applicants throughout Western Kentucky in our Owensboro and Madisonville office locations.
Call us at 888-709-9329 or contact us online to schedule an appointment with one of our Social Security attorneys today. We offer free initial consultations, and all cases are taken on a contingency fee basis, so no initial payment is required. We get paid only if we win or settle your case, and there is NO RISK involved.