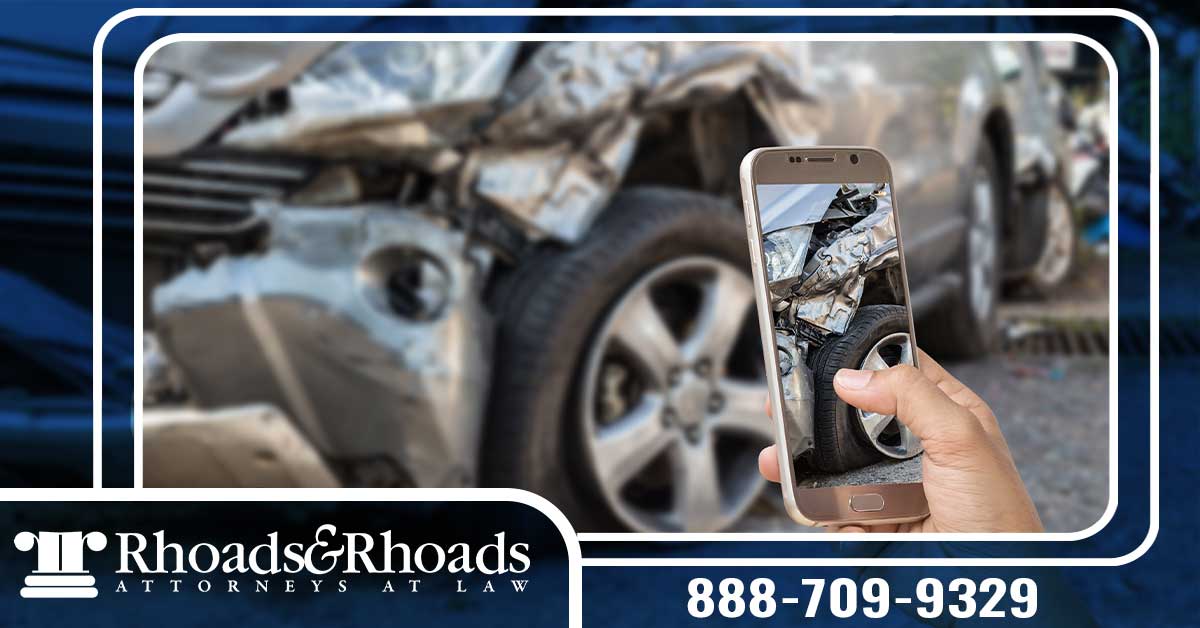 Key Points of This Article:
There are certain mistakes you should avoid making after an accident as they could negatively affect your insurance claim. 

Always speak to a lawyer before giving official statements or signing any documents. 

A personal injury lawyer can help you avoid making mistakes and ensure the best possible outcome for your case. 
Most hear about what they should do after a car accident, but what about the things you shouldn't do?
In this article, we'll focus on what not to do after a car accident. The idea is to help drivers understand what mistakes to avoid to ensure the best possible outcome for their car accident claim. That said, we will offer some tips for what you should do as well. 
If you have questions and need help with a car accident claim in Kentucky, don't hesitate to contact us for assistance. At Rhoads & Rhoads, our Kentucky car accident lawyers have been helping accident victims for over 45 years in Western Kentucky. We can help you navigate your claim and ensure you are fairly compensated for your damages. 
What Not to Do After a Car Accident
Knowing what not to do after a car accident can help you avoid mistakes that could negatively affect your car accident claim. Most people assume that if they weren't at fault, they will automatically win their case and get the compensation they deserve — but this isn't true. 
Many things can affect how the settlement process plays out, so it's important to do as much as you can to ensure the best outcome — which includes avoiding the following mistakes: 
1. Not Calling 911
It's common for people to avoid calling the police when they assume the accident isn't that big of a deal or because they just don't want to deal with getting the police involved. Unfortunately, this is not a wise decision.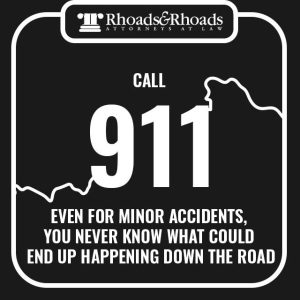 Even for minor accidents, you never know what could end up happening down the road, such as the other party trying to make false claims about what happened. Calling the police ensures that an official police report is filed, which will serve as evidence when you file a claim. It can help prove who was at fault and what exactly happened in case there are any disputes between you and the other driver. 
2. Admitting Fault
Even if you think you were the one who did something wrong, you should never admit fault. Something else possibly contributed to the accident, but if you say anything resembling admitting fault, this could be used against you to deny your claim. You should even avoid apologizing and saying you're sorry, as this could be construed as admitting fault. 
3. Losing Your Temper
Understandably, you may be very upset after being in an accident, but if you let your emotions run away with you, it could make the situation worse. You could accidentally say something you don't mean or make the other person do something they otherwise wouldn't. Overall, it's important to try to remain calm and civil so you can more clearly assess the situation and handle it as best as you can. 
4. Leaving the Scene of the Accident,
It is illegal to leave the scene of an accident, regardless of who was at fault. So you should never drive away. Always stick around to exchange information and call the police so an official report can be filed. 
5. Agreeing to Give a Statement to The Insurance Company
If you are asked to give an official statement about what happened, you are allowed to decline until you speak to a lawyer. Even if it's your own insurance company asking for a recorded or even a written statement, you should decline until you have the chance to consult an attorney. Anything you say can be used against you to deny your claim or reduce your settlement. 
6. Signing Anything Without Talking to a Lawyer First
Just as you shouldn't give a statement, you also should avoid signing or agreeing to anything before you speak with a car accident lawyer. It's not uncommon for insurance companies to try to get accident victims to sign and agree to a quick settlement, but these settlements are usually much less than what you deserve to be paid. 
What to Do Following a Car Accident
In addition to what not to do after a car accident, here are some follow up tasks after an accident that you can and should do to ensure a better outcome:
Seek Medical Attention:

Your health should be a top priority after an accident. So if you were injured, you should seek medical attention as soon as possible. Proof that you were injured will also serve as evidence to help support your accident claim. 
Gather Evidence:

Aside from medical evidence, there are other kinds of evidence you can gather at the scene of the accident to help support your claim. This includes photos and videos of what happened, the damage, and your injuries. You can also get contact information from the witnesses so they can be called upon to give a statement for evidence. 
Talk to a Lawyer:

Immediately following the accident, you should contact a lawyer. They can review your case, offer you guidance, handle communications with the other parties and insurance, and ensure you are fairly compensated. 
What to Say When Someone Gets in a Car Accident
Again, the things you say after an accident can be used against you. Even if you feel inclined to say you are sorry to the other person, you should avoid doing so. It's certainly proper and  considerate to inquire about another's well-being and check to see if they are okay, but say as little as possible, call the police, exchange information with the other driver(s) involved, and then consult a lawyer before giving any statements. 
Kentucky Personal Injury Lawyers – Rhoads & Rhoads
At Rhoads & Rhoads, our personal injury accident attorneys fight hard for our clients to ensure their rights are protected. Navigating a claim and avoiding making mistakes can be difficult, but we are here to help. Let us handle your case and win you a fair settlement so you can get back to living your life. 
Call us at 888-709-9329 to schedule an appointment with one of our Madisonville or Owensboro personal injury attorneys. We offer free initial consultations, and all cases are taken on a contingency fee basis, so no initial payment is required. We get paid only if we win or settle your case, and there is NO RISK involved.