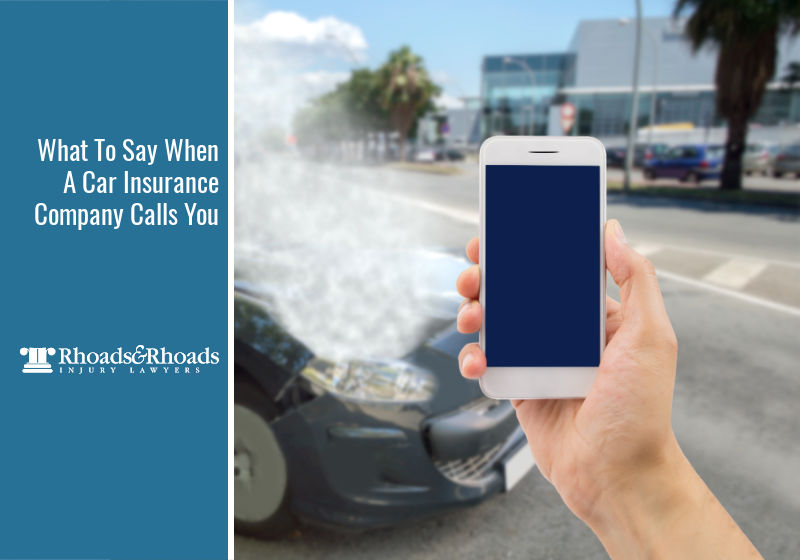 Key Points of This Article:
Most accident victims don't know how insurance works and are unsure how to talk with them when prompted to give for personal information from another person's provider.
Everything that happens within initial conversations between you and another person's insurance company can be used to deny your claims and drop your case.
Many questions are designed to confuse and discredit you and often dismantle your case before you can even file, using your innocently provided information.
Unfortunately, without an attorney to help guide them, many accident and injury victims make mistakes that could hurt their case and cause further hardship and stress.
After a Car Accident, Act Fast to Minimize Your Interactions with Another Person's Insurance Company
Unfortunately, car accidents, truck wrecks, and crashes involving motorcycles and pedestrians happen all the time. And with painful injuries, time off work, financial constraints, and the added stress, the injured often will have to deal with someone else's insurance company tirelessly calling them too. For these accident victims, the at-fault person's insurance company's phone call goal is clear: they want to pay out little to no compensation if possible and find fault as to why you aren't worthy of benefits.
Here are a few common questions and answers that will help guide you in this situation.
Q: What should I do if I get a call from someone else's insurance company after my car accident?
First off, you are right to have a bad feeling about this call. Do you know how to respond at this time? Have you talked with an attorney or even your own insurance company yet to discuss policy options related to your first-party claim? Have you been in for a medical visit? Do you know the extent of damage done to your vehicle or property? Are you aware that what you say and how you say it can be twisted and used against you?
You must be prepared for this moment and protect your rights as much as you are able. And know that you have no obligation to discuss your accident or entertain a settlement with another driver's insurance carrier.
Q: So, how do I respond when they reach out to me?
A: It is perfectly OK to accept the call and be polite if the other person's insurance company wants to talk to you, but you don't have to respond in any other way than asking for their contact information, including name, the insurance company, and phone number or email to return a call at a later time.
You can simply say, "Thank you for your call, but I am not able to talk right now. How about you tell me your name and contact information, and I can reach out in a few days?"
Take note of the information they give, but offer nothing else in return.
Q: They seem very friendly and like they want to help, right?
While we are confident many of these folks are kind-spirited, they do have a job, and it is not to be your friend or offer help to you. Understand that to reduce the claims they pay, they need to deny more requests than they approve, and they want to find out any piece of information about you that will help make that denial possible.
Q: Can they really record our conversation? How do I decline?
A common strategy among insurance adjusters is to ask for your permission to record you, making you believe that if you just tell the truth, you have nothing to worry about because you didn't do anything wrong. Never agree to a recorded statement. It can damage your case, and it is physical evidence against you.
Q: They asked me how I am feeling? How do they know I have injuries?
They likely don't know anything other than what was in the accident report or gathered by the news if your incident made it that far. But this is not the time for small talk or you to volunteer any of your personal health information, especially the state of your mental and physical conditions caused by the accident. They are likely fishing for you to offer up details they do not have yet to build a case against you.
Q: He asked me who my doctor was, how work was going, and if I made any claims yet?
Stop him there with a clear response that you can't talk, need to end the call, and would like his contact information to follow-up later. There is no need to offer any of your health information, including who your doctor is or where your care is provided. You don't need to answer if you have been off work or your insurance company's name and what your policy covers either.
Q: They told me they are going to give me a call back again tomorrow. Now what?
A: A great way to prevent an insurance adjuster for the other party from calling you is to speak with a lawyer as soon as possible and also to be the one to end the conversation firmly. Let him know it is unnecessary to contact you and tell them that you'll get in contact with him once you have gathered a bit more of your own information. If you have to, simply decline their request to continue the conversation and hang up politely.
They can be aggressive and even ask to speak to a spouse or another member of your household, but remember, you do not have to talk to them. Despite how unknowing they appear about your situation; they do know you have rights.
Q: Why do I feel like I am being interrogated? I am the one who was injured.
You are right to feel this way in most cases. That is because insurance companies always have a financial interest in protecting their client first —the same client who ran that stoplight and crashed into you and caused your broken leg. An insurance company will do all they can to deny claims or negotiate as little payout as possible on car accident claims, especially.
At this time, you may also be able to forward them to your insurance adjuster from your own company or let them know that you will only talk in the presence of your lawyer. If you don't have a lawyer yet, it may be helpful to speak with an attorney at Rhoads & Rhoads about your legal options as soon as you are ready.
Remember, many of these questions are designed to confuse and discredit you and often dismantle your case before you can even file, using the innocently provided information. But please, never admit fault or say you're not that hurt. Instead, seek the help of an experienced personal injury attorney at Rhoads & Rhoads to help lead you in a direction that will be best for you, your family, and your recovery.
Ask for Car Accident Help from an Experienced Personal Injury Lawyer in Western Kentucky
Suppose you are involved in a car accident. In that case, the top priority is to keep yourself safe, especially when dealing with injury-related stressors and now feeling uneasy after receiving multiple calls from another insurance company. Talk to an experienced lawyer today and find out how you can protect yourself.
Our team of experienced trial attorneys and support staff at Rhoads & Rhoads can help you through this challenging time. We offer free initial consultations, which can be done virtually or within safe social distancing, and all cases are taken on a contingency fee basis. Call us at 888-709-9329 to schedule your visit today.
Also watch: Attorney Katherine Reardon explains the personal benefits of hiring Rhoads & Rhoads as your family's law firm.