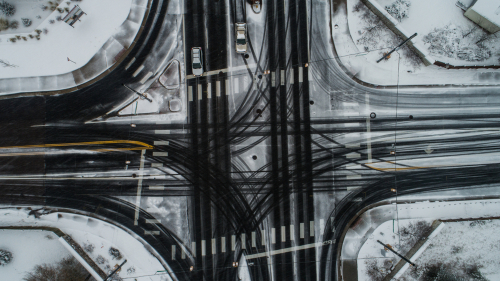 What Drivers Need to Know About Winter Intersection Accidents
Lexington police say an early morning head-on collision crash at the intersection of Alumni Drive and New Circle Road sent four people to the University of Kentucky Hospital, one person with life-threatening injuries. A report published by WTVQ on February 14th, says a woman was driving when she slid on a patch of ice and hit a mini-van head-on, traveling with one adult and two children inside. The woman required medical care for her life-threatening injuries while the mini-van driver and two child passengers surprisingly suffered non-life-threatening injuries.
Intersections alone can be inherently dangerous passes for all types of motorists. Whether it be the poor design of crossroads, congestion, unlit traffic ways and street lights, blocked or poor signage, changes in new street patterns or detours, lack of road repair, and drivers who ignore and disrespect traffic laws, all can complicate intersection safety and increase traffic risks. Also, some intersections are just more dangerous and carry a reputation as an area with aggressive and speeding drivers, often intensified in periods of heavy traffic. When you add cold weather induced road hazards such as hard-to-see black ice, it remains ever so important that drivers become more aware and alert of their surroundings and use the safe intersection driving lessons outlined below.
Don't rush the traffic light. Make time to slow down and stop. Avoid the temptation to race through.
Easy on the brakes, easy on the gas. To slow down, pump the brakes. This reduces the chance of locked tires that can spin out of control.
Don't brake during a turn. Slowly turn the steering wheel and lightly lay on the brakes before you make a coasting turn.
Turn into a skid. Remain calm, take your foot off the brake and the gas pedal, and turn the car in the direction the car is skidding.
Slow down but avoid cruise control. This feature works great in dry conditions, but when used in cold and wet weather conditions, the chance of losing control of the vehicle can increase.
Beware of black ice. Black ice tends to form where the sun can't hit, and at areas where water drains, intersections especially. If driving at night, watch for headlights to reflect off areas of black ice.
Intersection accidents can cause extremely dangerous personal injuries. Any form of pain after an accident should be treated as soon as it is recognized, even if the symptoms are delayed. Immediate care and a medical assessment will reduce the chance of complications and provide the treatment and proper documentation needed to make a case for the incident.
After a Car Accident, Seek Medical Help and Contact a Kentucky Car Insurance Attorney 
Rhoads & Rhoads is Kentucky's leading and experienced personal injury firm with offices in Owensboro and Madisonville, representing car accident victims throughout Western Kentucky. We offer free initial consultations, and all cases are taken on a contingency fee basis. We get paid only if we win or settle your case, so there is NO RISK involved.
Call us at 888-709-9329 or contact us by e-mail to schedule an appointment with one of our Madisonville or Owensboro personal injury attorneys.