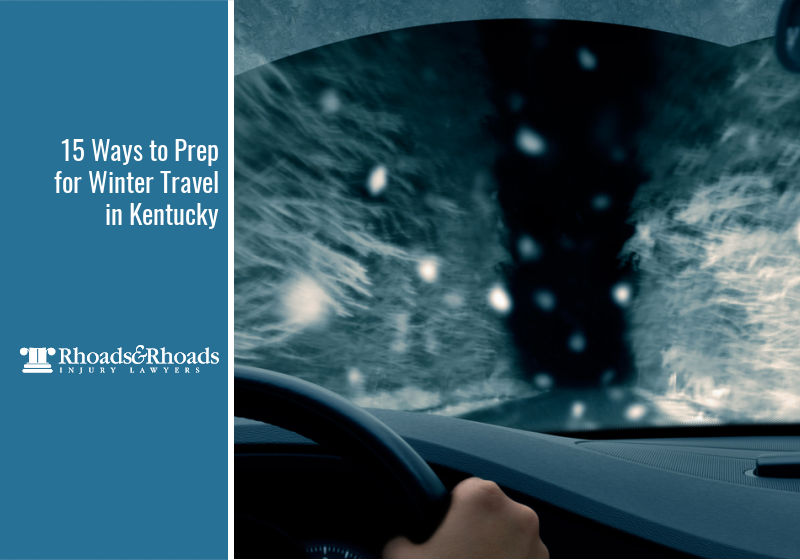 Key Points of This Article
On average, the National Highway Traffic Safety Administration reports nearly 6,000 people are killed, and over 445,000 people are injured in weather-related crashes each year.
Western Kentucky drivers are bracing for cooler weather and freezing temps that can produce slick rain, blinding fog, and unexpected slippery road conditions caused by black ice.
Nearly 25% of Kentucky's fatal traffic accidents in 2019 involved wet, icy, snow or slush, and mud-covered road surfaces, according to Kentucky State Police.
A variety of factors and conditions can contribute to a winter weather collision, including driving too fast, following too close, overcorrecting or oversteering, and distractions such as cell phone use.
15 Ways to Prep for Winter Travel in Western Kentucky
According to Kentucky State Police, nearly 25% of Kentucky's fatal traffic accidents in 2019 involved wet, icy, snow covered, or slush and muddy road surfaces. So as Bluegrass drivers gear up for cooler temps – the combination of rain, fog, sleet, wind, snow, and slush are likely to interrupt their winter travel. These changing weather patterns mixed with unknown hazards such as animal crossings, intoxicated or distracted drivers, and bottlenecked traffic are known to increase crash risks for drivers traveling throughout the winter months.
This makes it a necessary time to remind drivers to become more aware and alert of surroundings and use the winter driving tips outlined to prevent a fatal crash or car accident injuries to themselves and others.
Prepare your vehicle. This means clearing windows, rooftops, taillights, and headlights of accumulated snow, ice, mud, or dirt before leaving for your destination. Fill your gas tank, and be sure your windshield washer fluid includes antifreeze. Be confident your tires are properly inflated.
Don't rush the traffic light. Make time to slow down and stop. Avoid the temptation to race through a yellow light.
Easy on the brakes, easy on the gas. When you need to slow down and the roads are slick, pump the brakes. This reduces the chance of locked tires that can spin out of control and send you into oncoming traffic.
Share the road with big trucks. Tailgating a big truck presents added dangers, especially on slippery roads or when visibility is low because of fog or winter weather. Because trucks are so high off the ground, if you fail to stop in time, your vehicle could slide under the truck and create a devastating fatal injury.
Don't brake during a turn. Slowly turn the steering wheel and lightly lay on the brakes before you make a coasting turn.
Turn into a skid. If you start to skid, remain calm, take your foot off the brake and the gas pedal, and turn the car in the direction the car is skidding.
Avoid following too close. Leave enough room between you and the car in front of you because stopping on ice, slush or snow may require up to four times your normal stopping distance. Driving too close could increase your chance of causing or being involved in a chain reaction rear-end collision.
Watch your speed but avoid cruise control. This feature works great in dry conditions, but when used in cold and wet weather conditions, the chance of losing control of the vehicle can increase. Your best bet is to follow the speed limit.
Help inexperienced drivers. During daylight, rehearse cold weather driving maneuvers slowly on ice or snow in an empty lot with young or inexperienced drivers. ​
Beware of black ice. Black ice tends to form where the sun can't hit, like underpasses, covered bridges, at the bottom of hills, and outside lanes of multi-lane roads. If driving at night, watch for headlights to reflect off areas of black ice.
Be seen. The dull, cloudy days that often accompany the colder months will naturally cut down on visibility. It is best to drive using low-beam headlights.
Do not use cruise control. Most cars feature cruise control. This feature works great in dry conditions, but when used in icy, wet, or snowy conditions, the chance of losing control of the vehicle will increase.
Stay home. If you don't have to drive in inclement weather, don't. And even if you can drive well in these conditions, don't forget that not everyone else can.
Minimize your distractions. While all distractions can endanger drivers' safety, cell phones are often the most dangerous because they require all three types of distraction to be used. 
Be prepared for the worst. AAA Kentucky suggests drivers keep a bundle of cold-weather gear in their cars, such as extra food and water, warm clothing, a flashlight, a glass scraper, blankets, and medications in the chance you become stuck in the snow or run off the road and need to wait for help to arrive.
Also, watch weather reports before leaving for a long-distance drive or prior to traveling in isolated areas – and delay trips when especially nasty winter weather is expected. If you cannot wait for weather conditions to improve before driving, prepare your car or truck for the worst, drive slowly, avoid following other vehicles too closely, and minimize your distractions.
The Cold Weather Season Demands Better Drivers
Kentucky's winter weather makes driving more dangerous and car accidents more likely. When it comes to weather-related road safety, you should be practicing good driver choices and staying vigilant since the cold weather season requires your extra attention. Ensure everyone you are traveling with is wearing their seat belt and children are buckled into their car seats correctly. If driving, stay alert for the best defense against identifying danger such as deer, a road collision, or a weather event headed in your direction. Lastly, never drive drunk or under the influence of drugs.
If you are involved in a wreck this winter, contact police, be sure to gather as much information from those involved, take pictures and video of the scene and of any injuries sustained, seek a medical evaluation, and keep evidence organized to present your best case.
After a Winter Car Accident, Seek Medical Help and Contact a Kentucky Personal Injury Attorney 
Rhoads & Rhoads is a leading and experienced personal injury firm with offices in Owensboro and Madisonville, representing car accident victims throughout Western Kentucky. We offer free initial consultations, and all cases are taken on a contingency fee basis. We get paid only if we win or settle your case, so there is NO RISK involved. Call us at 888-709-9329 to schedule an appointment with one of our personal injury attorneys.
Watch: Rhoads & Rhoads | Client Case | "Our Family Was Our World"