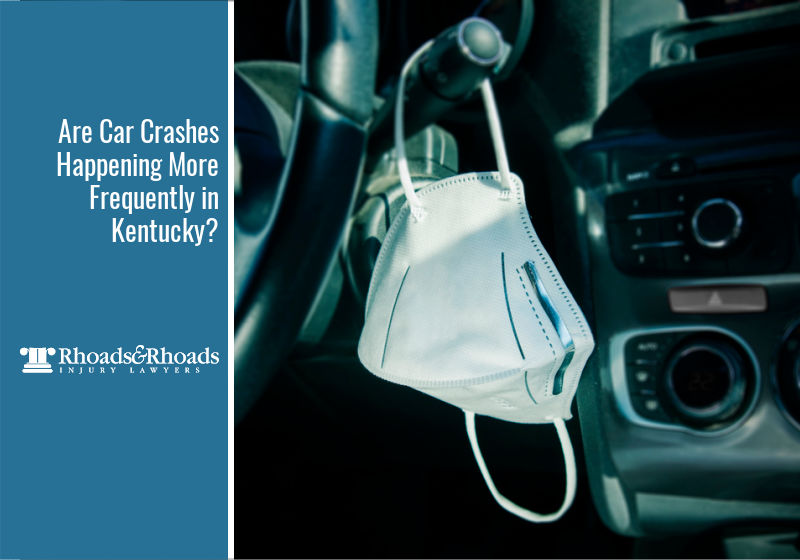 Key Points of This Article:
With fewer vehicles on the road due to COVID-19, state highway safety officials across the country are seeing a severe spike in speeding and a rise in related crashes, says an alert by The Governors Highway Safety Association (GHSA).
Traffic safety officials nationwide, including here in Kentucky, are pleading with motorists to slow down and respect traffic safety laws despite the appearance of less traffic.
Being injured in a car accident can impact an individual's ability to work, take care of their family, and pay bills.
If an accident caused serious injury or even death, those involved should know all the options available to pursue damages and win their case.
The Governor's Highway Safety Association says the COVID-19 pandemic has triggered a decrease in motor vehicle traffic. The presence of less busy streets is encouraging some drivers to ignore traffic safety laws, leading to a severe spike in speed-related traffic accidents involving both motorists and pedestrians. "While COVID-19 is clearly our national priority, our traffic safety laws cannot be ignored," said GHSA Executive Director Jonathan Adkins. "Law enforcement officials have the same mission as health care providers — to save lives. If you must drive, buckle up, follow the posted speed limit and look out for pedestrians and bicyclists. Emergency rooms in many areas of the country are at capacity, and the last thing they need is additional strain from traffic crash victims."
An example of the speeding and reckless driver behaviors recently reported include police in several Kentucky counties who issued over 120 tickets in one day along I-75 and the Interstate 275 interchange to crackdown on speeding and aggressive driving.
Stop Yourself from Speeding and Save Lives
Although this remains an uncertain time, it is in everyone's best interest to operate motor vehicles at the correct posted speed limit to heighten a driver's alertness and reaction time to hazardous situations with safer control over their car, truck, or motorcycle. We have gathered a few tips to prevent you from speeding.
Limit Distractions: Distracted driving, which can easily be prevented, is often the cause of accidental speeding. Stay off your phone, avoid eating while driving, and don't play with the radio or give attention to things.
Plan Your Travel and Route: Avoid having to rush and leave ten minutes earlier than usual. You never know when an accident or roadwork will be in your path. These situations can be stressful and tempt you to speed in fear of being late.
Be Alert and Follow the Rules of the Road: Keep your eyes on the road and become familiar with the roadways you frequently travel and the speed limits. If driving in new communities or highways, pay close attention to speed limit signs.
Never Drive Drowsy or Impaired: Kentucky's impaired drivers may feel invincible and make dangerous decisions to speed, ignore the rules of the road, and become drowsy.
As a reminder, when no speed limit is posted, Kentucky's laws limit speeds to 15 miles per hour (mph) in off-street parking facilities, 35 mph in residential areas and inside town limits, 55 mph on open highways and limited-access highways in urban areas, and 65 mph on rural interstate and limited access highways.
What to Do If Injured or Involved in a Kentucky Car, Truck, or Motorcycle Accident
Car accident attorneys can help sift through questions related to medical bills and health insurance coverage, what type of evidence is needed, dealing with property damage claims, and understanding how and why a claim was denied. And you can help do your part by following these steps if involved in a wreck.
Report the Accident
Call the police. In the days and weeks following the collision, your statement and witness statements will be needed for reporting, insurance, or legal purposes.
Seek Medical Attention
The symptoms of a motor vehicle accident-related injury, serious or seemingly small, may not always show up immediately. Immediate care and an assessment by a medical professional will reduce complications and delayed diagnosis. A doctor can also provide the proper treatment and documentation needed to make a claim, help an injured person become more aware of pain and suffering type symptoms, and offer them the healing therapies and treatments required.
Gather All Evidence 
To help make your case, you will want to present as much information as possible regarding the accident cause, those involved, and injuries sustained. You can even use your smartphone to gather evidence and take descriptive notes, pictures, and videos of vehicle damage and license plates, injuries, and the scene. Collect the contact information of any person involved or witness statements. Having the right evidence can feel more manageable when working with an experienced attorney. This way, they can access the most accurate real-time video footage of the scene, gather accident reports, and the statements needed to prove another driver's negligence.
Avoid Giving Insurance a Recorded Statement
Giving a recorded statement before having all the facts could be used against you. If you have been asked to record anything, it's best to first connect with an experienced attorney specializing in auto accidents. If a recording is necessary, they can be present during the meeting and advise you when prompted by misleading questions that could hurt your claim.
Don't Overshare on Social Media
Even though sharing the details of your accident online, or making comments in a public setting, may feel important to you, they won't help. Remember that if you are pursuing a claim for accident damages, posting information about your accident, injury, or life could be used against you.
Reach Out to a Kentucky Car Accident Attorney
We are sorry to hear if you have been involved and injured in a car wreck. And if you've been hit by another driver who was speeding or driving recklessly it will be helpful to speak with an attorney at Rhoads and Rhoads about your options. It is our goal to help you recover the compensation needed, including damages for medical bills and future medical expenses, lost wages, services, pain and suffering and wrongful death.
Western Kentucky Car Accident Injury Lawyers 
If you or a loved one have been injured in a car accident, our team of experienced trial attorneys and support staff at Rhoads & Rhoads can help you through this difficult time and get you the financial recovery you deserve. We offer free initial consultations which can be done virtually or within safe social distancing, and all cases are taken on a contingency fee basis. Call us at 888-709-9329 to schedule your consultation.
Watch: Car Accident Evidence Can Include Witness Statements
Source: Absent Traffic Jams, Many Drivers Getting More Reckless, The Governors Highway Safety Association (GHSA), 2020.