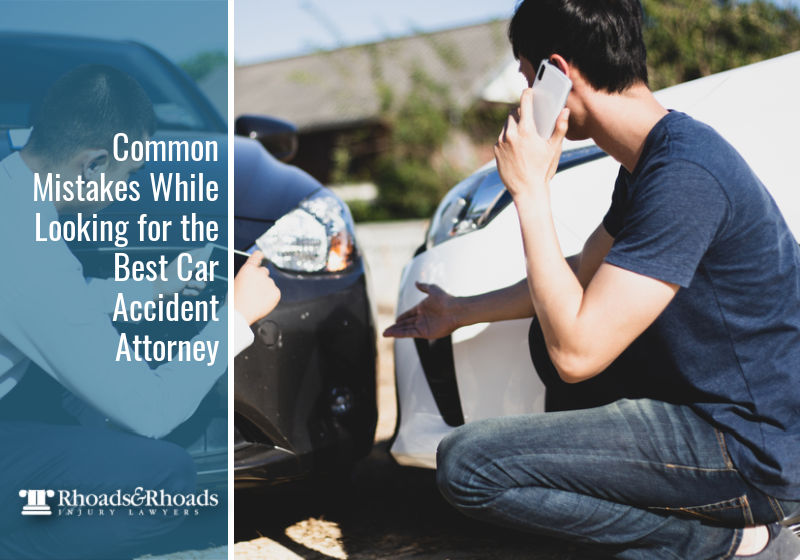 Key Points of This Article:
Hiring the right car accident attorney comes with many benefits, including potentially gaining a higher-compensation outcome.
You can avoid making common mistakes while searching for the best car accident attorney in Kentucky.
Ask key questions to reveal whether you need an attorney and determine which attorney is the best option for your situation.
A sudden car accident takes you by surprise and sets off a stressful time in your life. If you're dealing with severe injuries, you'll have a mountain of medical bills to handle, plus a long recovery period with many missed days of work. You may even have symptoms of emotional distress or chronic pain.
At this point, you'll begin to wonder whether you need a car accident attorney. This article addresses the benefits of seeking the best car accident attorney in Kentucky, how to avoid making common mistakes, and which questions will help you make the best possible choice.
What are the Benefits of Hiring a Personal Injury Attorney?
Injured people hire personal injury attorneys to help claim the compensation they deserve for car accident injuries. Under Kentucky law, someone who is injured in a car accident due to someone else's negligence has the right to pursue compensation from the liable party.
Working with a car accident attorney allows you to focus on your recovery instead of worrying about the legal details. Your attorney and their staff can take care of paperwork, meet deadlines, and alert you to important details you might otherwise miss.
Hiring an attorney can increase your odds of a positive outcome. Research shows about 95% of personal injury cases end in settlements and the right attorney has the experience and skills necessary to negotiate the highest possible value settlement on your behalf. While only about 5% of cases go to trial, you'll need a bold and knowledgeable attorney to represent you in court.
Attorneys have access to resources and systems the average person doesn't see. In many court systems, attorneys have digital access to filing platforms the general public can't access, so their help speeds your case along and prevents submitting things to the wrong offices.
Your attorney helps you build your case carefully and thoroughly based on their extensive knowledge of past legal victories. They'll be able to quickly evaluate the circumstances of your case and calculate which path has the best odds of success.
Keep in mind that insurance companies, which are usually responsible for paying the largest share of accident awards, often take an adversarial approach to injured victims. An insurance company may place a heavy burden on you to prove that you were injured, justify your treatment, and fill out endless paperwork. Your attorney helps you handle the load while giving you greater peace of mind that everything is under control.
In some cases, car accident claims can become long and drawn-out situations where the liable parties refuse to negotiate and dispute the basic facts of the case. When you have an attorney, you show that you're serious about standing up for your rights and won't allow them to stall you into going away.
Avoiding Common Mistakes: How to Find the Best Car Accident Attorney in Kentucky
Mistake: Not Researching Your Options
It's a mistake to choose a car accident attorney at random without knowing much about them. Also, not all attorneys handle car accident/personal injury claims. Start with basic internet research and make phone calls to learn more about which attorney will be the best fit for you.
Mistake: Relying on a Single Recommendation
Never rely on just one recommendation from a friend or family member, no matter how good their intentions are. You need an attorney who handles your type of case, has a great track record for success, and feels like a match to your personality and expectations. Ask around for multiple recommendations and investigate others' experiences through online reviews. Build a rich picture of potential attorneys based on a wide variety of sources.
Mistake: Paying for an Initial Consultation or Paying Up Front
In the personal injury field, it's common for attorneys to offer free consultations, so don't pay for an initial consultation without asking if they offer this service for free. Most personal injury attorneys work on a contingency fee basis, meaning they take their fee at the end of your case when you receive a financial award. Clarify these financial details early in the process before hiring an attorney.
Questions to Ask Before Hiring an Attorney
If you're questioning whether or not you need an attorney, it helps to consider the details of your situation and the potential need for an attorney's help. Below are the key questions to ask before making a decision.
Is it Worth Hiring a Personal Injury Attorney?
Hiring an attorney isn't required by law and might not be the best fit for your needs. If your case is fairly straightforward, you might be able to handle it on your own. You'll need the best car accident attorney in Kentucky if your case is complex, involves contentious parties, or for other reasons explained below.
Do I Have Costly Injuries I Can Prove With Medical Bills?
Most personal injury cases are built on a foundation of costly medical bills. If you don't have medical bills to support your injury claim, it's unlikely that you'll be able to build a strong case for compensation, even with an excellent attorney's help.
Is Liability Clear or Unclear?
When the liability for your accident is unclear or disputed, an attorney can help you demonstrate your innocence and place the blame where it belongs. An experienced attorney knows how to gather the evidence you need to clarify liability.
Am I Getting Resistance From the Insurance Company?
A resistant insurance company can make it difficult to claim high-dollar compensation without the help of an attorney. Hire an attorney immediately if you believe you deserve much higher compensation than the insurance company is willing to consider.
Could I Need Legal Representation in Court?
When you're getting the sense that a settlement won't be possible and you'll need legal representation in a court battle, you'll need an attorney with extensive courtroom experience.
Am I Feeling Overwhelmed With Legal Worries?
Consider whether your legal situation feels too overwhelming to handle on your own. Can you take on such a huge project while trying to heal from your injuries and move on with your life? If you need extra help, it's time to talk to an attorney.
Kentucky Car Accident Attorneys – Rhoads & Rhoads
At Rhoads & Rhoads, our car accident attorneys have decades of experience handling personal injury cases, including Kentucky car accident claims. We are dedicated to helping you get the outcome you deserve.
Avoid making common mistakes by calling us at 888-709-9329 to schedule an appointment. We offer free initial consultations and all cases are taken on a contingency fee basis, so no initial payment is required. We take payment only if we win or settle your case, so there is NO RISK to you.