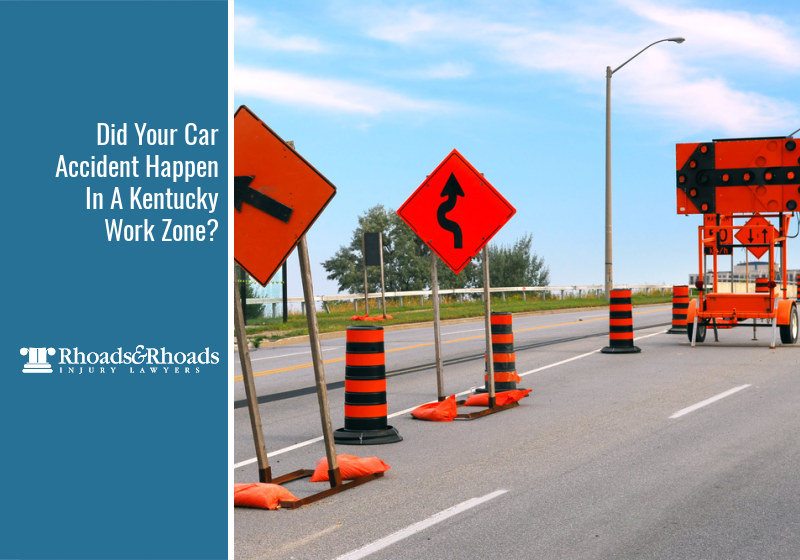 Key Points of This Article:
In 2020, there were 905 construction zone crashes in Kentucky, resulting in 228 injuries and six fatalities.
The majority of victims in work zone crashes are motorists who suffer injuries like whiplash, traumatic brain injury, and post-traumatic stress disorder.
The symptoms of motor vehicle accident injuries, serious or seemingly minor, may not always show up immediately.
When traveling through a work zone, pay attention, avoid distractions, respect workers holding flags and work zone signage, and slow down and maintain a safe following distance.
Who Is Responsible For My Work Zone Car Crash?
Either behind the wheel or the orange barrel, one person dies every 13 hours, and one person is injured every 13 minutes in a work zone in the United States, according to the Federal Highway Administration. In 2020, there were 905 construction zone accidents in Kentucky – 228 injuries and six fatalities. Four out of five victims in work zone crashes are motorists, not highway workers, which is why drivers must remain alert while going through work zones. In Kentucky, all six of the 2020 work zone crash victims were motorists.
Stay Alert in Active Work Zones
We know that practicing safe driving behaviors saves lives. So, never use your phone, or do anything that would take your eyes off the road ahead while driving, especially in a work zone. Drivers should also obey the posted speed limits because speeding significantly increases the risk of severe crashes and fatal injuries to motorists and workers. The most common crash in a work zone is a rear-end collision and happens when traffic moves from two lanes into one-lane roads. Maintaining a safe following distance is critical.
To help reduce future work zone accident and injury rates, the Kentucky Transportation Cabinet asks drivers to pay attention, observe road directions, and slow down when traveling through work zones.
Expect the unexpected. Work zone configurations can change without notice.
Pay attention. Don't text or talk on the phone while driving and avoid taking your hands off the wheel.
Slow down. Watch for speed limit reductions, narrowing lanes, changing traffic patterns, and – most importantly – highway workers.
Respect the posted speed limits. Speeding and aggressive driving remain significant causes of work zone crashes in Kentucky.
Be patient. Keep in mind, driving 45 mph instead of 55 mph through a five-mile work zone will only add 1.2 minutes to your trip. It's just not worth it to rush or weave in and out of construction and congested traffic.
Keep a safe distance. Rear-end collisions are the most common type of work zone crash. On all sides of your vehicles, maintain a safe following distance.
Obey construction zone workers. A flagger has the same authority as a regulatory sign, so you can be cited for disobeying his or her directions.
Follow instructions on construction signage. Those signs are carefully selected to give drivers accurate information and important warnings.
If possible, avoid work zones. If the work zone cannot be avoided, expect delays and allow extra travel time.
Stay calm. Remember that the construction crews are working to make the road better for you!
Sometimes injuries may not be immediately present in slower-moving work zone accidents. That is why it is essential to acknowledge any symptoms of pain or discomfort and seek medical treatment as soon as possible. Missing critical windows of time to be diagnosed and collect evidence could hurt your car accident case.
Never Ignore the Symptoms of a Car Accident Injury
The symptoms of motor vehicle accident injuries, serious or seemingly minor, may not always present immediately. An injured person will often experience general confusion masked by adrenaline after a crash, making it difficult to recognize an injury, pain, or discomfort. But issues can present within a few hours or even a few weeks later. This is a list of some of the more common symptoms of a car accident injury to watch out for.
abdominal pain
appetite changes
back pain
blood in urine or stool
changes in mood and personality
excessive bruising that does not go away
fear when driving or traveling in a motor vehicle
hip and knee stiffness
increased feelings of sadness and anxiety
loss of vision
numbness in arms and legs
reduced physical function
shoulder pain
swelling in the abdomen area
tingling in the hands and feet
unable to perform family activities and work
An immediate assessment by a medical professional can help reduce the chance of complications in these injuries, provide a rehabilitation plan and the proper medical documentation to make a claim, and create a greater awareness of underlying symptoms such as pain and suffering. Car accidents more often cause financial challenges and physical pain or mental health issues, making it essential to seek a medical diagnosis and gather the proper documentation to make a personal injury claim as soon as possible.
Understanding Kentucky's Statute of Limitations
Personal injury cases have a statute of limitations deadline of one to two years after the injury is incurred, but exceptions can be made. An experienced car, motorcycle, or truck accident attorney at the law firm of Rhoads & Rhoads can listen to you and provide counsel if there are special rules applicable to your case.
Rhoads & Rhoads Personal Injury Lawyers — Outworking the Other Side's Lawyer
If another driver or an unsafe construction zone was the cause of your car accident, injury, or the death of someone close to you, speaking with a lawyer could be the first step in collecting the best evidence to support your claim. We offer free initial consultations, and all cases are taken on a contingency fee basis. This means there is no payment required upfront, and there is NO RISK involved.
Rhoads & Rhoads has been protecting the rights of the injured throughout Western Kentucky for over four decades. Call us at 888-709-9329 to schedule your free consultation today.
Also read: Six Rules to Follow After an Owensboro Car Accident