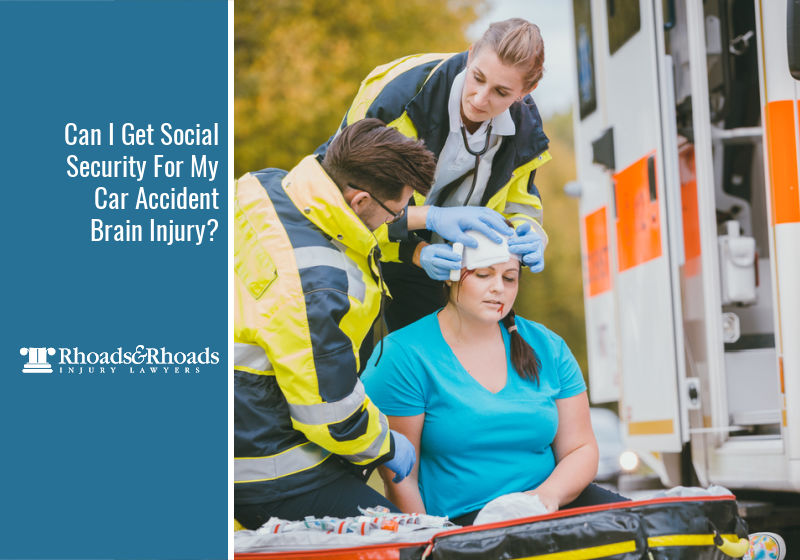 Key Points of This Article:
More than 5.3 million children and adults in the United States live with a permanent brain injury-related disability.
Car accidents contribute to about 14% of the traumatic brain injury cases across America each year.
For accident victims who are no longer able to work due to severe and long-lasting psychological and physical challenges related to a brain injury, Social Security Disability benefits may be available.
There are specific requirements to meet before being considered eligible for disability benefits. An application with medical evidence must also be collected to prove the traumatic brain injury has hindered the ability to work.
Brain Injury Car Accident Injuries May Qualify You for Disability Benefits 
About 1,365,000 Americans are treated for a traumatic brain injury (TBI) in the emergency department annually, citing car accidents as a major cause. Most of these car accident victims have a combination of injuries to the brain, such as:
Concussion: A mild head injury can cause a brief loss of consciousness and usually does not cause permanent brain injury. A concussion trauma can sometimes be triggered by intense whiplash-type-injuries.
Diffuse axonal injury (DAI): This injury occurs when the brain quickly moves back and forth inside the skull, tearing and damaging the nerve axons. Axons connect one nerve cell to another throughout the brain, like telephone wires. Widespread axonal injury disrupts the brain's standard transmission of information and can substantially change a person's wakefulness.
Traumatic Subarachnoid Hemorrhage (tSAH): Bleeding into the space that surrounds the brain. This space is usually filled with cerebrospinal fluid, which acts as a floating cushion to protect the brain. Traumatic SAH occurs when small arteries tear during the initial injury. The blood spreads over the surface of the brain, causing widespread effects.
Contusion and hematoma: Injuries involving specific areas of the brain that may require surgery.
Because some brain injuries leave temporary or permanent disabilities, a person may be eligible for Social Security Disability benefits. Kentuckians may apply to receive Social Security benefits after being diagnosed with a disabling brain injury that affects their work ability. The damage must be severe enough to have caused a shift in the applicant's ability to do specific work tasks and has lasted or is expected to last at least 12 months.
An estimated 5.4 million Americans are living with disabilities associated with a TBI. Without support, 75% of those diagnosed with TBI lose their jobs within 90 days of returning to work, according to the Brain Injury Alliance.
Understanding Traumatic Brain Injury in Car Accident Victims
TBI can occur in a car accident when the head is stricken, suddenly jerked, or penetrated by a foreign object. Treatment and recovery may require full-time home-health assistance, physical rehabilitation, costly medications, and surgery resulting in a wide range of long-term effects on the victim and their family. The American Journal of Psychiatry published a study in 2015 that showed the prevalent and life-long challenges of TBI include:
head, back, and neck pain
headache
dizziness
coma
partial, or complete loss, of the ability to read and write, and the ability to communicate or solve problems
problems with muscle coordination
overall cognitive impairment
seizures
memory issues and loss of focus and concentration
neuropsychiatric symptoms like anxiety, irritability, depression, and sleep disorders
PTSD symptoms and psychotic disorders, and trauma
auditory hallucinations
The injured may also suffer from poor social judgment and lewd behavior with loss of social graces, aggressiveness, repetition, and executive dysfunction. These issues are common in up to 23% of adult patients with TBI.
Applying for Social Security Disability Due to a Brain Injury
For someone to qualify for Social Security disability benefits, a doctor will first need to determine that the disability is severe enough to prevent an applicant from working. An evaluation by healthcare professionals trained in the care of brain injuries is essential. Documentation and testing will be required to prove you are unable to return to your previous work or do any other job.
TBI symptoms are suffering and may also lead to a long-term post-traumatic stress disorder (PTSD) in which only a psychiatrist can determine throughout several examinations. Social Security will determine if a disability applicant has the required level of functional limitations by using documentation that the applicant's PTSD has been severe, ongoing, and the frequency of their altered state has made them unable to adapt to work demands. For the cases of PTSD that are not severe enough to qualify for disability, some may be considered for a medical-vocational allowance instead.
But even with evidence and the proper medical support, many individuals will be denied benefits upon their initial application. For those applicants unsure of what to do after being denied benefits, there are options available to be reconsidered with the help of an experienced Social Security Disability attorney at Rhoads & Rhoads.
Owensboro and Madisonville Social Security Disability Lawyers
Suppose you or a loved one have become disabled and are pursuing or have been denied disability benefits after a car accident injury or TBI. In that case, our team of experienced attorneys and knowledgeable support staff are available to help you through this challenging time and get you the financial recovery you deserve. Your monthly benefits will not be affected by working with an attorney.
We take pride in protecting the clients we serve, including the many suffering from underlying medical conditions and financial hardships related to their disability. Because of this, be assured that our team can accommodate you, and in-person consultations are not always necessary. Our goal is to continue serving with the safety and the support you deserve while staying respectful of the underlying medical conditions, physical, emotional, and financial hardships you have faced related to your disability.
Rhoads & Rhoads has been protecting the rights of the injured throughout Western Kentucky for more than four decades. Call us today for a free initial consultation at 1-888-709-9329.
Also read: What to Know About Social Security Payments In 2021
Source: Georges A, M Das J. Traumatic Brain Injury. [Updated 2021 Jan 16]. In: StatPearls [Internet]. Treasure Island (FL): StatPearls Publishing; 2021 Jan-. Available from: https://www.ncbi.nlm.nih.gov/books/NBK459300/