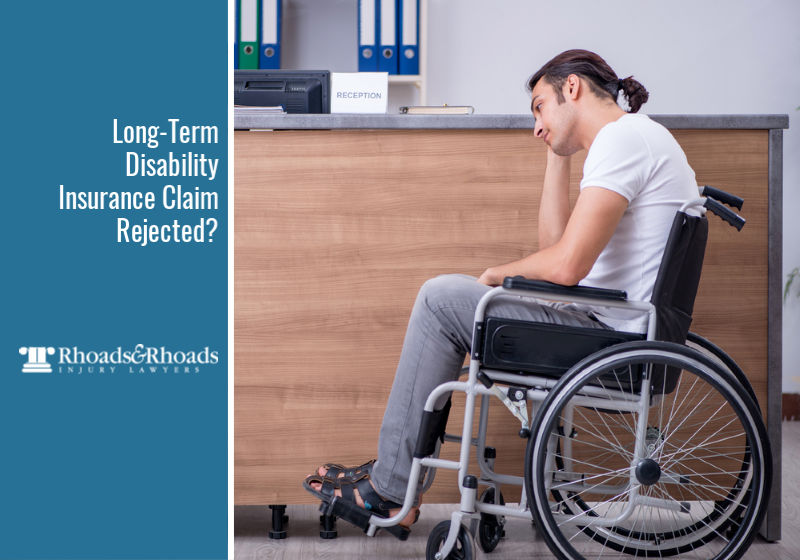 Key Points of This Article:
Long-term disability insurance pays a portion of your income if you're disabled through illness or injury, or an accident, and find yourself out of work for an extended time.
This type of plan is not workers' compensation, which is a benefit used after being injured on the job, and it's not short-term disability or Social Security Disability Insurance either.
Insurance companies are popular for denying long-term disability claims even when there is proven validity.
It may be in your best interest to check-in with an attorney who specializes in LTD applications, denials, and appeals before going through the claim process.
What Are Your Chances for a Long-Term Disability Approval in Kentucky?
For Kentuckians lucky enough to work for a large corporation, they probably already know that their employer offers and pays for them to be covered by LTD insurance if they need to be out of work due to a disability, severe injury, or recovering from an accident that will take three months of longer. It is important to understand that long-term disability insurance (LTD) is not workers' compensation, Social Security Disability Insurance, short-term disability, or paid sick leave, and it does not pay a disabled person's medical bills. LTD typically starts up when an employee's injury or illness extends beyond the time frame of their short-term disability coverage and is not a work-related injury. Payments are often equal to 50-60% of income.
There are several leading injuries and illnesses that can lead a worker to claim LTD benefits, according to The Council for Disability Awareness.
cancer
a fall (that did not occur at work)
chronic neck and back pain
joint, muscle and tendon disorders
foot, ankle and hand disorders
Each LTD policy is different and consequential. Payouts will range based on an employee's diseases or conditions and how much coverage is included. Some carriers will pay benefits if the employee is unable to work while others expect that the employee will take any job that the employee is capable of doing. An employer has no legal obligation to offer LTD insurance, and it is a less talked about benefit. Employees may pay extra through an employer to receive higher coverage.
If an employer does not offer long-term disability insurance plans, some trade or professional associations, banks, or credit unions may. Individual policies or supplemental plans can also be purchased privately through a broker.
Six quick facts related to LTD:
The vast majority of injuries and illnesses causing work loss are suffered away from work and not covered under workers' compensation benefits.
LTD serves as important coverage as the U.S. Census Bureau estimates that an employee has a one in five chance of becoming disabled.
Most LTD policies do not replace the income from sales commissions or work bonuses.
Workers with incomes in the six figures often won't receive the 60% income replacement but can hope for at least 50%.
LTD coverage is not health insurance and will not pay medical bills.
If you've been approved for LTD, you'll probably be required to file for Social Security Disability Insurance (SSDI) as well.
According to the Bureau of Labor Statistics, only 35% of private-sector workers will be approved for LTD programs each year, and only three in 10 employees have it. These types of benefits can be very confusing and stressful for most people who have an injury or illness and are in a work loss situation and suffering financially. And, it can become especially challenging for the person when their LTD claim has been denied.
Appealing A Long-Term Disability Claim Denial
A disability or serious illness can rob an individual's ability to work and carry on financial independence. And unfortunately, insurance companies are popular for denying LTD claims even when there is this proven validity. Your doctor's opinion and your medical records are both critical in an LTD claim. Workers must continue to gather evidence to support their claim, including all medical records, test results, and therapy visits. They must also stay honest and follow through with all policy requests promptly. Doing so could potentially shorten the waiting time for a claim determination and strengthen the chances of being approved.
In the case of a claim being denied, there is a detailed appeal process before any other legal action can be taken. An appeal is likely to be rejected again if any information, evidence or documentation is yet missing. Just as the application process involved an exhaustive list of injury or illness details, the same paperwork and proof of injury or illness must be included when appealing an LTD denial. Insurers must allow for at least 60 days for a denied applicant to file an appeal, but some policies may allow for longer. The insurance company reviewers then have up to 90 days to decide either way, generating a greater delay in a person's income.
If an LTD appeal is denied, a lawsuit in U.S. District Court may be filed against the insurance company. At this time, the court will only consider evidence submitted during the appeal process. The court will not permit new evidence, and they will not allow testimony from witnesses. A judge is the one who will make any final decisions.
In most cases, the chance of success in LTD cases is much greater once a lawyer has been hired, especially once a claim has been denied or requires an appeal. LTD attorneys will make sure all deadlines are met, prepare and file with the appropriate paperwork, identify medical specialists, and ultimately support the best chance of success. If necessary, LTD claim lawyers can secure the evidence needed, ensure it has been submitted during an appeal, and represent claimants at all court hearings in front of a judge.
Western Kentucky Long-Term Disability Denial Lawyers 
Rhoads & Rhoads has been protecting the rights of the injured throughout Western Kentucky for more than 40 years. If you or a loved one have become disabled or injured, and are pursuing LTD benefits or have been denied, our team of experienced attorneys and staff are available to help you through this difficult time. Your monthly benefits will not be affected by working with an attorney.
We offer free initial consultations, and all cases are taken on a contingency fee basis. This means there is no payment required upfront, and there is NO RISK involved. Call us at 888-709-9329 to schedule your consultation.
Also read: 25 Things You Need to Know About Social Security Disability