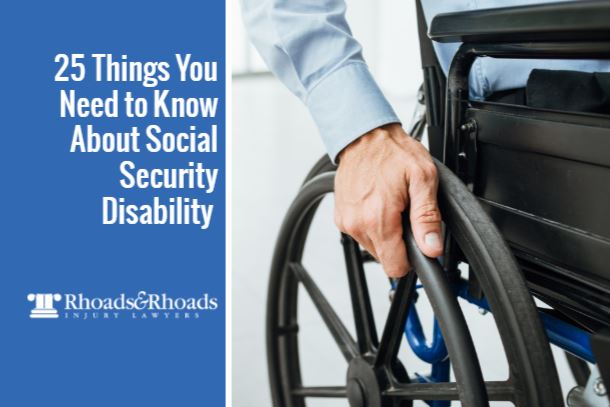 Synopsis
Kentuckians may apply to receive Social Security benefits after they have been diagnosed with a disabling condition that affects their ability to work and has lasted or is expected to continue, at least one year or result in death.
In Kentucky, Disability Determination Services makes disability determinations for both Supplemental Security Income (SSI) and Social Security Disability Income (SSDI) on behalf of the state's commissioner of Social Security.
In May 2019, nearly 675,000 applicants who were initially denied benefits were still waiting for a hearing decision based on their appeal.
At the beginning of 2019, Social Security paid an average monthly disability benefit of about $1,234 to all disabled workers.
25 Things You Need to Know About Social Security Disability 
Disability Determination Services makes disability determinations on behalf of the commissioner of Social Security for residents of Kentucky. The program uses federal regulations to determine disability for both Supplemental Security Income (SSI) and Social Security Disability Income (SSDI).
To be eligible for benefits, a person must be diagnosed with a medical condition that lasts for at least a year and provide evidence of how it impacts their ability to work and causes them daily limitations.
Social Security Disability Insurance (SSDI or SSD) is open to disabled workers who have paid into the Social Security system through employment over the years.
Supplemental Security Income (SSI) is available to people who meet specific medical and financial criteria.
Even with evidence and the proper medical support, many individuals will be denied benefits upon their initial application, possibly due to a small application error or forgetting one detail related to their disability or job history.
A person denied benefits will have 60 days after the first notice to ask for an appeal for reconsideration, a hearing by an administrative law judge, and a review by the Appeals Council.
Social Security Disability benefits may be available for motor vehicle accident victims who are no longer able to work due to severe and long-lasting psychological and physical injuries,
Nearly 9 million disabled Americans receive Social Security disability benefits.
For someone to qualify for Social Security disability benefits, a doctor will first need to determine that the disability is severe enough to prevent an applicant from working.
Kentucky applicants of all ages, regardless of disability, are more likely to be approved and receive benefits sooner when supported by a legal team experienced in Social Security disability law.
Denied claimants can file a civil suit in a federal district court if the Appeals Council's decision is not in favor of approval.
About 89 percent of workers age 21-64 in covered employment in 2017 and their families have protection in the event of a severe and prolonged disability.
Unfortunately, most cancer diagnoses will not be enough to qualify an individual for benefits, but applicants can become eligible when their condition is severe enough and it prevents them from performing any gainful work activity in at least 12 months.
Retired workers and their dependents account for 72 percent of total benefits paid.
An average of 28 percent of applications are approved after an initial claim, and over ten years, only 45 percent of applicants are approved in total.
Some individuals who meet Social Security's standards for disability benefits may also be eligible for the Compassionate Allowances (CAL) program designed to quickly send payments due to the severity of a specific disease or medical condition. In 2018, the average processing time to review a compassionate allowance case was around 19 days. Some individuals received a favorable award decision in as little as ten days from the first day the application was filed.
Disabled workers and their dependents account for 13 percent of total benefits paid.
Social Security defines a child as disabled who has physical or mental impairment(s) so severe that it results in marked and severe functional limitations.
At the beginning of 2019, Social Security paid an average monthly disability benefit of about $1,234 to all disabled workers.
Due to a serious backlog of application reviews and appeals, some individuals battling a rapidly debilitating illness will not have the time needed to wait for a disability determination. In the fiscal year 2017, 10,002 Americans died on the disability waiting list.
Survivors of deceased workers account for about 15 percent of total benefits paid.
As long as you remain disabled, you will continue to receive disability payments until retirement age.
Social Security doesn't provide temporary or partial disability benefits like workers' compensation, or veterans' benefits do.
Some beneficiaries can return to work while collecting SSDI but only under special rules within a trial work period for nine months.
In 2019, a record number of hearing requests continue to grow as more aging baby boomers require disability benefits and legal support.
We understand all of this can be confusing and tiresome to understand. Before you attempt to work while receiving benefits or decide to file for social security disability benefits, we advise you to please contact our office so that you don't risk jeopardizing your case.

Owensboro and Madisonville Social Security Disability Lawyers 
Rhoads & Rhoads has been protecting the rights of the injured throughout Western Kentucky for over 43 years. If you or a loved one have become disabled and are pursuing or have been denied benefits, our team of experienced attorneys and knowledgeable support staff are available to help you through this difficult time and get you the financial recovery you deserve. Your monthly benefits will not be affected by working with an attorney.
We offer free initial consultations, and all cases are taken on a contingency fee basis. This means there is no payment required upfront, and there is NO RISK involved. Call us at 888-709-9329 or contact us to schedule an appointment at our Madisonville or Owensboro offices.
Also read: What Are the Steps Involved in Applying for Long Term Disability in Kentucky