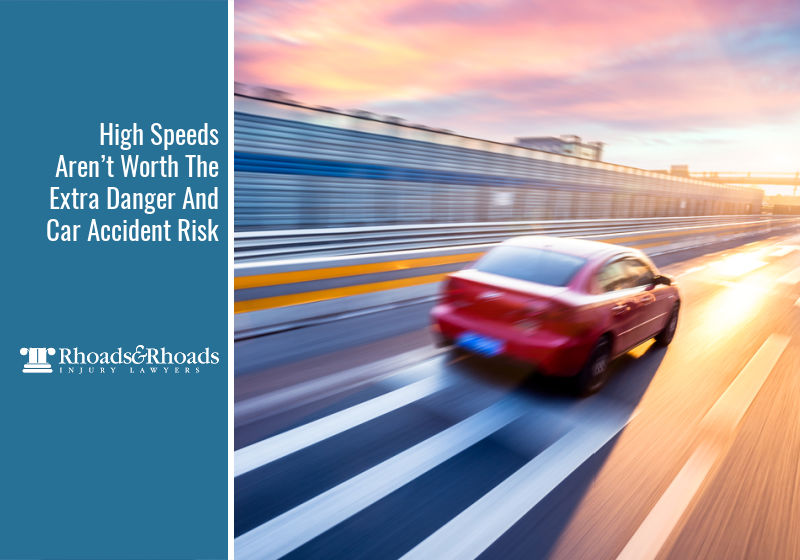 Key Points of This Article:
Crash data from the National Highway Traffic and Safety Administration shows that around 1/3 of all motor vehicle crashes in the U.S., including those resulting in serious injury or fatality, will have speeding or speed-related aggressive driving involved.
Nearly 70% of Kentucky's fatal and severe crash injuries cited with aggressive driving involve a male driver.
In Kentucky, 31% of all fatal crashes involve a speeding or aggressive driver.
In everyone's best interest, always operate your motor vehicle at the posted speed limit to reduce hazardous situations and provide a safer control run over your car, truck, or motorcycle.
"Not So Fast, Kentucky" Reminds Drivers of Speed-Related Dangers
The Kentucky Office of Highway Safety (KOHS) recently partnered with law enforcement agencies across the state in a new anti-speeding highway safety campaign. The effort, dubbed "Not So Fast, Kentucky," reminds drivers that as much as 31% of all Kentucky crashes involve speeding or aggressive driving, with men making up most of those speed-related crashes.
According to KOHS:
31% of fatal crashes involve a speeding or aggressive driver.
1/3 of motor vehicle deaths nationwide involve speeding.
66% of Kentucky's severe and fatal injury aggressive driving-related crashes involve a male driver.
In 2020, the initial data shows there were 778 highway fatalities, compared to 732 in 2019 — a 5% increase.
Across the U.S., speeding is a contributing factor in more than a quarter of all traffic fatalities.
KOHS officials said pedestrians and bicyclists accounted for 97 deaths, and motorcyclists accounted for 74 deaths.
"Speed limits are put in place to protect all road users," said Kentucky's Transportation Secretary Jim Gray. "Driving over the limit greatly reduces a driver's ability to respond to unexpected situations such as stopped or slowed traffic, an object in the road or encountering vulnerable road users such as pedestrians, bicyclists, and motorcyclists."
What Happens to Your Accident Risk When You Speed?
The National Highway Traffic Safety Administration says the consequences of speeding are more than just breaking the law, getting a ticket, and are often more severe than making other bad driver choices. They include:
More significant potential for loss of vehicle control;
Reduced effectiveness of occupant protection equipment;
Increased stopping distance after the driver perceives a danger;
Increased degree of crash severity leading to more severe injuries;
Economic implications of a speed-related crash
Gray noted in a July 2021 press release, "We frequently hear from officers and troopers that they would rather write a ticket than make a death notification. "I assure you that the goal is not to write tickets, but to save lives, so remember: 'Not So Fast, Kentucky.'"
What To Do If You Are Traveling Near a Speeding Driver and Feel Unsafe
Speeding is categorized as a type of aggressive driving behavior that may be triggered by traffic congestion, running late, anonymity, distractions, driving under the influence, and a blatant disregard for others and the law. This makes speeding drivers extremely dangerous and the cause of many preventable car accident-related injuries and deaths. KOHS offers these tips for dealing with speeding or speed-related aggressive drivers:
If you are in the left lane and someone is speeding and wants to pass, move over and let them by.
Never challenge the driver by speeding up or attempting to hold your lane.
Give the aggressive driver plenty of space, as they may lose control of their vehicle more quickly and cause a more significant disturbance.
Avoid eye contact, ignore gestures, and remove yourself from the situation by slowing down or traveling a different path.
If an aggressive driver follows you, drive to a safe place such as the nearest police or fire station, gas station, or other places where there are people. Use your horn to get someone's attention. Do not get out of your car and do not drive home.
Call the police if you believe a driver is following you or harassing you. If you can safely report an aggressive driver to law enforcement, provide a vehicle description, license number, location, and, if possible, direction of travel.
Always drive sober, alert, and wear your seat belt! These remain your best defenses against a car accident injury and lessens your risk of death.
Drivers who speed, even just a little bit over the designated limits, are dangerous to everyone traveling in that vehicle or to anyone who might be sharing the roadway with them. So, we all must do our part to drive safely, keep our roads a place we are confident in traveling, and help protect ourselves and each other. That means whether you drive a car, truck, scooter, or motorcycle, use good driver choices like staying alert – and always drive the posted speed limit. And, if someone you are traveling with is speeding, remind them of the speed limit and tell them to slow down.
Suppose you've been hurt in an accident by someone who was speeding, and you have questions about how to make a car accident claim in Kentucky. In that case, a thorough investigation will be necessary to collect all evidence and prove your case. Rhoads & Rhoads is one of Kentucky's leading and most experienced personal injury firms with offices in Owensboro and Madisonville. We represent clients throughout Western Kentucky and work closely with experienced car accident experts. We can help reconstruct the crash scene, speak with medical doctors and witnesses on your behalf, deal with insurance companies, and partner with other subject-area experts equipped to support your case.
Speeding Accident and Car Crash Attorneys in Kentucky
We empathize with the devastating impact a car crash creates and the many added stressors it puts on Kentucky families, including the overwhelming financial burdens. Our goal is to help you and your family recover the compensation you need to get through this difficult time. You can take advantage of our free initial consultation to discuss your case with us. There is no payment required upfront, and there is NO RISK involved.
Call the Kentucky car accident attorneys at Rhoads & Rhoads at 888-709-9329 to schedule your FREE legal consultation today.
Also read: What Car Accident Injuries Can Cause Back and Neck Pain?