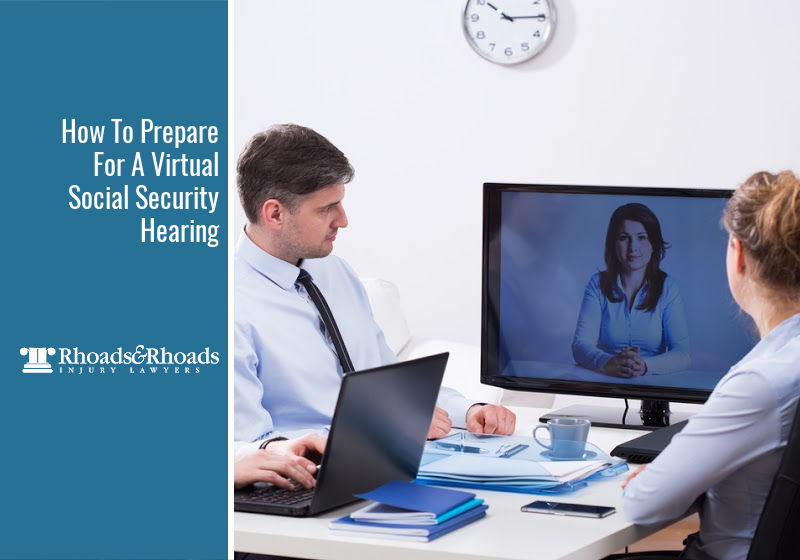 Key Points of This Article:
In addition to telephone hearings, the Social Security Administration will begin to offer online video hearings, starting in the fall of 2020.
This new free service will allow applicants and their representatives to participate in a hearing from anywhere they have access to a camera-enabled smartphone, tablet, or computer.
A Social Security judge, along with medical or vocational experts, will see and interact with applicants and their representatives. Applicants should prepare and present just as if they were an in-person hearing.
If you need to file for Social Security disability, or if you're a current client with questions about an upcoming hearing or an appeal, Rhoads & Rhoads attorneys and staff are still working hard in the time of COVID to help present your case.
Social Security Administration to Offer Online Video Hearings This Fall Due to Pandemic-Related Challenges
If your disability claim was denied for medical (or non-medical) reasons, you can request an appeal. If that first appeal is denied, an attorney will file a request for a hearing (which demands a hearing) in front of an Administrative Law Judge (ALJ). This judge will have had no part in the original determination or the reconsideration of your case. Coronavirus disruptions have created discourse and delays in these hearings since meeting in-person with an ALJ has not been possible, and telephone hearings have become the new normal. To prevent further hearing delays, the Social Security Administration (SSA) has announced another way for people awaiting a hearing by using online video.
The new, free service is set to begin this fall. It will allow applicants and their representatives to participate in the hearing from anywhere so long as they have access to a camera-enabled smartphone (iPhone or Android), tablet, computer with a camera, and a reliable internet connection. This way, a Social Security judge can see and interact with applicants and their representatives just like in an in-person hearing. Other experts, such as medical or vocational experts, may participate as well.
"The COVID-19 pandemic has highlighted the importance of finding new ways to serve the public," said Commissioner of Social Security Andrew Saul. "For over a decade, the agency has used video hearings to get applicants their hearing decisions sooner. This advancement builds on that effort, making it easier and more convenient to attend a hearing remotely, particularly during the COVID-19 pandemic. To continue to ensure all participants' safety, we expect online video hearings and telephone hearings will be the only two hearing options for the foreseeable future."
Through the new meeting platform, people will experience a clear image and audio of the ALJ and their representative during their hearing. The opportunity could offer better communication between the involved parties than a telephone call.
How to Prepare for Your Virtual Social Security Disability Hearing
If you have been waiting for a scheduled hearing appointment, you will be contacted by a representative in advance to confirm your availability and contact information. Accepting a virtual hearing date is not mandatory, and the person scheduling your hearing may have a discussion with you about your preferred communication options and the possibility of a postponement. If you have not done so yet, this is an excellent time to speak with an attorney to help make that decision with you and also coordinate and gather the information needed to support your hearing via telephone or with the new virtual option.
Whatever meeting method you prefer, the more time spent preparing for your hearing will significantly increase the chances of your voice being heard and your claim being accepted. Remember, approval is also dependent on evidence submitted throughout your claim period and how you conduct yourself in the hearing.
For the new virtual hearings, confirm the information sent to you and ensure the technology device you have will work. You will want to follow any technical directions provided for the virtual hearing. Be sure your device or computer is working, and the battery is charged, and you are near a charging station at the time of your hearing. Find a private place where you can be heard and conversate with the ALJ free of distractions. Present yourself as if you would in-person being well-groomed and practice two-way communication by listening well.
Come into the hearing aware of what all updated medical records say, timelines, and be knowledgeable on the specific medical opinions regarding your ability to work that your treating physicians have given to you.
Review your case file and anticipate questions to be asked from it.
Be honest and never exaggerate your medical problems. This is the quickest way to lose credibility with the judge and your claim's validity. While most judges are friendly, non-adversarial, and interested in hearing your case, there will be judges who quickly turn unpleasant and are easily bothered by a dishonest disability claimant. 
Avoid minimizing the severity of your symptoms and the disruptions your disability has caused. With supported medical evidence on your side, a judge will not view your claim and testimony as whining or complaining.
Be clear. When describing your disability-related pain and any of the symptoms, both emotional and physical, explain precisely how your life has been disrupted. If you don't, the judge may decide you are capable of working.
Avoid offering up information or statements that could be harmful. You don't need to let the ALJ know that you have family members receiving unemployment or disability benefits or provide opinions on your disability that may seem like you haven't followed a doctor's orders.
Don't make excuses. Judges also don't want to hear you say that you can't find employment or don't have transportation to get to and from a job.
Contact an attorney as early as possible. You have the choice to work with an attorney at any time to support your case, whether it be to apply for benefits, appeal a denial and request a hearing or review, or file a lawsuit. However, working with an experienced attorney from the start can ensure they can have the appropriate time to become familiar with your case.
At Rhoads & Rhoads, we recognize that we live in unsettling times, and our clients face many different challenges. But please be assured that our team can still accommodate your changing needs and we are continuing to help Western Kentucky clients from Daviess County and all the way over to Fulton County. Our goal is to serve with the safety and the support you deserve and staying respectful of the underlying medical conditions, physical, emotional, and financial hardships you have faced related to your disability.
Western Kentucky Attorneys Working to Support Your Social Security Claim for Benefits
If you need to file a Social Security disability claim, or if you're a current client with questions about your request for benefits or information about an upcoming hearing, please give us a call. Our attorneys are happy to safely meet with you over the phone or while practicing social distancing in a safe location to see how we can help. Call us at 888-709-9329 to schedule your FREE consultation today. There is never a fee unless we win your case.
Also read: What To Do When Your Social Security Disability Is Denied