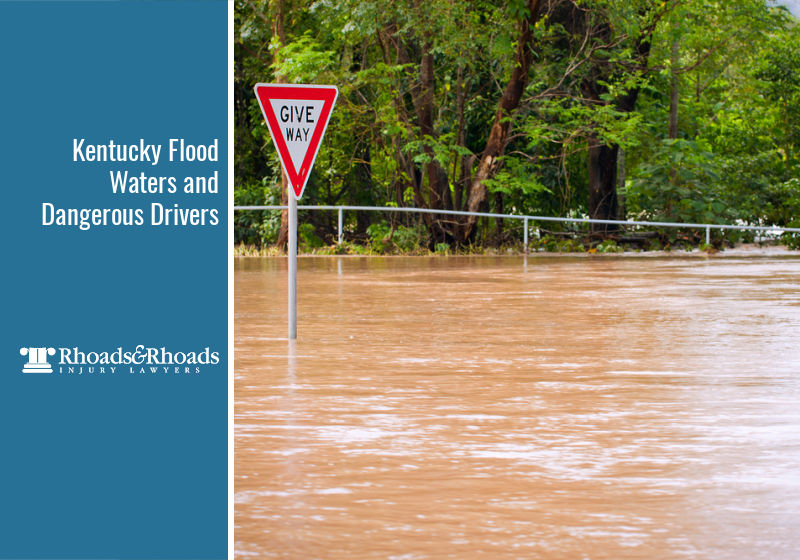 Key Points of This Article:
Never underestimate the force rain and melting snow, the threat of flash flooding, and river flooding can have on safe travel.
Flash floods are the No. 1 cause of storm-related deaths in Kentucky and can be an added problem behind irresponsible driving and rain-related accidents.
Drivers should avoid any flooded roads if possible because these dangerous areas can impact a vehicle's safety features and increase the risk of being in a car accident or causing property damage.
In any critical driving situation, being informed can be the difference between causing an accident and life and death, so if you see water on a roadway – turn around, don't drown.
The Issue with Negligent Drivers Who Ignore Flood Warnings
According to data from the Road Weather Management Program, the issues created by weather conditions, including floods and heavy rainfall, are the cause of more than 1 million motor vehicle accidents every year. Flash floods are dangerous to motorists as conditions can change quickly and often result in side-impact crashes when drivers lose control.
Some car accidents occur because drivers have underestimated the force and power of floodwaters, ignored flood area signage, and continued to drive around the barriers that warn them the area is a driving hazard. Kentucky drivers should never attempt to move through flooded roadways. If they choose to ignore warnings, they may be at risk of being swiftly swept downstream and into other vehicles, onto private property, and put themselves and others at risk of drowning. Like most personal injury claims, you will typically need to prove that another person or party was negligent in seeking financial compensation after an auto accident related to flooding.
Kentucky Roadways to Avoid During A Flood
Many Kentucky counties use flood warning systems either permanently or posted on an as-needed basis, and seasons and environmental conditions change. Calloway, Christian, Daviess, Estill, Fayette, Fulton, Graves, Hardin, Henderson, Jefferson, Marshall, Muhlenberg, Owsley, Pike, Trigg, and Webster counties are typically well-prepared to help navigate driver detours away from commonly flooded areas. These are spots where risky motorists may put others in danger, and culverts have a habit of quickly filling the road with water. The Ohio River basin, Kentucky River, and midsized creeks also overflow after record-setting rains and pose significant risks to drivers.
Wherever you are in Kentucky, take it slow and use caution on your commute and everyday travel. Heavy rainfall can result in dangerous flooding, and rock debris, mudslides, and fallen trees may prevent safe access to travel. Communities in danger of floods, where pedestrian areas cross with high-risk roads, may displace those on foot attempting to share narrow streets with vehicles.
However, all Kentucky counties use a four-step warning system to inform residents and drivers of flood risks to help them make wise choices.
Flood Advisory: Be Aware:A Flood Advisory is issued when a specific weather event that is forecast to occur may become a nuisance. A Flood Advisory is issued when flooding is not expected to be bad enough to issue a warning. However, it may cause significant inconvenience, and if caution is not exercised, it could lead to situations that may threaten life and property.
Flood Watch: Be Prepared:A Flood Watch is issued when conditions are favorable for a specific hazardous weather event to occur, such as flooding. It does not mean flooding will happen, but it is possible.
Flood Warning: Take Action! A Flood Warning is issued when the hazardous weather event is imminent or already happening.
Flash Flood Warning: Take Action! A Flash Flood Warning is issued when a flash flood is imminent or occurring. If you are in a flood-prone area, move immediately to high ground. A flash flood is a sudden violent flood that can take from minutes to hours to develop. It is even possible to experience a flash flood in areas not immediately receiving rain.
Staying alert means watching out for these warnings and signs alerting Kentucky drivers to existing or potentially hazardous road conditions. Watch out for locations where the risk for flooding is historically high and where flooding happens often and very quickly or occurs in isolated places. However, any road can flood when the conditions are right.
What To Do If You Are Driving Near or In Flooded Waters
During the Kentucky flood season, monitor the NOAA Weather Radio All Hazards or your favorite Kentucky news sources for vital weather-related information. Know that Kentucky Emergency Management says it is NEVER safe to drive into floodwaters or around a flood zone barricade. Instead, turn around, don't drown!
If heavy rain is forecast or occurring, move your vehicle away from streams and washes and avoid driving if possible.
If flooding occurs, get to higher ground. Get out of areas subject to flooding. These include dips, low spots, riverbanks, and usually dry washes.
If you need to drive, pay attention to warnings and incident signs, and avoid roads already flooded. The road may be washed out under floodwaters.
Use your headlights in heavy rain or anytime visibility is significantly reduced.
Never drive around the barriers blocking a flooded road.
Be especially cautious when driving at night when it is harder to recognize flood dangers.
Staying alert while driving and away from distractions like your cell phone can reduce your flood accident risk.
If your car stalls in deep water, keep your seat belt on, turn on your hazard lights, do your best to stay call and call 911 with your location.
Most drivers will start to lose control in just six inches of floodwater. If driving on a road that becomes covered in water, remember – turn around, don't drown!
We hope you stay safe (and dry), Kentucky!
Contact Rhoads & Rhoads Law Firm
If you and your family are in Kentucky, and a flood-related car accident has impacted your life, and you are struggling to deal with insurance claims, doctor and hospital bills, loss of property, loss of life, and other ongoing accident-related issues, Rhoads & Rhoads can help guide you.
Our clients pay no fees upfront for a consultation. Call us today at 888-709-9329 – we'll help you take care of the rest.
Also read: Were You Injured in a Large Truck Accident in Kentucky?