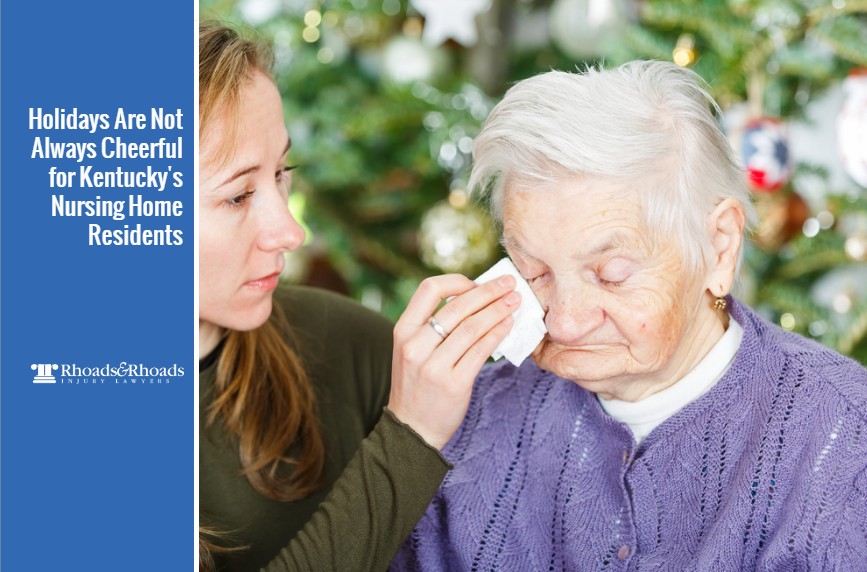 Key Points of This Article
Nursing home administrators and staff members must provide appropriate care to their patients. Yet, estimates show there are more than two million cases of elder abuse each year in the United States.
During the holidays, Kentucky's nursing homes struggle to have the appropriate amount of staff to care for residents, and 60 percent of nursing home residents receive no visitors, according to the Bluegrass Ombudsman Agency.
If a family member visits during the holidays and notices that a facility is neglecting or mistreating patients, they must speak up and expose the facility's wrongdoing.
Nursing home abuse or neglect findings must be reported immediately to a local Kentucky's Long-Term Care Ombudsman advocate and if necessary, residents should be removed to ensure their well-being.
Kentucky has repeatedly been ranked at the bottom for providing services and support for seniors and people with disabilities. Either from AARP or through the U.S. Centers for Medicare and Medicaid Services (CMS) Nursing Home Compare website, nearly half of Kentucky's nursing homes are rated as substandard and found guilty of putting residents at risk each day through scathing reports of abuse and neglect. Common examples include deadly medication errors and excessive use antipsychotic drugs, sexual assault, and failing to provide care that makes a difference between "maintaining a high quality of life at home and having to move to a nursing home."
And unfortunately, about 60 percent of nursing home residents receive no visitors, ever, according to the Nursing Home Ombudsman Agency of the Bluegrass. This leaves many vulnerable Kentuckians, most who are impoverished, alone and struggling.
Ask These Questions During Your Next Nursing Home Visit
While we believe it is always a good time to check-in and advocate for your loved one's well-being, this time of year proves to be most important for a nursing home visit. During the holidays, opportunities for neglect and abuse rise due to understaffing and workers become strained with too many residents to care for.  You can help reduce your loved one's risk of abuse and neglect by making multiple unscheduled visits (or phone calls) and use these questions as a guide to becoming better informed of any issues.
How are you feeling?
Are you comfortable?
Are you in any pain?
What types of activities are you enjoying?
Do you like the food?
Do inspectors visit here often?
Do you have access to a phone if needed? And, do you know who to call and their number if you need help?
Have they changed any of your medicines?
Is anything worrying you?
Have you seen your doctor lately?
When was your last shower and did they wash your hair?
Do you feel safe?
Have you been outside recently?
Are you using the toilet regularly?
Do you feel respected?
Has it been loud during the day or at night?
Do you like the nurses—how often are they here?
If you push the call button, how long before somebody comes?
Have you been punished at all?
Are there any new workers? Any that make you feel uncomfortable?
Do you know your rights as a resident?
When was the last time they changed your sheets? Your clothing, including your socks?
Have you gotten to know any of the new residents?
Do you want to tell me anything?
Don't be afraid to ask questions to administrators if something seems out of sorts. Also, take time to request a visit with the different staff or ask if you can volunteer on a project while there. If they are too busy to meet with you, then take notice to see if they seem stressed and overworked and are taking it out on the residents.
Identifying Nursing Home Abuse & Neglect Warning Signs
The National Council on Aging reports that approximately 1 in 10 older Americans have experienced some form of elder abuse and 1 in 6 will be abused while residing in a nursing home. No matter how good you feel about a facility, always stay on the lookout for the common warning signs that may uncover abuse and neglect.
Bruises, pressure marks, broken bones, abrasions, and burns may be an indication of physical abuse, neglect, or mistreatment.
Unexplained withdrawal from normal activities, a sudden change in alertness or unexpected depression may be an indicator of emotional abuse.
Bruises around the breasts or genital area may be a sign of sexual abuse.
Sudden changes in financial situations or change in mailing address may be the result of exploitation.
Bedsores, unattended medical needs, poor hygiene, and unusual weight loss may indicate neglect.
Belittling, threats, or other uses of power may indicate verbal or emotional abuse.
Strained or tense relationships and frequent arguments between staff and a resident may also be a sign of some form of abuse or neglect.
Based on your visit, you will want to work to resolve problems and bring about improvements in care. Before you leave, demand any changes needed on behalf of your loved one and let the administrator know you will be following up in the next few days. If you notice any serious issues or encounter problems at a Kentucky skilled nursing facility, be sure to report it to your local ombudsmen right away and contact a nursing home abuse and neglect attorney at Rhoads & Rhoads.
There are nearly 24,000 residents in nursing home facilities across the Bluegrass state, dependent on their daily care needs to be met by others, yet we know many are failing and residents are living in threat of harm or danger. We can all do more to help them.
Abuse & Neglect Lawyers for Kentucky's Nursing Home Residents
With offices in Owensboro and Madisonville, Rhoads & Rhoads represents nursing home abuse, neglect and wrongful death victims throughout Western Kentucky. We offer free initial consultations, and all cases are taken on a contingency fee basis, which means there is no payment required upfront. We get paid only if we win or settle your case, so there is NO RISK involved.
Call us at 888-709-9329 or contact us online to schedule an appointment with one of our Madisonville or Owensboro personal injury attorneys.
 Also read: Is Your Loved One's Nursing Home Equipped to Handle Flu Season?