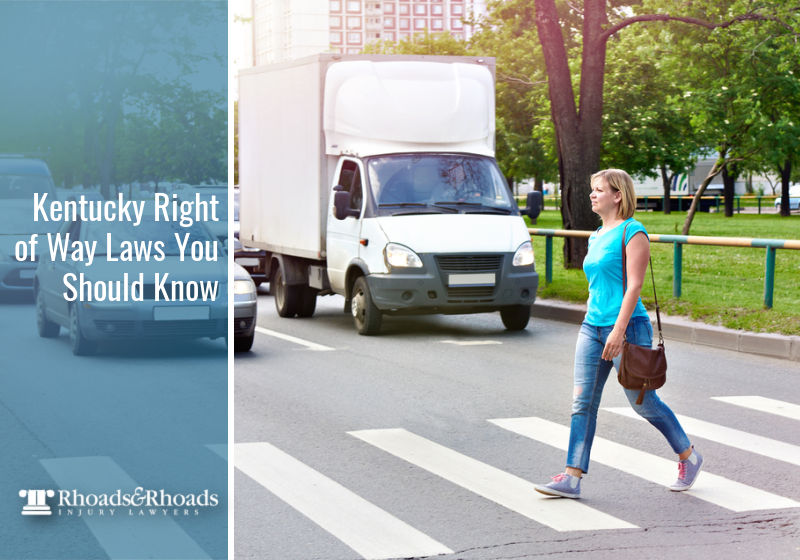 There was a time when you could easily answer any question about Kentucky's Right of Way Laws. Unfortunately, that time was probably back when you were 16 years old and studying for your driver's license. It may be time for a little refresher. Right of way laws are crucial, not only because you want to avoid being pulled over and getting a ticket or risking points on your license, but also because you want to avoid causing a potentially serious or even fatal traffic accident. Failure to yield the right of way is cited as the cause of 6.8% of all fatal accidents in the United States. 
How Does the Law Define Right of Way?
According to Kentucky Revised Statutes 189.010:
"Right of way" means the right of one (1) vehicle or pedestrian to proceed in a lawful manner in preference to another vehicle or pedestrian approaching under such circumstances of direction, speed, and proximity as to give rise to danger of collision unless one grants precedence to the other.
Kentucky Right of Way Laws for Intersections:
Intersection collisions made up 27.9% (28,107) of all Kentucky traffic accidents in 2020. Although most of those collisions were due to speeding, distracted driving, or driving under the influence, some of them were simply caused by failure to yield the right of way. 
Whichever vehicle reaches a four-way (or three-way or two-way) stop first has the right of way. 

If two vehicles reach a four-way stop at exactly the same time, the driver on the right has the right of way.

All traffic lights, stop signs, yield signs, and police officer signals must be obeyed.

In the absence of any of the signs or signals mentioned above, a driver approaching an intersection must yield to any vehicles which are already in the intersection. 

Drivers intending to make a left turn in an intersection must yield to traffic approaching from the opposite direction (going straight).

Right turns must be made as close to the right curb or edge of the roadway as possible.
Kentucky Right of Way Laws for Roads:
Drivers may not turn and proceed in the opposite direction unless this can be done safely and without interfering with other traffic.

Drivers who are intending to enter or cross a roadway from anywhere other than another roadway must yield the right of way to any vehicles on the roadway. 

Drivers on a minor road intending to turn onto the main road must yield to the vehicles on that main road.

Any driver entering a roundabout must yield to traffic that is already in the roundabout. 

On highways with center lanes intended for left turns, left turns are not allowed from any other lane. In addition, the center lane is reserved for vehicles making left turns or vehicles making a left turn off the highway or merging onto the highway after making a left turn from a side road or other entrance.
Pedestrians:
The law states when the right of way must be yielded to pedestrians in the following circumstances (although obviously, it is always incumbent upon any driver to avoid any pedestrian, whether or not he has the right of way):
If a pedestrian is in a crosswalk or intersection and there is no traffic light.

If you are turning a corner and a pedestrian is crossing with a traffic light. 
Extenuating Circumstances and Right of Way:
All vehicles must yield (to emergency vehicles (such as ambulances, fire trucks, or police cars) that are using flashing lights or sirens. 

According to Kentucky's

Move Over Law

,

drivers must change lanes if there is an emergency vehicle (this includes tow trucks) at the side of the road (if it is safe to do so). If there is only one lane, drivers must slow down and approach with caution. 

According to Kentucky's

Slow Down to Get Around Law

,

drivers must yield to solid waste collection trucks when their lights are flashing and they are collecting refuse. 
If you have been involved in a right-of-way motor vehicle accident, you are advised to seek the advice of an experienced car accident attorney. Although you will first collect from your own insurance company, since Kentucky is a no-fault state, you will likely exceed medical bills of $1,000. In this case, you and your lawyer may decide to pursue a claim against the driver who caused your accident by neglecting to yield the right of way. 
Call the Kentucky car accident attorneys at Rhoads & Rhoads at 888-709-9329 to schedule your FREE legal consultation today.