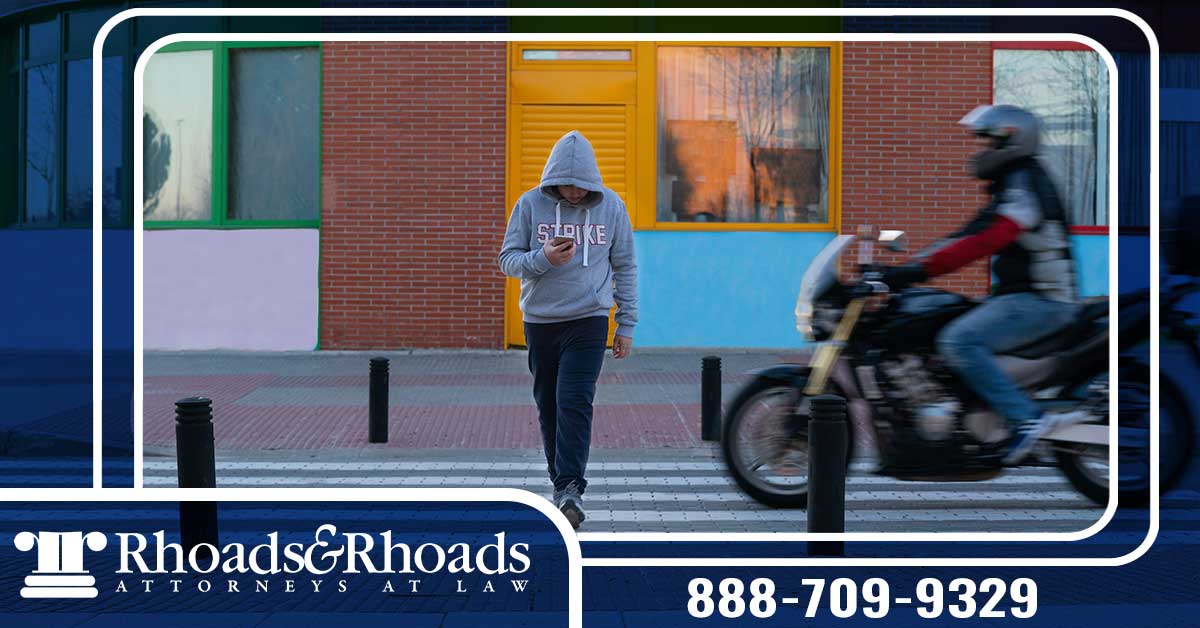 Key Points of This Article:
Who is at fault when a pedestrian is hit by a motorcycle will depend on who had the right of way.

Though negligent motorists are often to blame for pedestrian accidents, under certain circumstances a pedestrian can be considered to be at fault or partially to blame.

Kentucky is a no-fault state, so no matter who was at fault, an injured pedestrian can still file a claim to recover no-fault, medical/wage benefits. 
In every state, there are laws concerning who has the right of way in certain situations. This doesn't only apply to motor vehicles, like motorcycles, but applies to foot traffic as well. In most cases, many people assume that motor vehicles are always at fault when they hit pedestrians, but this isn't necessarily true. 
To determine fault, such as when a pedestrian is hit by a motorcycle, you have to take the right-of-way laws into account and consider how exactly the accident occurred. It is often the case that the motorist is the one at fault, but it is also possible that the pedestrian could carry some or all of  the blame.  That's why it is so important to obtain all of the evidence and have an attorney on your side. 
To discover who is at fault when a motorcycle hits a pedestrian, continue reading this article. 
Causes of Pedestrians Getting Hit by a Motorcycle
First, let's look at some of the common reasons why pedestrians get hit by a motorcycle. The roads can be dangerous for anyone, but pedestrian accidents can be especially problematic because pedestrians are more vulnerable and can sustain more severe, life-threatening injuries. This is why it's so important for motorists to pay attention. Even a motorcycle can cause serious damage when hitting a pedestrian. 
There are many different reasons why a pedestrian might get hit by a motorcycle, but the following tend to be the most common causes:
Distracted motorcyclists not paying attention.

Poor visibility, such as a pedestrian getting struck when walking at night or in the rain.

Motorcyclists failing to yield the right-of-way to a pedestrian.

Infrastructure that is not pedestrian-friendly, such as poorly designed intersections that make it difficult for pedestrians to be visible or cross safely.

Motorcyclists driving while under the influence of drugs or alcohol.

Motorists speeding or running red lights and stop signs.
Kentucky Right-of-Way Laws
Every state has right-of-way laws that must be followed at all times unless instructed to do otherwise by an office or traffic controller. If a pedestrian is hit by a motorcycle, who is at fault will depend on the individual situation and what exactly happened. The party that acted negligently and disobeyed the law will be the one held liable, or at least to a large degree.
According to the Kentucky Department of Transportation and Kentucky legislation, all drivers, including motorcyclists:
Must yield to pedestrians in crosswalks and unmarked crosswalks at intersections.

May not pass other vehicles that are stopped when pedestrians are crossing the road.

Must yield the right of way to pedestrians crossing the road when traffic control signals are not in place or in operation.

Should exercise care to avoid colliding with any pedestrian and shall give warning by sounding the horn when necessary.

Shall yield the right of way to any pedestrian on a sidewalk.
If a motorist violates any of the above laws, they will likely be viewed as the one at fault and thus could be held liable for the damages suffered by the pedestrian. 
It's worth noting, however, that it is also possible for other parties to be at fault when a pedestrian is hit by a motorcycle. For example, if the accident happened due to a lack of road maintenance, then the local government could be held at least partially liable. If the accident happened as a result of a manufacturing defect or faulty parts on the motorcycle, then the vehicle manufacturer can be held liable. That said, in most cases, it is often a negligent motorist that is to blame for pedestrian accidents. 
If Someone Jaywalks and You Hit Them, Who Is at Fault?
Though motorists are often to blame, the pedestrian can also be considered partially at fault under certain circumstances.  Depending on where and how the pedestrian was crossing the road, they could be viewed as having jaywalked, and if that happens, they could possibly bear some portion of the responsibility, but a claim could possibly still be pursued.  
Just as motorists have right-of-way laws to follow, pedestrians do as well. According to legislation, if a pedestrian is entering the road at any other point than a crosswalk or intersection, they have a duty to some extent to yield to all oncoming vehicles.   However, the motorist has a duty to keep a proper lookout and keep their vehicle under proper control. 
Still, if a motorist hits a pedestrian that is jaywalking, the pedestrian might not carry all of the blame. As stated above, motorists must still take care to avoid hitting pedestrians, even if they are crossing the road where they are not supposed to. In this case, both the motorcyclists and the pedestrian might share fault. 
Kentucky is a comparative fault state. This means that a pedestrian can still file a claim if they were partially to blame for an accident, but the compensation they are awarded will simply be reduced based on their percentage of fault. 
Damages Available to Pedestrians Hit by a Motorcycle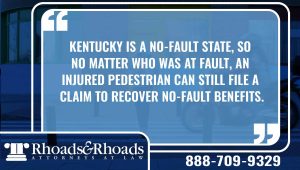 If a pedestrian is hit by a motorcycle, they can file a claim no matter who was at fault for the accident. Kentucky is a no-fault state, so when a pedestrian is hit, they can recover compensation for damages through No-Fault PIP insurance coverage. 
If the motorcyclist was at fault, the coverage will come from the motorist's insurance. If the striking vehicle is uninsured or if the pedestrian carries some of the blame for the accident, they can still file a claim through their own insurance policy or from a relative's policy whom they live with, including a claim for uninsured or underinsured motorist benefits. 
Damages a pedestrian could potentially recover by filing a claim include:
Medical expenses

Future medical expenses

Lost wages

Impairment to earn money in the future

Emotional distress

Loss of enjoyment of life

Permanent impairment

Scarring and disfigurement
Kentucky Personal Injury Lawyers – Rhoads & Rhoads
Pedestrian accidents can be tricky cases, so it is beneficial to work with an attorney. A lawyer can help investigate the case and defend the rights of the pedestrian to ensure they get the full and fair compensation they deserve for their losses and suffering. 
If you were a pedestrian hit by a motorcycle, our team at Rhoads & Rhoads can help. Call us at 888-709-9329 to schedule an appointment with one of our Madisonville or Owensboro personal injury attorneys.
We offer free initial consultations, and all cases are taken on a contingency fee basis, so there is no initial payment required. We get paid only if we win or settle your case, and there is NO RISK involved.