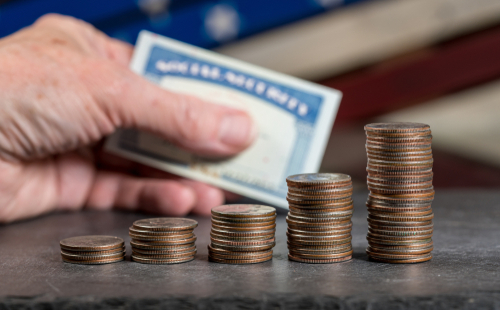 Social Security Benefits Set to Increase in 2019
In 2018, about 63 million Americans received approximately one trillion dollars in Social Security benefits while an estimated 175 million workers were covered under Social Security. In Kentucky, nearly 950,000 residents currently receive some type of Social Security benefits and that statistic is likely to grow substantially from here on out as the number of Americans 65 and older will increase from approximately 49 million today to over 79 million by 2035. Social Security provides more than just retirement benefits and remains to be the major source (33 percent) of income for most elderly with nearly nine out of ten individuals 65-years-of-age or older receiving monthly allotments, but also includes those eligible to apply for Social Security Disability benefits after they have been diagnosed with a disabling condition that affects their ability to work. More than 11 percent of Kentuckians receive some form of Social Security Disability payment, making Kentucky the second highest state in dispersing the funds.
The Social Security Administration recently announced a 2.8 percent increase in Social Security and Supplemental Security Income (SSI) benefits for more than an expected 67 million Americans eligible for coverage in 2019. According to the Administration's June 2018 data report, retired workers received an average monthly benefit of $1,413 monthly and disabled workers an average $1,198 monthly benefit. Additionally, more than $6.9 billion was given to survivors.
The Administration announced the change in a press release and Social Security and SSI beneficiaries should have been notified by mail in early December about their new benefit amount.
"The 2.8 percent cost-of-living adjustment (COLA) will begin with benefits payable to more than 62 million Social Security beneficiaries in January 2019. Increased payments to more than 8 million SSI beneficiaries will begin on December 31, 2018. (Note: some people receive both Social Security and SSI benefits). The Social Security Act ties the annual COLA to the increase in the Consumer Price Index as determined by the Department of Labor's Bureau of Labor Statistics."         
Social Security Disability thresholds will also be adjusted in 2019. For those who possess substantial gainful activity (SGA) increases for non-blind will move from $1,180/mo. to $1,220/mo. Blind beneficiaries who received $1,1970/mo. in 2018 will now gain $2,040/mo. and those within the Trial Work Period (TWP) will see an increase of $30, equal to $880/mo. in 2019.
The Administration continued to say for those beneficiaries receiving Medicare, Social Security will not be able to compute their new benefit amount until after the Medicare premium amounts for 2019 are announced.
7 Social Security Facts You May Be Surprised By
Social Security of any kind can be a difficult, drawn out, and confusing benefit to understand. Because of that, the legal team at Rhoads & Rhoads want you to be aware so if you find yourself in need of filing for it, there are no surprises. Here is a list of facts our team found interesting that you may not know.
Retired workers and their dependents account for 72 percent of total benefits paid.
Disabled workers and their dependents account for 13 percent of total benefits paid.
About 89 percent of workers age 21-64 in covered employment in 2017 and their families have protection in the event of a severe and prolonged disability.
Just over 1 in 4 of today's 20-year-olds will become disabled before reaching age 67.
68 percent of the private sector workforce has no long-term disability insurance.
Survivors of deceased workers account for about 15 percent of total benefits paid.
There are currently 2.8 workers for each Social Security beneficiary. By 2035, there will be 2.2 covered workers for each beneficiary.
Someone can apply to receive SSD benefits after they have been diagnosed with a disabling condition that affects their ability to work, often leaving individuals and families without the financial support they need. For someone to qualify for Social Security disability benefits, it is helpful if a doctor has determined that the disability is severe enough to prevent an applicant from working. The disability must be anticipated to last at least a year or could result in death. The monthly benefits that a disabled worker in Kentucky receives through the SSA average out to $805 for a single person and $1,200 for a disabled married worker with one or two children. Roughly 10.5 million people received disability benefits from Social Security and an additional 8 million received disability benefits from Supplemental Security Income in 2017.
While we are hopeful no one will have to wait an unreasonable time for their disability to be approved and received, data compiled by the Social Security Administration (SSA) says more than 1 million Americans who have applied are still waiting out an approval they may never see, especially if there was a mistake on the application. Their wait could take up to two years if not longer, way beyond the time some may need to stay healthy. A recent report by the Social Security's inspector general stated, "Last year there were 7,400 people on waitlists who were dead."
We understand all of this can be confusing and tiresome to understand. Before you attempt to work while receiving benefits, or want to file for social security disability benefits, we advise you to please contact our office so that you don't jeopardize your current status.
Keeping Kentucky's Workers' Benefits Protected 
Rhoads & Rhoads has been protecting the rights of the injured throughout Western Kentucky for over 39 years. If you or a loved one have become disabled and are pursuing Social Security benefits or are ready to go back to work and on disability, our team of experienced attorneys are here to help you through these decisions.
We offer free initial consultations, and all cases are taken on a contingency fee basis. This means there is no payment required up front and there is NO RISK involved. Your monthly benefits will not be affected by working with one of our attorneys. Call us at 888-709-9329 or contact us by e-mail to schedule an appointment.