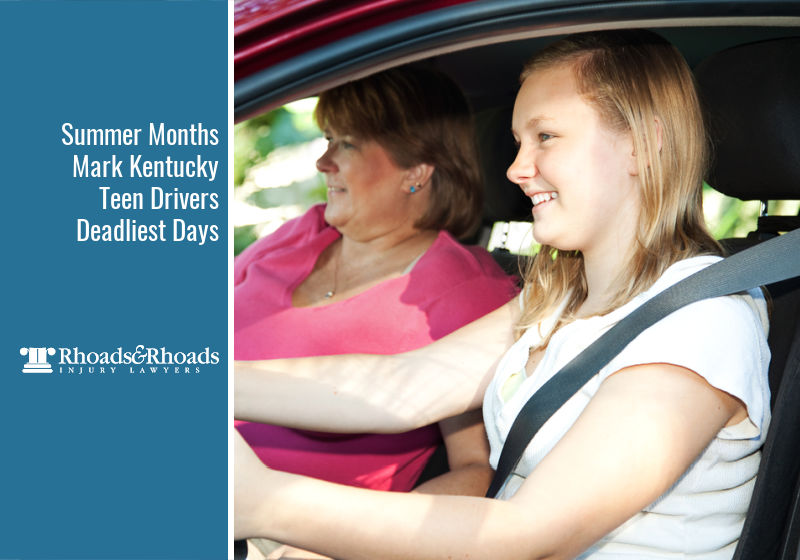 Key Points of This Article:
Motor vehicle crashes present a greater risk to teens' lives (from age 15 to 18) than all other types of injury, disease, or violence.
The 100 deadliest days on U.S. roadways begin in June thru August, marking the time frame as the 100 deadliest days of the year for fatal crashes, especially for teens and inexperienced drivers.
Nearly one in 10 teen drivers involved in fatal crashes are reported as distracted at the time of the crash, representing the most significant percentage of distracted drivers of any age group involved in fatal crashes.
The motor vehicle accident attorneys at Rhoads & Rhoads want all teens to start their driving experience by learning and practicing good driver behaviors. One way to do this is by asking parents to play an active role and getting more involved.
Summer Accident Warnings for Kentucky Families and Teen Drivers
Every parent should know how to keep their teen driver safe and better informed on increased fatal driving risks, traditionally beginning Memorial Day weekend through Labor Day weekend each year. This timeframe is often referred to as the "100 Deadliest Days" by road safety officials, emergency response crews, and police. The months of June, July, and August represent a time when the average number of deadly teen driver crashes is expected to climb more than 15% compared to the rest of the year. And AAA Bluegrass says the top causes for these fatal summertime crashes involving teens include drug or alcohol impairment, speeding, and distractions related to technology such as smartphone use. When combined with less driving experience, distractions and impairments exacerbate traffic crash risks.
A 2020 AAA Foundation Traffic Safety Culture Index showed:
72% of teen drivers admit to engaging in risky behaviors such as speeding, aggressive driving, red-light running, drowsy driving, not wearing a seatbelt, or texting while driving.
Nighttime hours between 6:00 pm and midnight is the most dangerous time to be on the road for all drivers, but especially for teens.
With parental support and focus on driver safety, younger and less experienced drivers who practice safe driving can also positively impact their friends and even adults around them.
How To Help Your Teen Driver Avoid Deadly Car Crash Consequences
The car accident and personal injury team at Rhoads & Rhoads want to help provide solutions to prevent teen injuries and deaths on Kentucky roads. We have pulled together resources and recommendations for parents on staying actively involved in coaching their teens and reminding them of the importance of responsible driving.
Have conversations early and regularly about the dangers of speeding and driver distractions.
Take the time to practice driving with your teen in varying weather and traffic conditions.
Adopt and enforce a parent-teen-driving agreement that sets family rules for the road—set boundaries for negligent behavior.
Lead by example and minimize your distractions, buckle up, and aggressive driving.
Parents can help reduce the prevalence of tragic accidents and ultimately assist in saving lives by coaching their teens to slow down, drive sober, ignore distractions, and avoid all temptations that point to risky driving. This includes the most concerning teen accident cause of all – cell phone use while driving.
Tips For Breaking the Habit of Smartphone Use While Driving
While many auto manufacturers are developing Advanced Driver-Assistance Systems (ADAS) like automatic braking, lane-departure warnings, and lane-keeping assist prompts to curb smartphone use distractions while driving, there is still a gap in the number of vehicles traveling on U.S. roads today without these new road safety abilities. More important, though, is for all drivers to accept the excepted level of personal responsibility they take when operating a motor vehicle in Kentucky.
As soon as you can, talk to your teen about the risks associated with distracted driving by helping them adopt these behaviors from the start.
Create a "No Phone Zone" In Their Vehicle: Create a place for them to put their phone while driving and make it a habit. A glove box or inside a zipped purse or bookbag might be good options. This way, they will have to think twice before reaching to use it. Also, let them know that Kentucky law bans texting for drivers of all ages while the vehicle is in motion.
Get Them Ready for Summer Jobs and Summer School Ahead of Time: Before they hit the road, make sure they have had breakfast and wrapped up any lingering messages or phone calls. The better organized they are with fewer temptations to text, the more often their eyes will be on the road and their hands on the wheel.
Remind Them to Ask Passengers for Help NOT Distractions: Remind them that it is their responsibility as the driver to avoid distractions and get everyone to the destination safely. If passengers can, tell your child to have them navigate the map, make a call, or send the text.
Enable Their Phone's Do Not Disturb Feature: Most phones today have a Do Not Disturb While Driving feature that will disable texting, send an automated text response, and hold calls while driving. Turn it on or download a safe driving app to disable their phone use while driving.
We invite you to share this information with others and to use these tips from our Western Kentucky personal injury attorneys to remind your teen about the importance of safe driving.
And – of course – we hope everyone in your family enjoys an accident and injury-free summer!
Contact Rhoads & Rhoads Car Accident Lawyers – No Recovery, No Fee  
The accident lawyers at Rhoads & Rhoads, located throughout western Kentucky, can help if you or someone in your family has been seriously injured or killed in a crash or by a reckless driver. Our goal is to help you recover the compensation that you need to get through this difficult time. You can take advantage of our free initial consultation and discuss your case with us. There is no payment required upfront, and there is NO RISK involved. Call us at 888-709-9329 to schedule your consultation today.
Also read: How Are Experienced Personal Injury Lawyers Are Serving Butler County