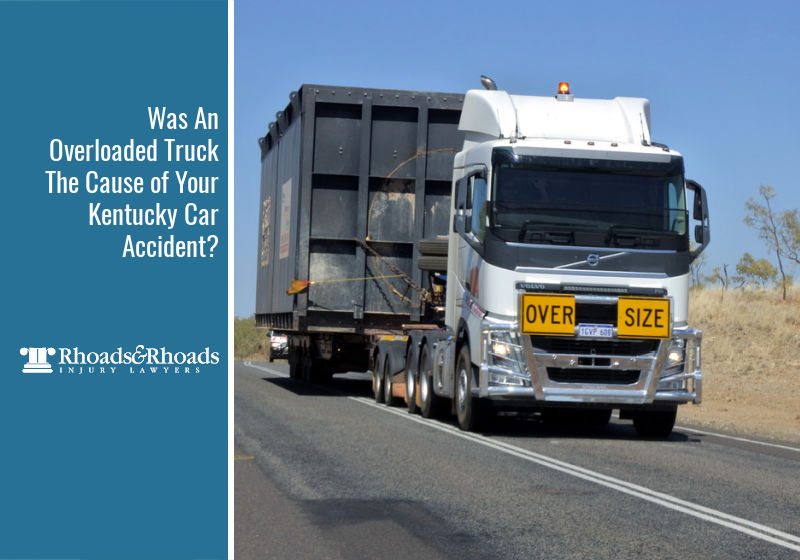 Key Points of This Article:
In 2019, approximately 90% of all fatal crashes involving large trucks in Kentucky occurred in rural areas or Interstate highways, similar to those found in Boone, Daviess, and Clark counties.
Trucking companies sometimes ignore regulations designed to minimize dangerous travel and push aside safety to ensure on-time deliveries.
Semi-truck operators and drivers must follow industry regulations related to the weight, size, length, width, and height limits to each truckload in Kentucky. If a mistake is made, a load could fall onto passing vehicles or cause a truck to jackknife or roll over and cause an accident.
If you've been involved in an accident with a large truck in Kentucky, don't wait to speak to an attorney. Semi-truck operators are heavily insured and commercial drivers and companies can be held liable if responsible for causing a crash.
Trucking Companies May Be Responsible for Crashes Caused by Oversized Loads
With its South-Central location, Kentucky is within one day's drive of two-thirds of the nation's population, making semi-trucks, big rigs, large delivery vehicles, and tractor-trailers that weigh more than 10,000 pounds serving a vital role delivering more than 10.5 billion in freight to market each year. The location makes Kentucky an ideal U.S. location to base a trucking company. Unfortunately, to push profits, some large carriers have developed bad habits such as overloading trucks or rushing deliveries without securing a load first, making them too heavy to navigate Kentucky's network of interstates and parkways safely.
According to Kentucky State Police's most recent Traffic Collision Facts Report, 10,689 large trucks were involved in collisions, 106 in fatal crashes, and 1,419 in non-fatal injury collisions in 2019. In all of these cases, 34% of the truck accidents that involved improper loads and hazardous cargo collisions occurred on Kentucky interstates and 54% on U.S. and state-numbered routes.
Heavy Loads, Load Securement, and Truck Maintenance Rank Highest Preventable Crash Factors
Unfortunately, tractor-trailer operators, including some of the largest trucking companies in the U.S., have become comfortable in ignoring the safety regulations set by state and federal guidelines to minimize dangerous travel. Crash investigators say load securement, brakes, and tires remain the top preventable causes for semi-truck accidents in Kentucky.
And typically, up to two contributing factors below will be identified when a crash occurs.
Tire Failure (137 collisions)
Load Securement (128 collisions)

Overload/Improper Load (6 collisions)
Oversized Freight (40 collisions)

Defective Brakes (81 collisions)
Tow-hitch Failure (33 collisions)
Steering Failure (21 collisions)
Truck Lighting Defects (19 collisions)
Faulty Headlights (3 collisions)
More than 280 collisions had other crash factors, including driver inexperience, distractions, sleepiness, ignored maintenance, or inadequate training.
Trucking companies and truck drivers are undoubtedly crucial to our Kentucky communities, especially on routes that run through Christian and Daviess counties. However, carriers who choose to ignore load restrictions, maintain their fleet, or fail to provide the necessary training to their drivers are also those who employ truck drivers more likely to lose control of their truck due to speed, weather, or aggressive driving. Other drivers are forced to drive without rest, drive while distracted, and make poor choices like operating under the influence of drugs or alcohol.
When a driver or trucking company does not follow the regulations set in place to keep the road safe, they may be held liable for injuries or damage resulting from a commercial truck crash. To make a claim, you will first need to prove that the truck driver did something wrong to cause the collision.
A Lawyer Can Review and Negotiate Your Settlement Offer
The devastating injuries or loss of a loved one due to a truck accident creates many stressors, including overwhelming financial burdens. After being involved in a truck accident, a truck company and the driver could be held liable for those injuries and the related life changes. But know that an enormous amount of insurance backs commercial truck drivers who experienced adjusters represent. These professionals work for the trucking company and are quick to offer reduced settlements. Without a lawyer, they are well-prepared to deny even the most justified claims.
Working with the big truck accident injury attorneys at Rhoads & Rhoads will allow an injured person to focus on their recovery and feel confident in rejecting a weak settlement from a trucking company ignorant to their faults. Our attorneys are experienced in representing truck accident victims and take the time to review the facts and gather the evidence needed.
At Rhoads & Rhoads, we use:
accident reports, including accident reconstruction data to determine if the driver was acting per traffic laws;
toxicology reports showing any evidence of driving while under the influence of drugs or alcohol;
inspection and repair records to verify that both the trucking company and the driver were undertaking regular review and maintenance required for the safe operation of the truck;
records of the truck driver's sleep, driving habits, and electronic logs to ascertain whether or not the driver was adhering to safety regulation and if he or she may have been driving while distracted, or ignored any system warnings and road cautions at the time of the accident;
event data recorders that track a truck's speed; and
weighmasters, and mobile weight enforcement official history and data.
When the time is right for you, we will take our experience as a top-rated personal injury firm in Kentucky and work hard to recover the financial damages you are rightfully owed.
Western Kentucky Semi-Truck Accident Lawyers — No Recovery, No Fee 
Based in Owensboro, Rhoads & Rhoads represents tractor-trailer accident victims throughout Western Kentucky. We offer free initial consultations, and all cases are taken on a contingency fee basis. This means there is no initial payment required to work with us, and we get paid only if we win or settle your case. Please rest assured that there is NO RISK involved in scheduling a consultation with our legal team.
Call us at 888-709-9329 to schedule an appointment with one of our truck accident injury attorneys.
Also read: 10 Tips to Avoid Accidents Around Trucks & Buses
Source: Kentucky Transportation Center College of Engineering – University of Kentucky. (2019). 2019 Kentucky Traffic Collision Facts Report. The Kentucky Transportation Cabinet Division of Planning. http://kentuckystatepolice.org/wp-content/uploads/2020/10/CrashFacts2019_FY2020.pdf