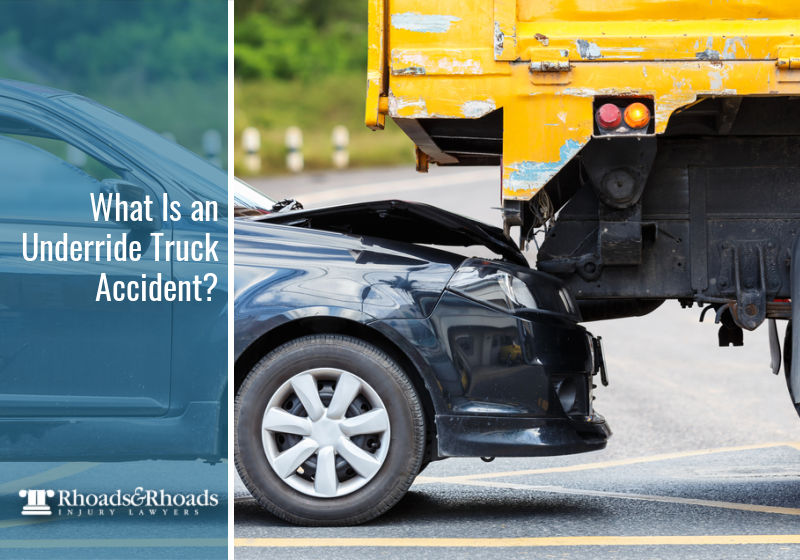 Key points of this article
Underride accidents occur when a standard-sized vehicle slides underneath a taller vehicle, resulting in serious impact.

Underride accidents often cause serious or fatal injuries, including injuries to the spinal cord, brain, and neck. 

Various parties could be at fault for an underride truck accident, such as the trucker, trucking company, truck manufacturer, and truck maintenance company.

If you suffer from injuries caused by an underride truck accident, you may be able to recover compensation for medical bills, lost wages, loss of future earnings, pain and suffering, and more. 
Although truck accidents are less common than standard car accidents, they are often far more deadly. An especially dangerous type of wreck is underride truck accidents. 
Underride accidents happen when a standard-sized vehicle crashes into a large truck, and the height difference results in the top of the car making an impact with the truck's underside, resulting in serious injuries or even death to the car's occupants. Tragically, road fatalities caused by underride truck accidents are not uncommon. Around 6,000 people died due to underride truck accidents from 1994 to 2018, and many more suffered serious and permanently disabling injuries. 
If you or a loved one suffered from injuries caused by an underride truck accident, you need to file a personal injury claim against the liable party. 
Types of underride truck accidents
Many different types of trucks can become involved in an underride accident, causing serious or fatal injuries to other drivers. These trucks can include tractor-trailers, semi-trucks, tanker trucks, and other vehicles that are significantly taller than standard passenger cars.
The two types of underride truck accidents are rear underride collisions and side underride collisions. Rear underride collisions typically occur when a car or another vehicle goes underneath the rear side of a truck. This may occur due to poor weather conditions causing sliding or limited visibility. Poorly marked trucks can also contribute to these accidents. 
Side underride collisions are similar to rear underride collisions, but occur when car drivers go underneath trucks from the side rather than the rear. This can happen when truckers make a turn or change lanes. 
Causes of underride truck accidents in Kentucky
Different underlying factors can contribute to or cause devastating underride accidents. Common causes include:
Improper or worn guards:

The majority of trucks on the road feature underride guards to prevent these often-fatal accidents from occurring. Unfortunately, the Federal Motor Carrier Safety Administration (FMCSA) doesn't require inspections of underride guards, meaning the guards may lack sufficient protection or can become worn over time. Some common issues with underride guards include improper sizing, installation errors, and lack of durability; all of which can cause the guards to malfunction upon collision. 

Visibility issues:

Rear underride accidents often occur because of issues regarding visibility. This may be the case if the weather limits drivers' views of the road, or if trucks lack sufficient lighting and reflective tape, a driver may fail to spot them, resulting in a serious collision. Additionally, truckers need to ensure that their trucks are visible while parked on the side of the road through the use of road flares or reflective triangles. 

Driver error:

As with most types of wrecks, driver error is often the underlying cause. Truckers and other drivers may cause underride collisions if they fail to maintain their vehicle properly, drive while fatigued or under the influence of drugs or alcohol, or if they make a dangerous driving maneuver. 
Common underride truck accident injuries
When a car driver becomes involved in an underride accident, they're far more likely to sustain serious or fatal injuries than the truck driver. Some common injuries after underride accidents include:
Head injuries, such as traumatic brain injuries and concussions
Neck injuries, such as whiplash, strains, and pinched nerves

Broken bones

Spinal cord damage, which can cause paralysis

Lacerations

Burns
Recovering compensation after an underride truck accident
Underride truck accident injuries can leave victims with permanent disabilities and physical limitations. If you experience an underride accident caused by a trucker or another party, you need to seek compensation for your various forms of damages. In addition to receiving compensation for medical bills, you can seek damages for lost wages, loss of future earnings, pain and suffering, emotional trauma, loss of enjoyment of life, and more, depending on your unique case.  
Different parties may be liable for your injuries, and you can file claims against the various negligent parties in order to recover the money you deserve. Liable parties can include:
The truck driver:

The Federal Motor Carrier Safety Administration (FMCSA) requires truck drivers to inspect the safety of their vehicles, including their lights, reflective tape, and underride guards. Additionally, truckers need to abide by traffic rules and avoid causing traffic accidents.

The trucking company:

Trucking companies must ensure the safety of their drivers and trucks. A trucking company can be liable if a maintenance issue causes an override accident. Truck companies must also do their due diligence when hiring drivers, so a truck company may bear partial responsibility for their truckers' actions, such as driving recklessly or while under the influence. 

The truck manufacturer:

If a defect in a truck or underride guard causes an accident, the truck or parts manufacturer could be partially or wholly responsible.

The truck's maintenance company:

If the truck company outsources vehicle maintenance, the maintenance company could be responsible if it failed to fix an issue that causes an accident. 
Settlement for underride truck accidents in Kentucky
If you've suffered from injuries caused by an underride truck accident, you need to hold the responsible parties accountable and recover the money you deserve. You can greatly increase your likelihood of recovering damages by enlisting the expertise of personal injury attorneys. They can help you prove that the liable parties were at fault, and they can help you maximize the amount you receive in compensation. 
For Kentucky truck accident lawyers, contact Rhoads & Rhoads Attorneys at Law. We offer FREE case evaluations when you call 888-709-9329, or you can schedule an evaluation here.