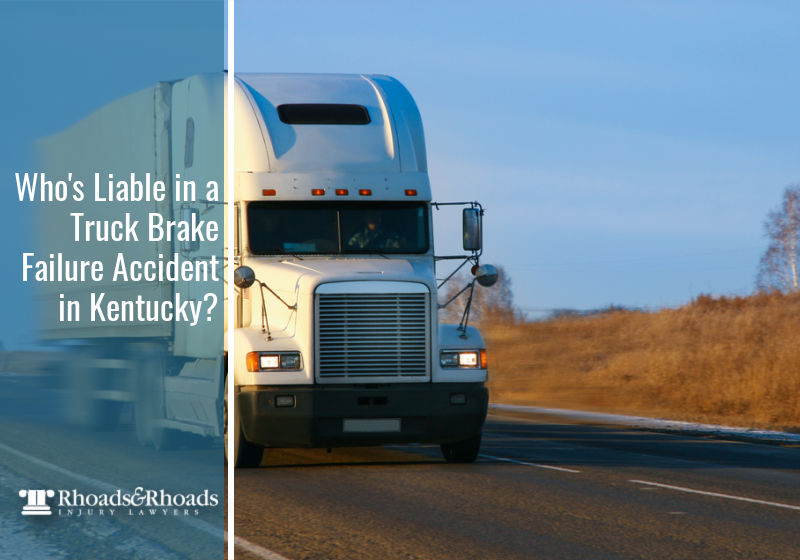 Key Points of this Article
Semi-trucks weigh thousands of pounds, which can put a lot of stress on the brakes.
Victims of truck brake failure accidents may be entitled to compensation by filing a claim against the liable party responsible for the brake failure.
Trucking companies are responsible for the upkeep and maintenance of their trucks, including having the brakes checked regularly.
A Kentucky semi-truck lawyer can help you hold the right party accountable, ensuring you are fairly compensated for your injuries and other damages.
Brake failure accidents can be disastrous no matter what vehicles are involved. However, when the brakes fail on a large semi-truck, it can be an even more dangerous situation that can result in catastrophic damage and injuries.
Large commercial semi-trucks that transport cargo can weigh up to 80,000 lbs, which means there is a lot of stress placed on the brakes of these vehicles. As such, semi-truck brake maintenance is crucial. If the brakes on one of these vehicles malfunctions or stops working altogether, it can put the life of the truck driver and the lives of others on the road at risk.
If a brake failure truck accident does occur, the injured victims involved in the accident may be entitled to compensation for the damages they have suffered, such as the cost of their medical bills for their injuries and lost wages while they recover from their injuries.
If you are injured in a truck brake failure accident, get in contact with a Kentucky semi-truck attorney immediately. An attorney can help you file your claim and ensure the right party is held liable for their negligent actions.
What Causes Brake Failure in Semi-Trucks?
There are a number of reasons why the brakes might fail on a semi-truck, including:
Failure to keep up with brake maintenance
An error made by a brake service mechanic
A brake defect or design flaw
A manufacturer recall on the brakes
Overloaded truck trailer, placing too much strain on the brakes
What Are Some Warning Signs for Impending Brake Failure?
While it is ultimately the owner of the truck's responsibility to keep up with brake maintenance, such as the trucking company that employs the truck driver, there are signs that truck drivers should look out for that could indicate the truck they are driving needs to have the brakes checked. If the truck driver notices these issues and fails to report them to their employer, it could result in the brakes failing before the truck is taken in for its regularly scheduled service.
Such signs that could indicate the brakes are failing or some other issue is occurring with the brakes include:
The brake warning light coming on
Squealing or squeaking brakes
Metal-on-metal grinding noises
Brake pedal vibrations
Slow stopping response
Leaking brake fluid
"Soft" brake pedal (the brake easily pushes all the way down)
What Should Drivers Do In Case of a Brake Failure?
As mentioned above, if truck drivers suspect their brakes are failing, they should report it to their employer as soon as possible so the truck can be taken in for maintenance. However, if it's too late and the brakes fail while they are out driving on the road, there are some things they can do to try to reduce the chances of a serious accident occurring. These include:
Downshifting
Using the emergency brake stop
Pumping the brakes (if they are hydraulic)
Pulling off on the side of the road
Using an escape ramp
Who Can Be Held Liable for a Truck Brake Failure Accident?
If a brake failure leads to a semi-truck accident, there are multiple parties that could potentially be held liable.
The Truck Driver
If the truck driver is overloading their truck, if they are over pumping the brakes, or if they notice signs of impending brake failure and do not report the issue, they could end up being held responsible or at least partially responsible for the truck brake failure accident.
The Truck Company
The truck company that owns the truck and employs the truck driver is ultimately responsible for overseeing the maintenance of the truck. If the brakes fail due to a lack of maintenance or failure to bring the truck in for regular inspections and repairs, the fault could lie with them.
The Repair Shop / Truck Mechanic
In some cases, the truck might have been regularly inspected, but the mechanic responsible for handling the brake check and repairs could have made an error. In this case, the repair shop or mechanic that worked on the truck could be held liable for the brake failure.
The Truck Manufacturer
If the brakes failed due to a defect or if the brakes were initially installed improperly, the fault could be traced back to the manufacturer that designed and built the truck. This doesn't happen often, and usually, manufacturers will send out a recall if they know of a defect. Still, it is a possibility.
Kentucky Semi-Truck Accident Lawyers – Rhoads & Rhoads
If you are involved in a truck brake failure accident and need help with your claim, the team at Rhoads & Rhoads can assist you.
Building a strong case against trucking companies or truck manufacturers is not easy. You will need to work with an attorney that understands how truck regulations work and who can help you obtain the evidence needed to prove liability.
At Rhoads & Rhoads, our Kentucky attorneys have years of experience handling a wide range of cases, including those involving semi-truck accidents. Call us at 888-709-9329 to schedule an appointment with one of our Madisonville or Owensboro attorneys.
We offer free initial consultations, and all cases are taken on a contingency fee basis, so no initial payment is required. We get paid only if we win or settle your case, and there is NO RISK involved.