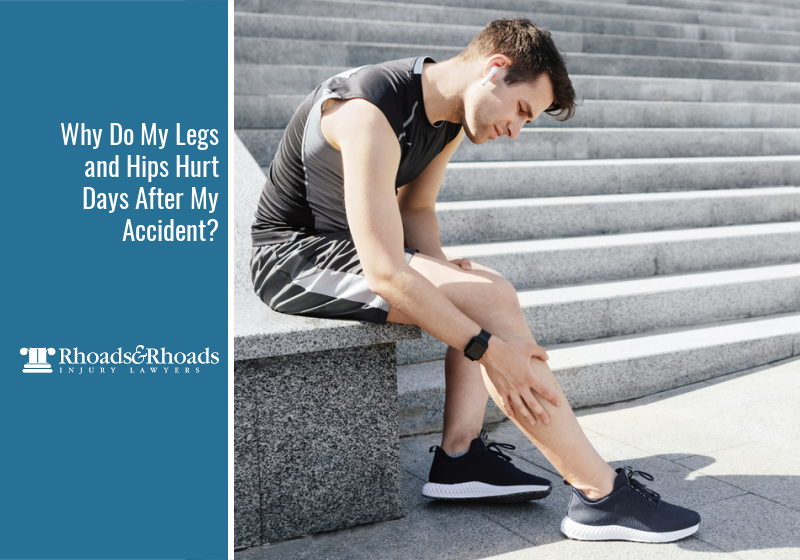 Key Points of This Article:
According to the U.S. Department of Transportation, around 40% of accident victims in a frontal collision suffer leg injuries, including hip fractures.
After a crash, hip and leg pain can cause muscle stiffness, fluid in the joints, limited motion, and intense discomfort when sitting or sleeping.
Feeling no pain at the time of an accident does not necessarily mean you have avoided injuries, and it may be hours or days before you start to feel stiffness and soreness throughout your body.
If you experience delayed pain of any kind, it's essential to seek care from your physician to begin appropriate treatment. Next, speak to a personal injury attorney at Rhoads & Rhoads if you need car accident legal help in Kentucky.
I am Experiencing Leg and Hip Pain, But It Has Been Days Since My Accident?
While severe injuries to the hip or leg are more common for motorcycle operators, those involved in passenger vehicle crashes are suspectable to them as well, especially in cases when the person's legs have been hit or crushed on impact. In fact, according to the U.S. Department of Transportation, around 40% of accident victims who are in a frontal collision suffer injuries to the network of leg nerves, connective tissue, and hip joints, which generally work together for a person to remain functional, flexible and pain-free. These injuries can turn dangerous and require a swift diagnosis, surgery, and sometimes amputation to reduce further complications.
Serious leg and hip pain are often accompanied by other crash-related injuries, such as:
Shattered pelvis
Fractured femur or hip socket
Blood vessel hemorrhages
Broken feet
Bursitis
Internal injuries to the abdomen
Knee dislocations
Soft tissue injuries and nerve damage
Muscle and ligament tear
In some cases, traumatic leg injuries can signal a severe spinal injury in which spinal fluid may leak and inflict painful pressure on the nerves. Most traumatic leg injuries that result from a motor vehicle wreck leave little chance for 100% mobility, and permanent nerve damage is likely. In the most severe injuries, an exhaustive, painful, and expensive recovery is expected.
List of Less Serious Leg Injuries to Watch Out for In Days After a Crash
Strains and sprains are common for anyone involved in a car, truck, or motorcycle accident. While these injuries are far less severe than a dislocation or fracture, medical attention is still required. Pain, swelling, inflammation, and decreased range of motion are all common symptoms that, when left untreated, can lead to a life full of chronic pain and discomfort.
Some less serious car crash leg injuries may present themselves after a person has left the scene and show up once they return to their daily lives. Less serious injuries could start to appear while doing simple things like walking the dog, sitting at a work desk, playing with children, exercising, and routine activities such as sleeping, getting dressed, or even using the restroom can become uncomfortable. Once a symptom presents, pain likely will increase over a couple of hours to even weeks later.
Once some of these symptoms identified by the American Academy of Orthopedic Surgeons are recognized, a person should seek help and be assessed by a professional.
Increased or shooting pain when you move a certain way
Swelling and hot skin
Limited range of motion
Muscle weakness
None or limited feeling in the foot or ankle area
Difficulty walking, sitting, sleeping, or even standing
Immediate care will reduce complications and provide the proper documentation needed to make an accident claim with insurance and prove an injury occurred. Having a proper diagnosis can also prevent long-term conditions such as arthritis or create further health issues throughout life. In addition, if medical care is not sought right away after an accident, insurance adjusters may deny compensation.
Symptoms That May Reveal a More Serious Car Accident Injury
Sometimes, it is difficult to recognize an injury, pain, or discomfort when caught up in the post-accident hype and the release of masking endorphins caused by the stress of the crash. Nevertheless, some of the more common signs of injury and discomfort can appear within a few hours or even a few weeks after the crash.
Headaches
Hip and knee stiffness
Abdominal pain
Back pain
Sleep pattern irregularities
Numbness in arms and legs
Swelling in the abdomen area
Excessive bruising that does not go away
Unable to perform family activities or routine job duties
Reduced physical function
Changes in personality
Increased feelings of sadness
Anxiety and fear when driving or traveling in a motor vehicle
Be sure always to alert your physician of any new developments in your health, medical treatment, new injury symptoms, medical conditions, or mental struggles you are experiencing. Immediate care and an assessment by a medical professional will reduce the chance of complications in these injuries and create a greater awareness of underlying symptoms such as pain and suffering.
In Kentucky, personal injury cases have a statute of limitations of one to two years after the injury was incurred. Still, each case is unique, and exceptions can sometimes be made. In addition, an experienced car, motorcycle, or truck accident attorney at the law firm of Rhoads & Rhoads can listen to you and provide counsel if special rules apply to your claim.
Western Kentucky Personal Injury Lawyers — No Recovery, No Fee 
Rhoads & Rhoads represents the seriously injured due to the negligence of others throughout Western Kentucky. Call us at 888-709-9329 to schedule an appointment with one of our Madisonville or Owensboro personal injury attorneys. We offer free initial consultations, and all cases are taken on a contingency fee basis, so there is no initial payment required. We get paid only if we win or settle your case, and there is NO RISK involved.
Also read: Back Pain and Social Security Disability in Kentucky