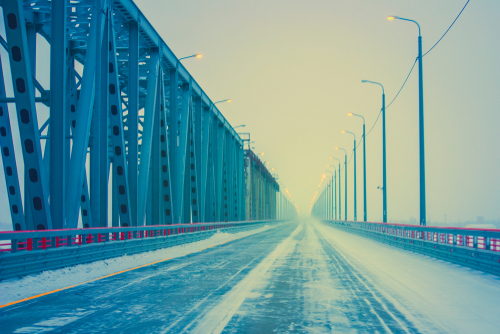 Daviess County Drivers Should Be Aware of Black Ice on These Bridges
With a little more than 14,000 bridges in Kentucky, there remains a lot of opportunity for narrowed passes to become covered with treacherous winter weather driving hazards which can create multi-vehicle pileups and at times, even fatal run-offs each year. Located in western Kentucky's Daviess County, several bridges and massive river cross structures continue to be tricky to navigate during the cold weather months due to one of the deadliest winter driving hazards – black ice.
Bridge at Panther Creek on KY-81
Glover Cary Bridge over the Ohio River on IN-161 (formerly US-231) at downtown Owensboro
Keller Ditch Bridge on Calhoun Road
South Hampton Road Bridge over Burnett Fork on South Hampton Road
US-231 over Panther Creek
William H. Natcher Bridge over the Ohio River on US-231 northeast of Owensboro
Still in western Kentucky but just outside of Daviess County, delayed and slow-to-complete bridge and road work will also create extra hazards for motorists traveling the I-24 Tennessee River Bridge at the Livingston-Marshall county line.
The I-65 bridge over the Ohio River in downtown Louisville, with interstate connections in both Kentucky and Southern Indiana, is home to many areas of bottleneck traffic triggering fatal wrecks as well.
Black Ice Patches Can Quickly Cover Bridges Without Warning
Winter's precipitation mixes and drifting winds can easily form black ice formations on bridges and structured overpasses. When this occurs, drivers become unexpectedly at risk for being involved in a head-on collision or other serious crash caused by losing control of their vehicle, especially those who are driving distracted or driving impaired. Black ice gets its name from its ability to blend in with its surroundings. It quickly appears when extra cold weather winds and oil and wet debris, or precipitation mix on a road's surface and the air is at or below 32 degrees. Drivers should use caution when traveling not only on bridges during this time, but overpasses and off ramps as well as black ice is likely to form. If driving at night, motor vehicle operators can watch for areas of the road where headlights and streetlights reflect, as it may be a sign of black ice.
If you find yourself losing control of your vehicle on black ice, stay calm and allow your car or truck to pass over without braking suddenly. It's a driver's reaction to regaining control of a sliding vehicle on a bridge that can greatly impact the severity of the accident and reduce the chance of vehicles running off the roadway. If a driver overreacts by aggressively braking or overcorrecting, a serious tragedy may occur.
Even if it has not snowed or rained, black ice can still form on bridges. Stay sober, buckled, and alert with Kentucky travel information available by dialing 511 or from visiting online at www.511.ky.gov. Dangerous bridge travel and black ice alerts may be mentioned.
Owensboro and Madisonville Car Accident Lawyers — No Recovery, No Fee
With offices in Owensboro and Madisonville, Rhoads & Rhoads represents car accident victims throughout Western Kentucky. We offer free initial consultations, and all cases are taken on a contingency fee basis. There is no payment required up front and we get paid only if we win or settle your case. There is NO RISK involved.
Call us at 888-709-9329 or contact us by e-mail to schedule an appointment with one of our Madisonville or Owensboro personal injury attorneys.