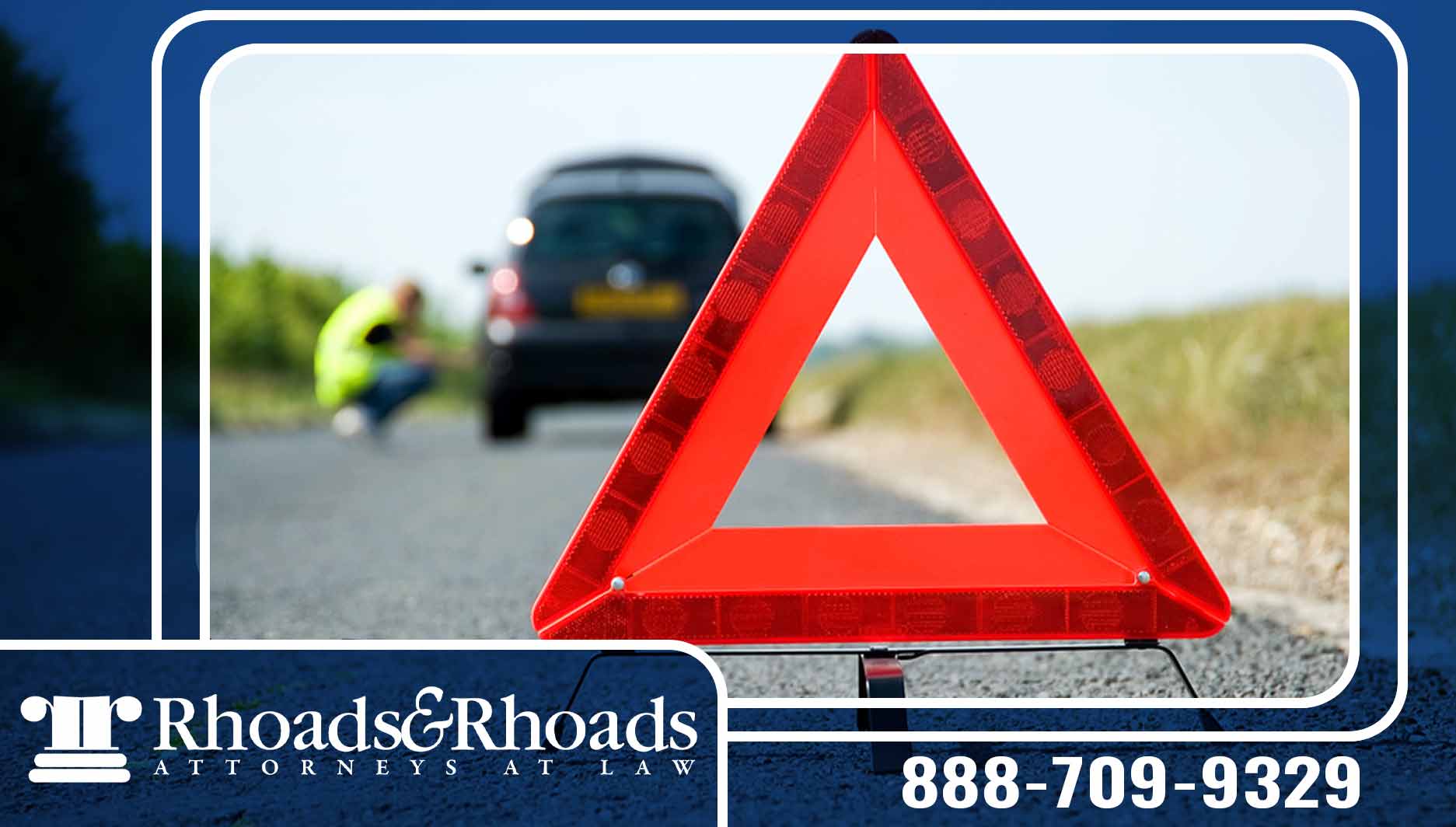 Key Points of This Article:
Drivers in single-car accidents are not always at fault.

You have every right to file a claim against a third party that was responsible for your accident.

Regardless of who is at fault, you'll need to file a claim with your insurance company. 

A car accident attorney can help you recover fair compensation.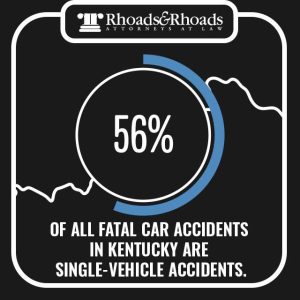 Every year, there are around 150,000 vehicular accidents in Kentucky. And although many of them involve multiple cars, single-car accidents are incredibly common. In fact, 56% of all fatal car accidents in Kentucky are single-vehicle accidents.
When a driver suffers from an accident that doesn't involve another vehicle, insurance companies and road authorities are quick to deem them liable or responsible.. But there are many situations in which a third party could be partially or wholly responsible. 
If you suffered from a single crash car accident, you may wonder if you can file a claim against a liable party to recover compensation. You have every right to seek compensation against another party to pay for damages that aren't included in your own insurance policy. Kentucky is a no-fault state, meaning that even if another party was wholly liable for your single-car accident, you'll still need to file a single-car insurance claim through your insurance company. 
Navigating the complexities of a single-car accident can be challenging, but you can take the confusion and headache out of the process by contacting a Kentucky car accident attorney.
Causes of Single Crash Car Accidents
The majority of single-car accidents occur due to driver negligence. If the motorist is at fault, they likely broke a traffic rule at the time of the crash, such as driving while under the influence of alcohol, driving while distracted, or speeding. 
Although drivers are frequently at-fault for these accidents, other factors may have contributed to or caused the collision in question, including:
Pedestrians crossing illegally

Another driver forcing you to crash

Bicyclists violating traffic laws

Lack of traffic signage

Incorrect signs

Poor street lighting

Bad roadway designs

Poorly maintained roads

Mechanical failure caused to a negligent vehicle manufacturer or mechanic

Obstacles in the road
If you suffered from a crash because of one or more of these factors, another party may be liable. 
Additionally, unforeseen factors may contribute to a collision, such as wildlife on the road or hazardous weather conditions. Unfortunately, your insurance company will still consider you liable for a single-car accident due to weather or animals. 
Who May Be Liable for a Single Crash Car Accident?
Although insurance companies and police officers often blame drivers for single-car accidents, others are often at fault. Some parties that may be liable for your accident include: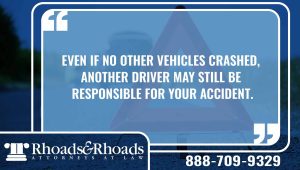 Another driver:

Even if no other vehicles crashed, another driver may still be responsible for your accident. For example, if they merged into your lane without the right-of-way, you may have swerved and crashed to avoid them. 

Government entity:

If the accident was caused by road defects, lack of maintenance, faded lane markings, or other issues related to road infrastructure, the responsible government entity or municipality may be liable.

Pedestrians:

Pedestrians

often cross roads illegally, potentially forcing a driver to crash in order to avoid them. Walkers can be considered partially or wholly responsible for a single-car crash if their actions contributed to the accident. 

Cyclists:

Like pedestrians, a

cyclist

may break traffic rules and cause a driver to crash as a result. For example, they may suddenly change lanes or make illegal turns, causing a collision. 

Vehicle manufacturer:

If the accident resulted from a defective car part or mechanical error caused by the manufacturer, they may be liable. 

Construction company:

Road obstacles often cause single-car accidents, and a construction company may be liable for a driver's damages if they left hazardous debris on the road. 

Mechanic:

If the accident resulted from faulty repair or maintenance work performed by a mechanic, they may be liable.
Does Insurance Cover a Car Accident If No One Else Was Involved in the Crash?
Kentucky operates under a no-fault system, meaning that regardless of who is at fault in a single-car accident, you will need to file a single-vehicle accident insurance claim with your own insurance company.
Unfortunately, your insurance company will likely automatically blame you for your accident even if a third party was responsible. If you are solely responsible for the collision, you can still recover compensation for personal injuries through your Personal Injury Protection (PIP) insurance. This will cover medical expenses, lost wages, and other out-of-pocket costs resulting from the accident. 
While your no-fault insurance policy will include personal injury protections, it may not include compensation for your vehicle damages unless you have collision coverage. 
Additionally, your PIP insurance may not cover all of your damages, as Kentucky only requires drivers to have a minimum of $10,000 of PIP coverage. If another party was partially or wholly responsible for your accident, you can file a claim to pursue compensation for your injury-related expenses that aren't covered by your PIP insurance as well as your vehicle damages. 
Contact a Kentucky Car Insurance Attorney Today
Recovering the compensation you deserve after a single crash car accident can be incredibly challenging, especially because you will likely automatically be blamed for the crash. You need to be able to provide sufficient evidence indicating that a third party was liable, and you can greatly increase your likelihood of success by enlisting the help of a car accident attorney. 
For expert legal help you can count on, contact Rhoads & Rhoads Attorneys at Law. We have a great deal of experience handling single-car accidents and will work tirelessly to get you fair compensation. 
You can get a free case evaluation today by calling our office at 888-709-9329, or you can contact us online here.