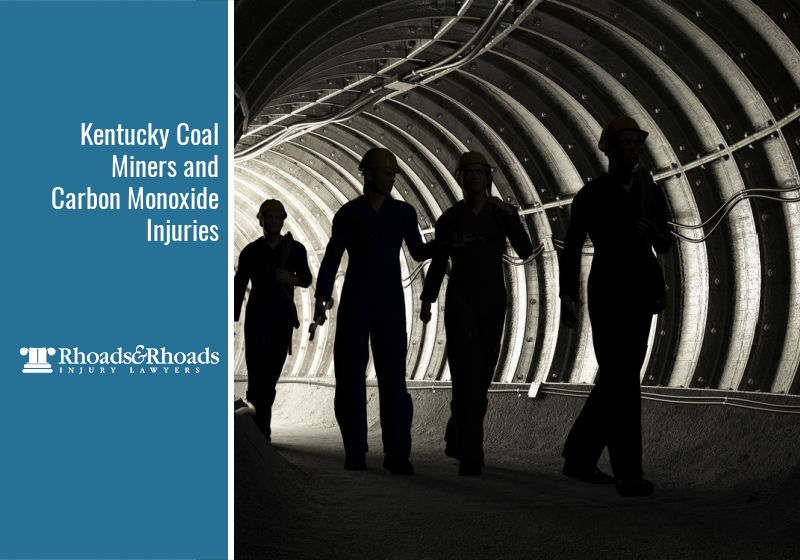 Key Points of This Article
A lack of workplace safeguards for coal miners represents an incredible failure of oversight that puts workers at risk of a tragic accident, preventable fatality, or lifelong illness.
The presence of harmful substances or related environmental hazards should not occur inside Kentucky coal mines without the proper precautions to keep workers guarded against toxic exposures.
Carbon monoxide poisoning in coal workers requires prompt action such as moving the worker immediately to fresh air and calling 911 to report the incident and seek medical assistance.
Rhoads & Rhoads is a law firm with a devoted history protecting the rights of Kentucky coal workers and their families. We are an ally to those who have been injured, disabled, or wronged due to others' negligence.
Kentucky Coal Workers Reminded of Carbon Monoxide Dangers
Coal remains a significant component of the Commonwealth's economy, and many of us have families and friends employed by the industry. In 2006, three of the five miners killed in an explosion in a Kentucky coal mine survived the initial blast but died of carbon monoxide poisoning. Our personal injury attorneys at Rhoads & Rhoads were reminded of the tragedy with the recent news that nearly two dozen coal miners in southwest China died from the same terrible experience in late 2020. The Chinese miners became trapped and soon after died when excessive levels of carbon monoxide began to seep into the air.
Carbon monoxide (CO) is a poisonous, colorless, odorless, and tasteless gas and a common industrial hazard that employers – such as mining companies – should be aware of so that workers have reduced exposure. When CO poisoning is present, it can be either be reversed if detected and treated in time or, in some cases, fatal. For those who recover, acute poisoning may permanently damage the parts of the body, such as the heart and brain. According to the Occupational Safety and Health Administration (OSHA), to reduce the chances of CO poisoning in the workplace, employers should take the following actions:
Install an effective ventilation system that will remove CO from work areas.
Maintain equipment and appliances that can produce CO in good working order to promote their safe operation and to reduce CO formation.
Consider switching from gasoline-powered equipment to equipment powered by electricity, batteries, or compressed air if it can be used safely.
Prohibit the use of gasoline-powered engines or tools in poorly ventilated areas.
Provide personal CO monitors with audible alarms if potential exposure to CO exists.
Test air regularly in areas where CO may be present, including confined spaces.
Use a full-facepiece pressure-demand self- contained breathing apparatus (SCBA) certified by the National Institute for Occupational Safety and Health (NIOSH), or a combination full-facepiece pressure demand supplied-air respirator with auxiliary self- contained air supply in areas with high CO concentrations, i.e., those with immediately dangerous to life and health atmospheres.
Use respirators with appropriate canisters, in conjunction with personal CO monitoring, for short periods under certain circumstances where CO levels are not exceedingly high.
Educate workers about the sources and conditions that may result in CO poisoning as well as the symptoms and control of CO exposure.
OSHA also says if employees are working in confined spaces where CO is suspected or likely to develop after an unexpected incident, the group must ensure that its workers have a plan to stay safe. Kentucky coal miners are no stranger to hazardous worksites and unsafe environmental exposures, but employers who choose to enforce safety regulations lessen those risks.
Coal Workers Have the Right to Safe Working Conditions, Training, and Filing Complaints
In Western Kentucky, coal production is present in Union, Hopkins, Muhlenberg, and Daviess counties in underground and surface mines. According to the most recent numbers published by the Kentucky Energy and Environment Cabinet Department for Energy Development and Independence, on average:
Kentucky coal mines employed 6,612 persons, 3,906 underground coal miners, 1,531 surface miners, 887 preparation plant workers, and 288 on-site office staff.
Coal mining jobs, including preparation plant and office employees, made up 0.4% of the state's total employment and 2.1% of the Eastern and Western Kentucky population.
Employees are encouraged to reduce the chances of CO poisoning in the workplace by reporting any situation to their employer that might cause CO to accumulate, and also disclose any personal experiences of dizziness, drowsiness, or nausea. If you are an employee and suspect CO poisoning, avoid overexertion, and leave the contaminated area immediately. Report the incident and call 911, and seek medical services. Be sure you tell your doctor that you may have been exposed to CO at your worksite.
All Kentucky workers, especially our hard-working coal miners, have the right to working conditions that do not pose a risk of serious harm. Under the law, they can report an injury or raise health and safety concerns without retaliation from their employer. And while coal workers face harsh and hazardous risks each day including CO poisoning, exposure to respirable coal mine dust can cause coal workers' black lung disease and fatal and irreversible injuries caused by contact with equipment, machinery, or in transportation incidents can also occur.
Experienced Work Injury Lawyers for Kentucky Coal Miners
The Rhoads family is from Western Kentucky and has remained committed to supporting the coal worker community for decades. Jerry Rhoads founded Rhoads & Rhoads in 1974 and the majority of his practice was devoted to representing the United Mine Workers' of America (UMWA) and injured coal miners, as well as black lung claims. While the firm now handles personal injury and workers' compensation cases of all types, our experienced attorneys continue to help injured or sickened Kentucky coal workers and their families.
Lives can easily be turned upside down after a work injury, but the Rhoads & Rhoads team can help provide an outcome and resolution to make things a bit easier. If you have become ill or lost a loved one due to a coal mining-related injury or disease, we are here to help. Call us today at 888-709-9329 to schedule a risk-free consultation. 
Also watch: Learn About the Rhoads's Family Heritage in Muhlenberg County
Source: Occupational Safety and Health Administration. (2020). Carbon Monoxide Poisoning Fact Sheet. https://www.osha.gov/OshDoc/data_General_Facts/carbonmonoxide-factsheet.pdf