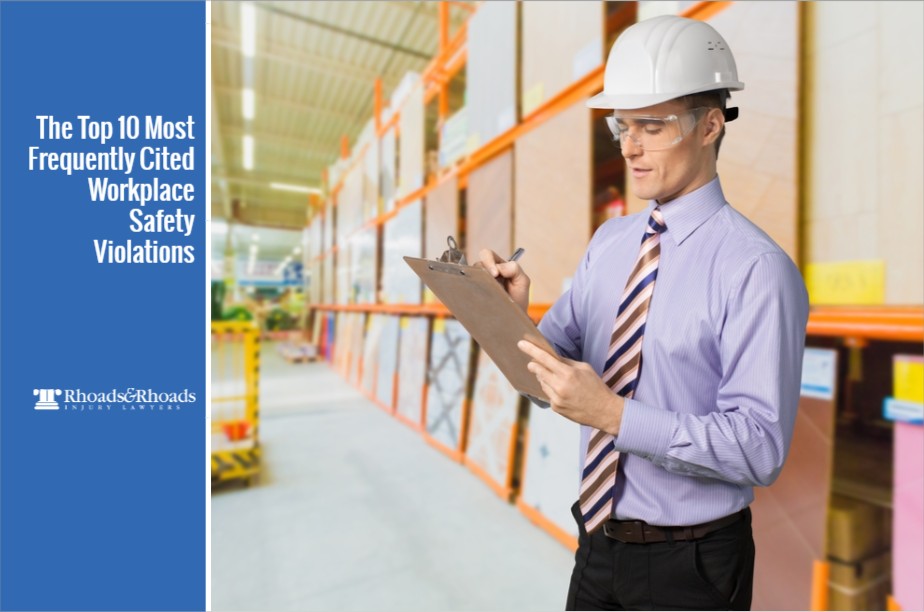 Key Points of This Article:
There are more than 30,000 lost-time workplace injury reports filed in Kentucky each year, according to the Kentucky Labor Cabinet.
The majority of injury events are related to falls, slips and trips, overexertion and bodily reaction, and contact with equipment.
Many workplace safety violations occur year-after-year despite a push for better industry training and more frequent in-house equipment inspections.
OSHA has released the Top 10 most frequently cited workplace safety violations for 2019, ranking Fall Protection at the top – again.
Under the Occupational Safety and Health Act of 1970, employers are responsible for providing a safe and healthful workplace. Yet many preventable injuries and deaths occur on the job each year involving an estimated 2.8 billion workers. This is why The National Safety Council and the Occupational Safety and Health Administration (OSHA) release a 'Top 10 Most Frequently Cited Workplace Safety Violation List' each fiscal year.
The 2019 list shows only a slight change compared to previous years' rankings. Fall Protection – General Requirements again topped the list as the most cited safety concern by inspectors for the ninth consecutive year. The violation new to last year's list, Eye and Face Protection, remained in the No. 10 spot. The most significant change is year-over-year violations which dropped by 15 percent since 2018, which is promising news.
#1 – Fall Protection – General Requirements (Standard: 1956.501): 7,014 Violations
Falls are among the most common causes of serious work-related injuries and deaths. Employers must set up the workplace to prevent employees from falling off overhead platforms, elevated workstations or into holes in the floor and walls.
Free resources provided by OSHA: Fall Protection Tips, Standards, and Policy
#2 – Hazard Communication (Standard: 1910.1200): 4,170 Violations
OSHA's Hazard Communication Standard (HCS) is designed to ensure that information about hazards and associated protective measures is disseminated. For example, HCS requires chemical manufacturers, distributors, or importers to provide Safety Data Sheets to communicate the dangers of hazardous chemical products.
#3 – Scaffolding (Standard 1926.451): 3,228 Violations
Falls from scaffolding result in about 60 construction worker deaths – nearly 20 percent of all fatalities in the industry each year, according to the National Institute for Occupational Safety and Health. Injured workers attribute these accidents to planking or support giving way or to the employee slipping or being struck by a falling object.
#4 – Lockout/Tagout (Standard 1910.147): 2,975 Violations
Workers are failing to prevent the accidental startup of equipment and machines by ignoring lockout/tagout safety standards. Some of the most common lockout/tagout violations include:
Accidental Energization
Energy Control and Protection
Isolation of All Energy Sources
#5 – Respiratory Protection (Standard 1910.134): 2,826 Violations
An estimated 5 million workers are required to wear respirators in 1.3 million workplaces throughout the United States. Respirators protect workers against insufficient oxygen environments, toxic clouds of dust, fogs, smokes, mists, gases, vapors, and sprays. These hazards may cause cancer, lung impairment, diseases, or death.
Rhoads & Rhoads Case Study: The Case of Face Boss Nathan Attebury
#6 – Ladders (Standard 1926.1053): 2,766 Violations
Working on and around ladders can be dangerous because these tools remain significant sources of injuries and fatalities. Among construction workers, for example, many ladder injuries are severe enough to require time off the job. OSHA rules apply to all stairways and ladders used in construction, alteration, repair, painting, decorating and demolition of worksites.
#7 – Powered Industrial Trucks (Standard 1910.178): 2,347 Violations
Powered industrial trucks, commonly called forklifts or lift trucks, are used in many industries, primarily to move materials. They can also be used to raise, lower, or remove large objects or many smaller objects on pallets or in boxes, crates, or other containers.
Review safety tips: Forklift Accidents Are Rarely Investigated in Kentucky
#8 – Fall Protection – Training Requirements (Standard 1926.503): 2,059 Violations
There are four levels of fall protection training including awareness, authorized-user, competent person, and qualified-person training. Training helps workers recognize the hazards of falling and the steps required to minimize these hazards and is required by OSHA for all employees exposed to fall hazards.
#9 – Machine Guarding (Standard 1910.212): 1,987 Violations
Moving machine parts have the potential to cause severe workplace injuries, such as crushed fingers or hands, amputations, burns, or blindness. Safeguards are essential.
#10 – Personal Protective and Life Saving Equipment – Eye and Face Protection (Standard 1926.102): 1,630 Violations
Workers are not using appropriate eye or face protection when exposed to eye or face hazards from flying particles, molten metal, liquid chemicals, acids or caustic liquids, chemical gases or vapors, or potentially injurious UV light and radiation.
In Kentucky, the most recent report (2017) of workplace violations resulting in worker fatalities came from industries such as Natural Resources and Mining (20 fatalities), Agriculture, Forestry, Fishing and Hunting (18 fatalities), Trade, Transportation and Utilities (16 fatalities) and Construction (11 fatalities), according to the Kentucky Labor Cabinet's annual Census of Fatal Occupational Injuries.
Quick Tips to Help Understand Kentucky's Workers' Compensation Insurance
All employers in Kentucky with one or more employees are required by law to carry Workers' Compensation insurance or be qualified as self-insured. If not, an employer can be fined $1,000 per day for each person they employ. If your employer does not have Workers' Compensation insurance, you could still recover benefits from the Kentucky Uninsured Employers' Fund. These are a few other tips to helping you better understand how the insurance works.
In Kentucky, if you were hurt because your employer intentionally violated safety regulations, you can be entitled to 30 percent more monetary benefits.
If you believe a violation of a safety regulation occurred, you should file a complaint with the Division of Compliance This group is responsible for the enforcement of Kentucky's Occupational Safety and Health Standards.
Occupational diseases contracted due to products, processes, and chemicals in the workplace are typical Workers' Compensation claims. In Kentucky, these cases often involve diseases such as lung cancer, coal workers' black lung disease or other kinds of long-term illnesses that develop over time from an employee being exposed to harmful environments.
Consulting with an experienced work injury attorney about your specific situation will not harm your case but instead, provide the best outcome for your claim. It may also help prevent other workers from being injured in similar worksite scenarios.
Owensboro and Madisonville Workplace Injury Lawyers
With offices in Owensboro and Madisonville, Rhoads & Rhoads represents work-related accident victims and their families throughout Western Kentucky.
Call us at 888-709-9329 to schedule an appointment with one of our workplace injury attorneys. We get paid when we win or settle your case, so there is NO RISK involved.
Also read: What Kentucky Coal Miners Should Know About Black Lung Disease