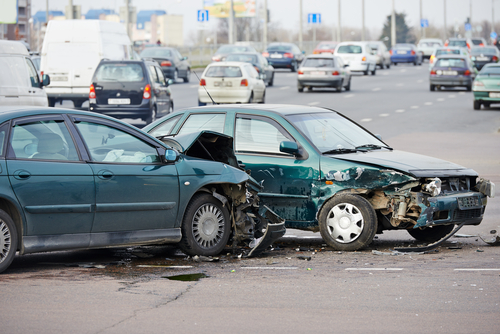 Highway Deaths on the Decline for Kentucky Drivers
Not since 2013, has Kentucky seen a decrease in highway fatalities. Up until now that is. The Kentucky Office of Highway Safety says initial numbers show 770 highway-related deaths in 2017, dropping from 834 in 2016. This has prompted the auto accident attorneys at Rhoads & Rhoads to send our fellow Bluegrass state drivers an encouraging "Congratulations!"
While local, state and federal highway traffic officials have set goals to achieve lower numbers in 2018, Kentucky motorists must keep moving forward by practicing safe driving. Here are some things drivers can do to contribute to even less traffic-related deaths across our state this year.
Drivers Make Bad Choices That Cause Traffic Deaths
Stop Speeding
Ranked high amongst the main causes of motor vehicle crashes in America, speeding continues to contribute to 30 percent of all accidents on U.S. roadways. Latest statistics from the Kentucky Transportation Cabinet show that speed was a factor in 14% of all Kentucky traffic accident deaths last year.
Never Drive Drunk
In Kentucky, 1.5% of registered drivers report operating a motor vehicle after drinking too much alcohol. Even that low number is too many. Buoyed by alcohol, a drunk driver may feel invincible, and make rash,  dangerous decisions to speed, ignore the rules of the road or traffic signals, become distracted, or remain overly confident in their ability to drive despite their impaired state. If you're impaired, use a ride-share service or ask the bartender to call a taxi for you to get home safely.
Stop With The Distracted Driving
The most influential distraction we see today is drivers using electronics and cell phones to talk or send messages while operating a vehicle. Drowsiness, passenger activity, eating while driving and multitasking can also increase the risk of becoming distracted while driving.
Always Wear a Seatbelt and Buckle Children in Proper Seats
More than half of the Kentucky highway deaths reported for 2017, the deceased were not wearing seatbelts. The National Highway Traffic Safety Administration says by wearing seat belts and properly buckling children into appropriate seats, the risk of serious injury and death in a car crash is reduced by nearly 50 percent, even more for pickup truck, SUVs and van occupants.
Don't Forget Your Motorcycle Helmet
Kentucky's Commission on Motorcycle Education and Safety has reported a rise in injuries and deaths related to the more than 2,000 motorcycle accidents that occurred across the state in recent years. Simply making the choice to wear a motorcycle helmet prevents 37% of motorcycle deaths and 67% of motorcycle crash brain injuries. In Kentucky, the law only requires riders younger than 21 years old to wear a helmet.
Please extend our congratulations on lowering the highway death toll with the Kentucky drivers in your life, and share this message that we still have work to do but can get there once we all start to make better driving choices.
Contact Rhoads & Rhoads – NO RECOVERY, NO FEE  
If you have been involved in an accident at the fault of another driver, we offer free initial consultations, and all cases are taken on a contingency fee basis. Call us at 888-709-9329 or contact us by e-mail to schedule an appointment with one of our personal injury attorneys.