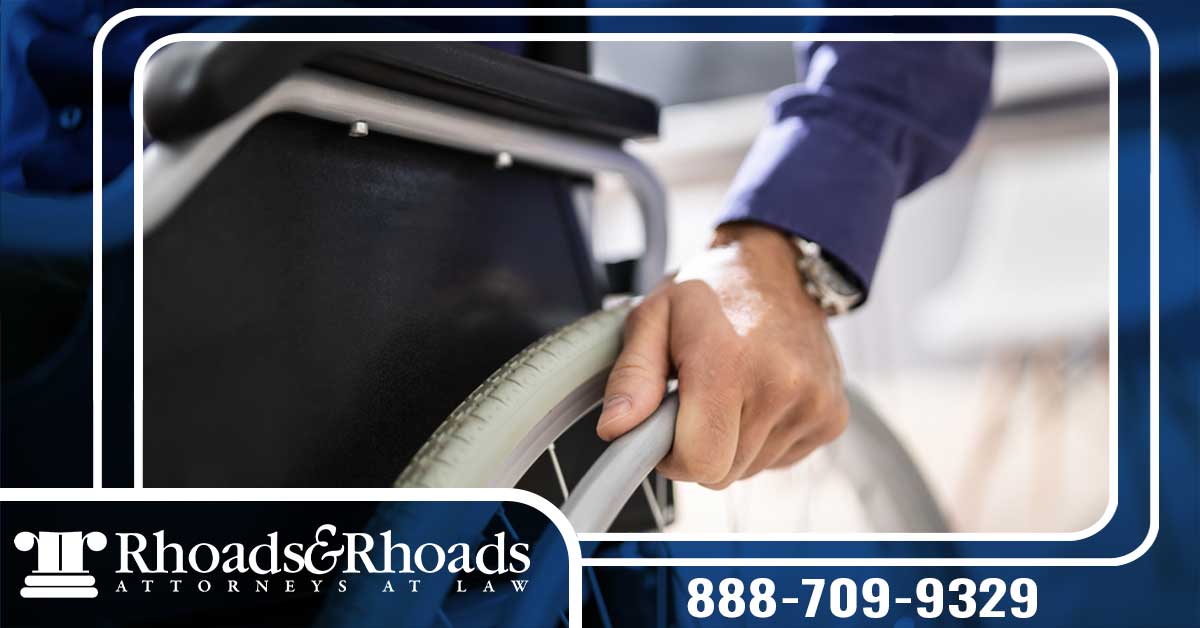 Key Points of This Article:
Applicants can qualify for Social Security Administration benefits by completing the SSA Five-Step Sequential Evaluation

The SSA lists numerous conditions that may qualify applicants for benefits in the "Blue Book"

An applicant's injury or illness must be long-term and prevent them from gainful employment

Applicants can secure benefits by providing proof of disability through ample medical, financial, and employment documentation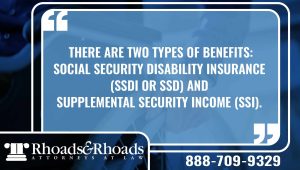 Those struggling with long-term injuries or illnesses that keep them from working may qualify for Social Security Disability benefits. There are two types of benefits: Social Security Disability Insurance (SSDI or SSD) and Supplemental Security Income (SSI). 
SSDI or SSD benefits compensate injured or disabled workers who have contributed funds to the Social Security system through the years. While SSDI insurance is only for claimants who have made contributions, SSI benefits are available to those who have not made sufficient contributions of funds to social security but still cannot work full-time. 
The sad reality is that securing these benefits can be a long and arduous process, and only 45% of applicants can obtain Social Security benefits. You can significantly increase your likelihood of gaining these benefits by enlisting the help of a Social Security attorney. An experienced attorney will guide you through the process, including presenting proof of disability, and they will help you file an appeal if necessary. 
Whether you're applying for SSDI or SSI insurance, you need to provide proof of disability, and you may wonder what counts as proof of disability. In this law blog, we'll unpack what you need to know about evidence of disability documentation as well as specific conditions that may qualify you for Social Security benefits.
Qualifying for Social Security Disability Benefits
To qualify for Social Security benefits, you need to have a medical condition that keeps you from having gainful employment. The Social Security Administration (SSA) uses a Five-Step Sequential Evaluation process to determine whether an applicant's condition is severe and debilitating enough to qualify them for benefits. This five-step evaluation includes the following questions:
Is the Individual Working Above Substantial Gainful Activity Level? 
This refers to an applicant's current employment. If an applicant can work and earns a monthly income of $1,470 ($2,460 if blind) or more, they will not qualify for SSA benefits. 
Is the Individual's Physical and/or Mental Condition Severe?
Applicants must have a severe physical or mental impairment to qualify for SSA benefits. Further, this condition must last at least twelve (12) months, or it needs to be expected to eventually result in the applicant's death.
Does the Individual's Medical Condition Meet or Equal the Severity of a Listing?
The "listing" refers to specific conditions detailed in the SSA's "Blue Book," which we discuss in greater detail in the next section. If the applicant does not have a condition listed in the Blue Book, they need to have a condition that impairs them equal to or greater than the listed conditions. 
Can the Individual Do Any of His/Her Past Relevant Work?
If the applicant can potentially have gainful employment in a job that's similar to their previous work, they won't qualify for SSA benefits. 
Can the Individual Make an Adjustment to Any Other Work?
In the final step, the SSA must be able to prove that an applicant can potentially obtain gainful employment despite their condition. If the SSA determines based on several facts that an applicant can shift to a new job to earn the minimum monthly income of $1,470 ($2,460 if blind), they will likely reject the person applying. 
The Social Security Administration's Blue Book
The Social Security Administration has a "Blue Book" of conditions that may qualify applicants for benefits. Having a listed condition does not automatically qualify you for benefits because the ailment must interfere with your ability to work.
Some of the specific conditions listed in the Social Security Administration's "Blue Book" include:
Musculoskeletal Disorders:

Osteoarthritis, rheumatoid arthritis, spinal disorders, amputations

Special Senses and Speech: Vision loss, blindness, hearing loss, speech disorders
Respiratory Disorders:

Chronic obstructive pulmonary disease, asthma, interstitial lung disease

Cardiovascular System:

Heart failure, coronary artery disease, aneurysms

Digestive System:

Crohn's disease, liver disease, chronic pancreatitis

Genitourinary Disorders:

Chronic kidney disease, nephrotic syndrome, benign prostatic hypertrophy

Hematological Disorders:

Anemia, hemophilia, bone marrow disorders

Skin Disorders:

Dermatitis, psoriasis, skin cancer

Endocrine Disorders:

Diabetes mellitus, thyroid disorders, pituitary gland disorders

Congenital Disorders That Affect Multiple Body Systems:

Down syndrome, cystic fibrosis, muscular dystrophy

Neurological Disorders:

Epilepsy, multiple sclerosis, Parkinson's disease

Mental Disorders:

Depression, bipolar disorder, schizophrenia

Cancer (Malignant Neoplastic Diseases):

Lung cancer, breast cancer, and leukemia

Immune System Disorders:

HIV/AIDS, lupus, systemic sclerosis
While this list covers many of the conditions outlined in the SSA's "Blue Book," it's far from exhaustive. Fortunately, you can easily look up all conditions on the SSA's website. 
How to Prove Disability
You may qualify for benefits even if you don't have a condition listed in the SSA's "Blue Book." That said, your condition must prevent you from gainful employment, and you need to provide ample evidence of your situation. 
For proof of disability you will need to provide recent medical tests and evaluations supporting your claim. You should provide medical reports and doctor's notes that somewhat current in supporting your ongoing impairments.
Additionally, you need to supply complete reports and documentation corroborating your claim. Depending on your condition, the SSA may require you to provide specific evidence of your injury or illness. For example, if you claim to have a crippling head injury, you'll likely need to provide a CT scan or other clinical or diagnostic evidence that displays the extent of your condition. 
On top of providing plenty of evidence proving your medical condition, you'll need to prove that your illness or injury keeps you from working. You can provide your employment and financial records to show that your affliction prevents you from gainful employment. Further, if you suffered a debilitating injury at work, you can provide your workers' compensation records.
You'll also need to prove that your condition will keep you from working in the future. You can start by listing the jobs that you qualify for and the expected responsibilities for each job. From there, you'll list how your condition and limitations prevent you from completing work tasks. You can also use your medical records and supporting doctor's notes to prove that you cannot work. 
Contact a Western Kentucky Social Security Disability Attorney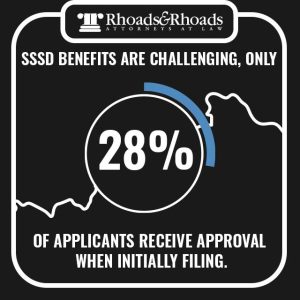 Securing Social Security Disability benefits is challenging, and only 28% of applicants receive approval when initially filing. Often, it takes several appeals to obtain SSA benefits, and going through the appeals process is an uphill battle. 
Fortunately, you don't need to go through the process alone — you can contact a Social Security attorney to help you every step of the way. For experienced Social Security lawyers in Western Kentucky, contact Rhoads & Rhoads Attorneys at Law. You can schedule a free case evaluation today online or by calling 888-709-9329.